David Bowie is possibly the most influential artist of all time. With a career spanning 45 years, he has one of the most varied and phenomenal discographies of all time. Ranging from the fantastically eccentric character of 'Ziggy Stardust and the Spiders From Mars' (1972) to the sheer genius of his latest comeback album, 'The Next Day,' (2013) Bowie has continually impressed audiences from every corner of the globe with his phenomenally diverse musical range. It is no surprise that trying to pick ten favourite albums was a difficult task, but and

Calum

and

myself

have joined forces and we present to you: The top ten Bowie albums (in our opinion)...
10. Heroes (1977)
Album number two in the Berlin trilogy created with Brian Eno, Heroes is the product of echoing the instrumental and simple style of Low but this time round, Bowie focused on bringing a lot more rock and pop elements to it. Out of this album came one of Bowie's most highly regarded songs, the title track, Heroes. It has been said by many to be his greatest song even though the song was originally a full instrumental with the vocals only being added in in the very last stages of production. Side 1 contains the other single to come out of this album (Beauty And The Beast) as a fantastic opener. It continues on to display diversity and passion for the music, which Bowie said was fully rekindled during the Berlin Era. He beat his addiction to cocaine and began again, getting away from the characterization which in theory, nearly killed him. Side 2 contains two tracks on which Brian Eno features, (Moss Garden/Neukoln) as well as incorporating Puerto Rican guitarist Carlos Alomar in the track The Secret Life Of Arabia. Everything this album represents and involves has true meaning behind it, and really plays on the events that were happening at the time such as the growing controversy of the Berlin Wall and the end of the Cold War. Heroes as a whole is a fully-fledged phenomenon that brings together the strongest elements of Bowie before this point: A truly career defining moment.
9. Hunky Dory (1971)
The fourth studio album released on RCA records in December 1971 is possibly the most 'intimate' album David Bowie has ever created. The opening track Changes is one of his most critically acclaimed singles and it is a utter classic. The song blends perfectly into the following track Oh! You Pretty Things and contributes to the less-chaotic vibe that this album possesses beautifully. This album was written and recorded before the madness that was glam-rock, before Bowie became copious amounts of characters, before he truly found his style. A lot of people have said this album is the last in a trilogy of experimentation albums for Bowie before the eccentric saga of characterization that came with Ziggy Stardust, Aladdin Sane and Diamond Dogs. Not only does this album have many personal elements such as paying tribute to his influences in songs like Andy Warhol and Song For Bob Dylan, this album has also been said to be the basic building blocks of David Bowie's career as this album and the excellent success of opening track Changes are what really thrust Bowie into the spotlight. It also contains the legendary track Life On Mars which some consider to be Bowie's best work. 43 year old Hunky Dory is an album with such a legacy that it will continue to be remembered as one of Bowie's finest additions to his discography.
8. Lodger (1979)
It's rare that a ten track album is comprised entirely of perfect pop songs, but that's exactly what Bowie's Lodger is. Whilst most of Bowie's albums feature 'no weak tracks', Lodger is probably the one album that he could have churned out 10 singles from. Just like a few of his Ziggy albums, Lodger revolves loosely around the lodger, and his forays around the globe, as well as his petty observations about the western world. And that is just how the record is split; Side 1 speaks of travels, from Africa to Turkey to the hinterland, whilst Side 2 takes pop songs that would fit in perfectly on Scary Monsters, with the subjects covered here being doomed relationships, manhood and the perils of being a DJ.
Side 1's fast paced African Night Flight is a highlight, as Bowie brings in some almost rap music-esque vocals with oriental instrumentation. And the closer to Side 1, Red Sails is absolutely stunning. Carlos Alomar brings some sort of cosmic guitar tone, whilst Bowie's lightning fast vocals give the song a wonderful pace to it.
And Side 2 as well keeps the momentum up, with one of the man's finest ever songs, Look Back in Anger, which is based on a book of the same name. Repetition, the b-side to the album's single is the perfect penultimate track, before the album closes in fine fashion. Red Sails, Track 5 Side 2, is a song that leaves everyone thinking "I've heard this one before.." That's because it's just Sister Midnight by Iggy Pop with different lyrics (which David Bowie wrote for Iggy in 1977). And whilst something from Iggy's Idiot couldn't be bad, it steps up a whole new level at the hands of Bowie. Lodger is, overall, a criminally underrated work of genius.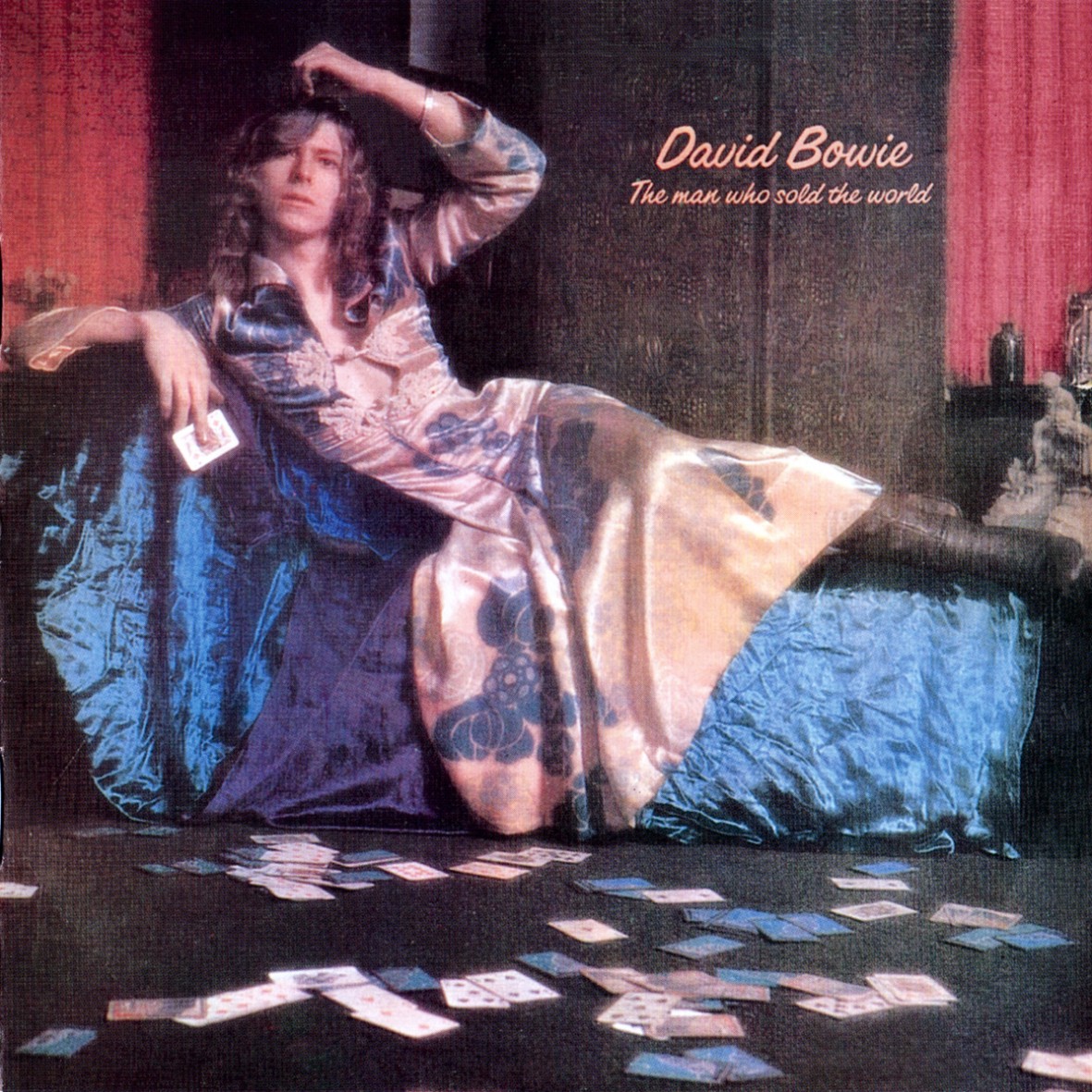 7. The Man Who Sold The World (1970)
The Man Who Sold the World is probably the first great album that Bowie ever released. Of course, there were great tracks here and there, and 1969's Space Oddity did feature the breathtaking Cygnet Commitee and the career-defining title track, but nothing before Bowie's 1970 effort was great all the way through. The Man Who Sold The World is also the album on which Bowie and Mick Ronson were first united, for the first of five albums that Bowie and the incredibly talented guitarist would make together.
The classic opener, The Width of A Circle is third in my all time favourite Bowie songs only to Diamond Dogs' Sweet Thing and Amsterdam, the b-side to sorry. Width of A Circle's nine minute duration begins with some flailing Ronno guitar before the man suddenly explodes into some of the best guitarwork on any Bowie work. The lyrical content too, as sung by a raw voiced long-haired Bowie is just a thing of beauty; he tells an ambiguous tale that I think may be about some saucy deity-on-devil action, but I'm not so sure, as the lyrics on the Man Who... are very abstract. After one of the finest album openers of all time, the second track is a ghostly part-accoustic number, All The Madmen. It's the first of many songs David would release about his schizophrenic brother.
Although the middle section of the album is full of stodgy Zep-rock, the final two tracks are amongst the best in David Bowie's discography... the mythical Supermen was a firm live favourite during Ziggy's early days, but of course the album's penultimate song, the title track, is the one which is renowned as the finest from this era. Whilst famously covered by Nirvana, just as perfectly, The Man Who Sold the World is another ambiguously abstract lyrical triumph for Bowie, that I'm not quite sure of the meaning of. Anyhow, this album was the building block for which Bowie, Ronson, Bolder and Woodmansey created the cosmic character of Ziggy Stardust, and the building blocks for which, with Mike Garson too on board, Bowie and co. went on to achieve great, great things.
6. Station to Station (1976)
David Bowie is an ever evolving man, whose music moves from genre to genre, like a train from Station to Station. Throughout his career are a number of transition albums, where music's great chameleon's music aligns somewhere between his previous and next albums. Lodger slides in between the avant-garde of Low and the pop majesty of Scary Monsters, and Diamond Dogs falls somewhere between the Ziggy Stardust rock 'n' roll of Aladdin and Pin-ups... but the most unlikely transition album came in 1976... between the plastic soul of ninth album Young Americans and the avant-garde symphonies of Low and Heroes. And whilst David Bowie is the king of transition, an album somewhere between avant-garde pop and soul couldn't possibly work, could it?
But after one listen of the 10 minute cocaine-fuelled odyssey that is the title track, you're left certain that David Bowie can do whatever the hell he wants. Station to Station is a jerky, ten minute long window into the narcotic consciousness of the Thin White Duke, which is undoubtedly the highlight ofa notoriously stunning album. The rest of the album is the platform to a number of cold, claustrophobic numbers. Of course, Golden Years, which was originally penned for Elvis Presley, is a highlight for most, and Stay is a fan favourite.
Side 2's opening track, TVC15 is one of the more futuristic numbers in Bowie's discogrpahic. It's the tale of a man whose girlfriend gets swallowed up by his TV (the TVC15), so he valliantly decides to chase her. It's a bit like that Family Guy episode...
And the album's final song, Wild is the Wind is one of the more sensual tracks, and the sole song that Bowie shows any real emotion. It's a lust-filled closer to one of Bowie's finest.
5. The Rise and Fall of Ziggy Stardust and The Spiders From Mars (1972)
Possibly noted as one of David Bowie's most iconic albums, the 11-track masterpiece is a display of everything Bowie does best. It shows off his fantastic flamboyancy, his lyrical talents and the simple fact that he really can do anything. Recorded between 1971 and 1972, this stand out album is built around this character, Ziggy Stardust, who plays on the conceptual idea of "definitive rock stars" that were around at the time this was recorded but with a spin on it. The character represented the stereotypical sexually promiscuous drug fueled lifestyle of a "rock star" but with a message of peace and love. The character of Ziggy Stardust was once again present in this album's successor -Aladdin Sane and has gone on to become one of the most historic images of David Bowie.
Not only does this album have one of the strongest combinations of opening and closing songs ever (Five Years/Rock n Roll Suicide) but the singles that came from this album have gone on to become some of Bowie's most universally recognised songs. (Starman, Rock n Roll Suicide and Suffragette City) This album was not simply the platform for these extraordinary singles, but the album was littered with unprecedented classics such as Moonage Daydream (my personal favourite Bowie song) and the title track, Ziggy Stardust. Cited as one of the most important albums within his extensive discography, this is the album that will go down in history as the album that made people want to be a part of the brilliantly flashy glam-rock era.
4. Scary Monsters and Super Creeps (1980)
The first album after the 'Berlin Triptych' this album exhibits a range of genres such as new-wave, post-punk and art-rock, forming a consistently brilliant fourteenth studio album for David Bowie as he began to step away from the excessive flamboyancy of the 1970's. Containing two of Bowie's best singles to come out of the 1980's (Fashion/Ashes To Ashes) Scary Monsters was a way of moving on from the multiple experimental albums that Bowie had been producing and finding a more commercial and definitive sound. It was also his last album produced by RCA Records, so is seen as a milestone for some, with it also being called "Bowie's last great album." I don't agree with this statement because of the simple fact that this album's successor is the ever-so-iconic Lets Dance, but as an album as a whole, I believe that this is definitely the greatest 80's album. Other singles that came from this album are Up The Hill Backwards and the title track Scary Monsters (And Super Creeps) which are both fantastically unique and stand out singles from the extensive collection that Bowie has created. This album combined the extensive experimentation Bowie went through in the 1970's with his own unique way of looking at the new era of the 1980's, and what came out of it was this individual masterpiece that went on to inspire countless numbers of artists.
3. Aladdin Sane (1973)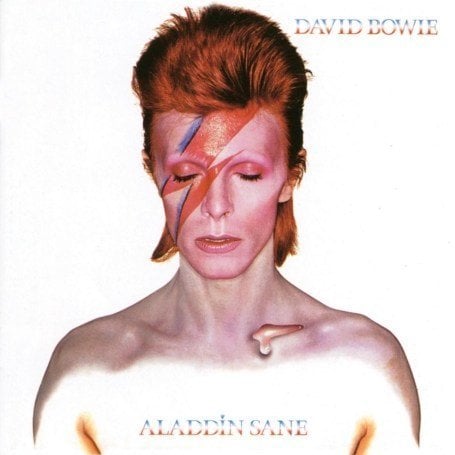 The cover of this album bears the famous lightning strike across the face which is one of, if not, the most iconic photographs of David Bowie ever. The album follows in its path, being remembered as some of his best work. The follow up to the equally important Ziggy Stardust album, it has been said that this is the first album Bowie wrote as a fully established "rock-star." It has a stronger, rockier feel to it than the previous album, which is down to the addition of avant-garde jazz pianist Mike Garson. This is especially apparent on tracks such as the classic Rolling Stones cover Lets Spend The Night Together and Panic in Detroit. Lets Spend The Night Together was released as one of the four singles from this album, the others being Time, Drive-In Saturday and one of the funkiest tracks Bowie ever did - The Jean Genie (which borrows more than just a little from Shadows of Knight's 1966 classic Oh Yeah). A stand out album, not only for the significance of the front cover, but also because this was the second album in the 'extravagant characterization saga' that Bowie continued to experiment with through the majority of the 70's. Fueled by a ever-growing cocaine addiction, the recognizable cover is said to represent a sense of schizophrenia and split identity that he was experiencing at the time of this album. One of my overall favourite records in my collection, Aladdin Sane is, in short, a work of genius.
2. Low (1977)
As far as inspiration, legacy and innovations are concerned Low is the album that will forever be remembered as Bowie's greatest contribution. Whilst the characters of the flamboyant alien Ziggy and the narcotic fueled Thin White Duke are certainly major parts of David Bowie's chameleonic identity, his Berlin-era innovations free of any alias are something else. Alongside the equally semi instrumental Heroes and the pop gem Lodger, Low established the Berlin triptych as David Bowie's finest period. Side 1 of Low is full of avant-garde pop songs, awash with Eno's influence and glorious textures. The instrumental opener, Speed of Life is arguably the best album opener in the great man's discography, sounding just like an almighty machine starting up. The singles too, Be My Wife and Sound and Vision are essentials for any greatest hits compilation, which says a lot...
But Side 2 is where Low begins to sound unlike any pop album before or since, with an abundance of avant-garde neo-classical numbers that sound absolutely gorgeous. Warszawa, the song from which Joy Division nabbed their first name, is a highlight, being easily in my own top 5 Bowie songs. Of course, mainly because of the instrumentals, Low flopped a bit commercially, as Bowie was selling his records to just about everyone at this point, but those that did get Low were completely blown away by it's innovation... Amongst it's famous fans are Ian Curtis of Joy Division, who named it his favourite album, neo-classical composer Phillip Glass, who composed a symphony based on it, and Lloyd Cole. Low was an album made by Bowie in a time of commercial failure and drug addiction, yet he still managed rise out of the ashes so high that he almost transcended his contemporaries, and left the rest of the world in his wake.
1. Diamond Dogs (1974)
Throughout his career, David Bowie adopted many charismatic, original guises to make handfuls of great albums. Particularly in the seventies, where he played a homesick alien rockstar, a sleek narcotic Thin White Duke, and even a soul brother. But for me, the one that stands above all the rest is an easy decision. More than just a real cool cat, Halloween Jack was one of the few remaining residents in the airstrip-1 style Hunger City, during the year of the Diamond Dogs.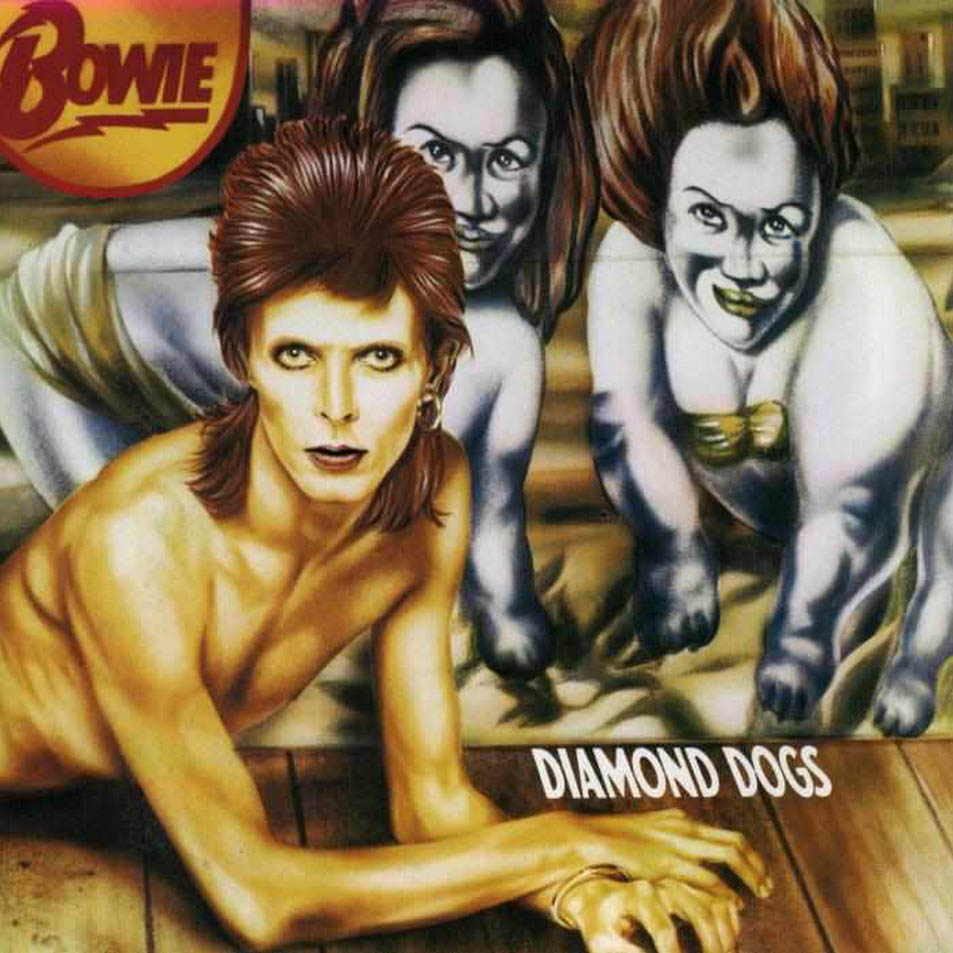 Diamond Dogs was the first proper album after the Spiders from Mars' Aladdin Sane, so quite naturally it had a large amount to live up to. As well as that, Bowie had scrapped the guitarist Mick Ronson, as well as the rest of the Spiders from Mars, leaving only Mike Garson to collaborate with. Diamond Dogs brings a more jazzy influence to the rock 'n' roll of the last albums, as well as the literary influence of George Orwell and Aldous Huxley. As well as being notable for spawning a single that, whilst charting number five, because his fifth top 5 single, Diamond Dogs is famed for its songs with an interlinking storyline... making it a bit like JG Ballard does Lou Reed's Berlin.
Although many songs were rewritten for the album, the fact that Diamond Dogs was spawned from the offcuts of a failed
Nineteen Eighty Four
musical is explicitly apparent all the way through Diamond Dogs..
Side 2 is where the literary references are all present. We Are The Dead, 1984, Big Brother and Chant Of The Ever Circling Skeletal Family are all direct links to the novel written by Orwell back in 1949, and the plot that unfolds within. Even though these songs are deemed to be some of Bowie's more popular work, none of the songs on Side 2 were released as singles in the UK. (1984 was released as a single in the US but it did not chart at all) The only singles released from this masterpiece were title track Diamond Dogs and Rebel Rebel, both of which charted in the UK, with Rebel Rebel being the single that reached number 5. The singles are not what make this album our number one Bowie album though, it's the album as a whole. As we said before, this album is famed for the storytelling quality it possesses, and what better way to bid farewell to the Ziggy Stardust-era rock 'n' roll than to create an even stronger album to take its place.
Poppy: The reason this album was my number one is because of the way that all the songs link, you don't want to stop listening to it. It's like being forced to stop reading a book when you are in the middle of the most intense scene, you want to get start to finish un-interrupted. It's such an innovative and clever album in that sense, one of the few albums that doesn't need skip or shuffle, it's perfectly ordered you can listen to it all the way through and still continue to find new things you love about it. Diamond Dogs is my most played record, and definitely my favourite possession, and in my opinion, the greatest thing David Bowie has ever done.
Calum: For starters, Diamond Dogs is my favourite David Bowie album because it features what is probably my favourite Bowie song; Sweet Thing. The sprawling nine minute display of Bowie's best lyrics, and incidently a display of his deepest singing on record. The way each song bleeds wonderfully into the next is really something, and even the end of Sweet Thing into Rebel Rebel is quite wonderful. Another thing that I can't help but love is the themes from 1984 in every single song... from the 'rats the size of cats' to the two minutes of hate at the end of the album, everywhere contains subtle hints to my favourite book of the mid-twentieth century.
(written by both

Calum Cashin

&

Poppy Marriot

t

)