In a recent interview, Michael Eavis said that he'd already booked the three headliners for Glasto 2015;
"We've got three headliners already – and that's without Prince. We've got some good headliners. We had an agent [for a band] yesterday on the platform by the stage watching Metallica with me, saying, 'My band want to do it next year'. I can't tell you who it was but that was done on the platform watching Metallica. It it a British artist? He's definitely British, but the band are not British any more."
But just who could Eavis have been talking about?
Well, one rumour is that
AC/DC
are a strong contender. The band share an agent with Metallica, so it's more than logical that their agent was on the podium? And, well, if Metallica are big enough, and have the hits to headline Glastonbury, then AC/DC do. Whilst they're the bookies' favourites, and they do have a Yorkshire-born vocalist, it's more than likely that they're not the artist Eavis metioned, as they're primarily Australian.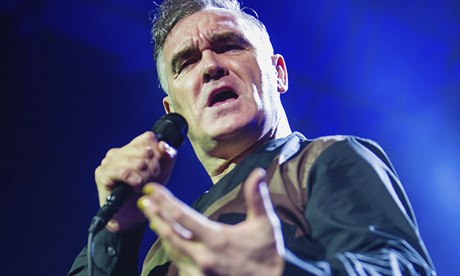 When I read what Eavis said only one artist sprung to mind. Abroad,
Morrissey
is an iconic symbol of British culture, and he is most certainly a he. When he started off, well, when he first made it, Morrissey was backed by The Smiths; that is the Manchester quartet formed of Moz, Mike Joyce, Andy Rourke and Johnny Marr. When he first went solo he was backed by the likes of Joyce and Rourke as well as Stephen Street and Vini Reilly of the Durutti Column too, but now, now he plays with an all American backing band featuring rockabilly guitarist Boz Boorer. Morrissey fits Eavis' bracket perfectly, and with a book out last year, and an album out this year, Morrissey's status as an icon looks only to increase. The man is most certainly of headliner caliber, although he did only manage the sub-headline slot to only Gorillaz a few years back.
So who else could 2015's headliner be? Well, aside from 'not Prince' we don't have much else to go by...
However, whilst they're generally a bit out, the bookies' odds on who's to headline next year are often a bit of an indicator. After Metallica played this year, the odds of a metal band playing again are looking pretty promising. Or unpromising, depending on how you look at it. At 7/1,
Iron Maiden
are the favourites to play the festival, with
Kate Bush
and
Oasis
not too far behind on 8/1.
Here are the rest of the odds... (according to William Hill)
Coldplay - 10/1
Noel Gallagher (and his band...?) 10/1
U2 10/1
Elbow 16/1
Arctic Monkeys 20/1
David Bowie 20/1
Red Hot Chili Peppers 20/1
Adele 25/1
Robert Plant 25/1
So whilst Glastonbury has just finished, bookmakers and everybody else is already weighing up who will headline next year... and you can decide for yourself just how promising it is.
(By Calum Cashin)