Back in the March of 2013, psychedelic Leeds-based five piece Hookworms released what was quite probably the album of the year; the brooding Shjips-esque fuzz, combined with absolutely unique vocals and the perfect tones propelled it to number one in many an end-of-year list. And whilst we've heard nothing new yet on the Internet from Hookworms, it's most certainly true that they've got a second LP lined up and ready to release - all of this made Hookworms' first (and maybe only...?) South Coast gig of the year one of
the
most exciting prospects since, ummmm, well, ever.
With support coming in strongly from the experimental ambience of London-based Virginia Wing (who were down to a two-piece for the night) and the breathtakingly brilliant Krautrock-inspired psych of Brighton's own Soft Walls, everything was poised to be a fantastic gig. Whilst the first support band did most certainly pass over my head, they were every bit as intriguing as anything else. In fact one reviewer put it ever so very aptly when they said that "it was too weird it was like 5 minutes before someone sang and even then it was just vowels". But the next band, who we will review in full at a later date, The Soft Walls were just my cup of tea, and their rich cannon of influences was a fantastic precursor for what was to come.
Taking to the stage at 9:14, Hookworms greeted the packed out Haunt with a wall of slow-moving feedback and a "Hi we're Hookworms from Leeds". After a sustained minute or so of thick, foggy feedback, the haze cleared and it became apparent what was about to happen... Pearl Mystic's stunning, genius opening track, Away / Towards. Sprawling over almost 9 minutes, Away / Towards bagan with a densely power-ridden Loop-inspired intro, which spanned a solid two or three minutes, slowly building and building to something big. It is then, live especially, that Away / Towards exploded into it's mystic peak with caterwauling vocals and a sudden raging shamanic pulse! Everything takes fully fledged flight, and combined with an ongoing runaway train motorik beat that propels the song to a speed that doesn't let off, Hookworms' set opener is quite possibly what I'd the Leave Them All Behind for the 21st century... what a spectacle that song was live, and what a spectacle Hookworms were live.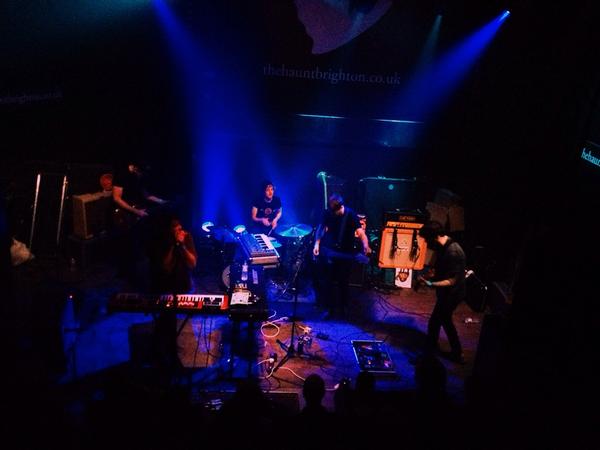 But when a set-opening song is as magical as Away / Towards, it can be easy to lose momentum, but rising from the ashes of the first song - the ashes being acid drenched feedback - was another stunning bit of music. Song number two was one of three new numbers, or numbers that I hadn't heard before so I'll assume are new enough to be branded so, and whilst it was possibly the most non-descript of the three new songs, it was still enough to get the heart racing, and the hair standing up on end.
A common theme after every Hookworms song was the feedback, in place of silence from which the next song then emerged - this again happened between Song Number Two and what is maybe their best known song; Teen Dreams. Clocking in a six minutes of thudding bassline and hypnotic melody, the second song off of the Hookworms EP was just as stunning live as it is on record. And again, it was followed by an extremely tight, fuzzy new song, Hookworms' set was absolutely on point and everything was orchestrated to perfection.
And the band themselves, despite their chosen anonymity, had a huge amount of stage presence. Frontman and keyboard wizard MJ belted out some of the most unique vocals around, which is part of the reason why Hookworms' sound is head and shoulders above everyone else's. But no more was the sound more unique than during their penultimate song; the non-album 2013 single Radio Tokyo. With it's racing Dingeresque drums, it's Doors-like keyboards and of course the riff that start it off; Radio Tokyo, in essence, sounds a bit like a helicopter taking flight, but kinda turbocharged. It's Hookworms at their most Wooden Shjips-like - the band they're so often compared to, with a bit of The Seeds or The Chocolate Watchband's garage thrown in as well.
Before the last song; another new number, Hookworms addressed the audience for what was probably only the second time, which I thought was odd at the time, but the more I think about it, the more I realise that Ludwig Van Beethoven wouldn't say "this bit is about a storm, I hope you like it" between the third and fourth movements of the 6th Symphony. It just wouldn't happen, would it?
But the last song Hookworms played, what a track! Although the name isn't something I can be sure of, it's a mixture of the energetic, slightly dark psychedelia on Pearl Mystic with an underlying euphoric edge. Although that might have just been me, being euphoric at the site of Hookworms, you never can tell.
Either way, the band sounded every bit as fantastic through the new numbers as they did powering through the old. And whilst they were only on stage for a total of six songs, that was a euphoric 45 minutes. And the pedigree of the newer songs too, means that Hookworms may do the double and release my favourite album of both 2013 and 2014. And that wouldn't really surprise me, because I don't recall seeing a band that great live, so their studio material this time around might be just as unparalleled. And, above all we don't have long to wait, because Hookworms' LP #2 is out this November.
19/20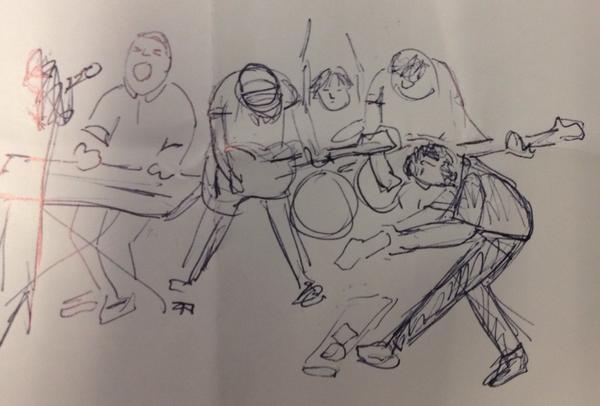 I searched "Hookworms, Brighton" on twitter and...