The term
cult hero
is one that is knocked about here there and everywhere. And the meaning is kind of ambiguous, as, I suppose, is any phrase prefaced by the word 'cult'. But for me, the term generally means less someone or something that is lesser known, but greatly loved. Confusingly enough, it doesn't reaaaally have anything to do with actual cults, or whatnot. Which is a shame, because the world could do with a Holy Church of The Neutral Milk Hotel cult, really.
But it's a term slapped on a lot of people, but I quite often find people that I have short, manically obsessive phases of to be labelled as so called 'cult heroes'. I've seen the phrase used more and more widely, so I decided maybe to put my favourite ten into a blog post, for everyone to see. And maybe, with a little luck, to trigger a Julian Cope-related cult, you never know...
MARK E. SMITH (and THE FALL)
Labelled the cult band for the cult band, The Fall - or namely Mark E. Smith - define the phrase. Over their thirty-few year-long career, The Fall have put out hundreds and hundreds of LPs (most of them great, some of them still pretty damn good, and a couple that are only 'OK') and they have a fanbase that consists of many, many people that don't actually follow any other bands. Thousands of people obsess manically about The Fall, and there are sites upon sites dedicated to unpicking the drunken ramblings of ever-drunken kingpin Mark E. Smith. In fact, a few years back, Guardian journalist Dave Simpson wrote a book in which he tracked down over 50 of The Fall's past members, and it made for really very thrilling reading. And they do indeed define the term statistically too; The Fall have had more singles in the UK top 100 without having a top 20 hit than any other artist - 16 if you're wondering. They're always there, but never quite great enough to break into the mainstream.
Essential Listening: The Classical, How I Wrote Elastic Man, Blindness, Container Drivers, Hex Enduction Hour (album)
JULIAN COPE
Julian, my favourite at the moment on the list, would be the proud holder of the above record, by quite a way... if the perfectly crafted hit
World Shut Your Mouth
hadn't siezed the number 19 slot in 1986! Again, another artist with a long back catalogue and a vast output, Julian Cope is one of the single most versatile musicians ever to be born, ever. He first found fame with the bouncy bubblegum trance post-punk pop group, The Teardrop Explodes, but after two albums they split and he went on to work his way through an illustrious solo career, which started off with obscure psychedelic pop records, before covering such territory as stoner rock, space-rock, neolithic inspired folk, and even his own brand of Julian-style Krautrock. Many hihglights can be found quite easily, including his successful Saint Julian stage persona of the mid-eighties, his comeback album after the Teardrops' breakup with the cult-ish
World Shut Your Mouth
("I only had one thing to say on this album, so I said it in as many ways as possible) and the dazzling brilliance of 1991's double album Peggy Suicide. Of course, this isn't all; he's also one of the most well-spoken, and well informed musical writers in the world (
check out his blog type website here
), he's written a few books about stone circles and all that. But alas! That is not all, he's just released a debut novel, and boy is it great. The man is a true one-off, and there's no one quite like him. It's no wonder so many people adore the man, and he's held.
Essential Listening: Reynard the Fox, World Shut Your Mouth, World Shut Your Mouth (album), Autogeddon (album)
THE THIRTEENTH FLOOR ELEVATORS
The Velvet Underground are of course renowned today, for being one of the most innovative and amazing bands of the sixties - and that they most certainly are. But bubbling under the downplayed success of The Velvets was a bright, illustious scene of psychedelic garage bands, that would later become a scene of proto-punk genii. Of these, the band that stuck out were the Texan band The 13th Floor Elevators - who literally invented the term psychedelic. Fronted by the crazed charisma of the shamanic Roky Erickson (idolised by the first two people on this list) the 13th Floor Elevators brand of psych was miles ahead of anybody else they could call contemporaries. Their sound was incredibly textured, and Erickson's lyrics were something else for the time - cosmic tales of stone circles, cryptic odes to the phenomena of the weather, and plain perfect pop songs like
You're Gonna Miss Me.
Their legacy is plain to see, as their famous fans include not only Julian Cope (who released a Texas-only LP in the early 90's to fund a lawyer for Erickson's defence), but The Jesus and Mary Chain, The Butthole Surfers, and The Stooges have all made it clear that the psychedelic sounds of the 13th Floor Elevators have been a crucial influence on them.
Essential Listening: Slip Inside This House, The Psychedelic Sounds of... (album), Reverberation (Doubt), any of Roky's solo work
RIDE
Shoegazing titans, Ride were up there with Slowdive and My Bloody Valentines and even made it more on a commercial scale. But with recent Slowdive and MBV activity, Ride aren't quite up there with the notoriety of the other two members of the
'Shoegazing Holy Trinity'
. Their sound was much more rock 'n' roll than the other two, and was swirlier, and more dynamic - but just as warped. Born into the world in 1988, Ride immediately created big splashes with their first 3 EPs and then their life-changing debut
Nowhere
, Ride's textural shoegaze sound is probably the one with the most legacy - all the Sonic Cathedral and Captured Tracks-signed artists that tent to borrrow more from Ride and sound more like them than any of the other aforementioned shoegazers. And the sheer number of people I see on the internet with a Ride passion similar to mine assures their status as the cult I think they have.
Essential Listening: Just listen to Nowhere (album), Ride (EP) and Like A Daydream
SYD BARRETT
Syd, the original frontman of Pink Floyd, is always called a cult hero - and rightly so. He only made 1 album with The Floyd, before they slowly branched off to become prog-overlords of all humanity in a much less interesting fashion. He recorded four singles with the Floyd - including the legendary
See Emily Play
and
Arnold Layne
, before the band turfed his increasingly erratic self out in 1968. Barrett took huge amounts of drugs that included LSD, and sadly it all destroyed his enigmatic mind. But, at the very beginning of the 70's, he put together two genius psychedelic folk albums (
The Madcap Laughs
&
Barrett
), before eventually beocoming reclusive for what was the last half of his life. Although the tale of Barrett is a sad one, he was a unique man and I really think the sum of his Floydian brilliance and his solo LPs is greater than the rest of the band's post-Barrett discography. And
Interstellar Overdrive
will be remembered by musical aficionados long after people cease to care about
The Wall
.
Essential Listening: Piper at the Gates of Dawn (Pink Floyd album), Golden Hair, The Madcap Laughs (solo album)
ANTON NEWCOMBE (and THE BRIAN JONESTOWN MASSACRE)
The only real omnipresent member of psychedelic survivors, The Brian Jonestown Massacre, the shamanic head of the band is another widely regarded cult hero. Although he's settled down in the midst of Berlin, with a child and a home studio, Newcombe's best known for his wild drug-fuelled antics from the early nineties through to today. The BJM have released about 15(???) albums, all of them different and special in their own right, but for me highlights include the straight out shoegaze of the first few albums, the unique 3 albums released in 1996 and 2003's flawless, fully formed
...And This Is Our Music
. What makes the BJM special is the consistent brilliance of their output; this year's
Revelation
is one of the albums of the year and quite possibly the decade. And words can't quite describe the brilliance of Newcombe's recording techniques. I spoke to Mark Gardener of Ride, who said that Anton recorded lots of songs off of the top of his head (leaving them because "it's pure like that") and being like a man possessed in the studio. The Brian Jonestown Massacre are one of the all time great cult bands.
Essential Listening: And This Is Our Music (album), Not if You Were The Last Dandy On Earth, Their Satanic Majesties' Second Request (album)
NEUTRAL MILK HOTEL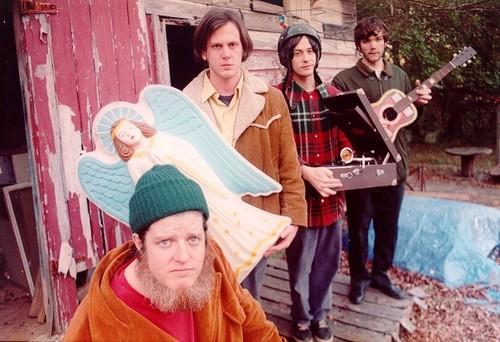 No band, ever, has been or could be as special, or unique as the Neutral Milk Hotel. Their existence spanned most of the 90's, until the break-up which followed the seminal album
In the Aeroplane Over the Sea
. Frontman Jeff Mangum's beautifully nonsensical lyrics and their unique brand low fidelity fuzz-folk conjures atmospheres and imagery like no other. Whilst their 2nd and final LP
In the Aeroplane
is rightfully regarded as a mastepiece, combining sprawling folk epics like
Oh, Comely!
and
Two Headed Boy pt. 2
, perfectly composed indie pop songs like the title track and
Holland, 1945
, their first album is almost as perfect. The nature of Neutral Milk Hotel, and in particular the reclusive nature of Jeff Mangum, meant that for years and years, meaning that over time the band grew a sort of legendary cult status. Now, with their reunion, including high-billing slots at cool festivals Neutral Milk Hotel have found relative success and monstrous acclaim, which is deserved as they're probably one of the greatest indie bands of all time, and if not that they're responsible for the greatest indie album, ever, if you can label
In the Aeroplane...
as only that.
Essential Listening: In the Aeroplane Over the Sea (album), On Avery Island (album), Naomi
TELEVISION
When punk was the in-thing, Television's own offshoot of the NYC scene was truly bombastic. They were among very few American bands to cut their hair short, but on top of that they had one of the most unique and most amazing sounds in music. The other day my friend said that they were so important, had they not happened, everyone would still be trying to sound like Led Zeppelin. Ew. Their double helix guitars and their mystic lyrics made
Marquee Moon
the single greatest album of the seventies, bar none, and their inspiration can be heard here there and everywhere. What also makes them cool is that their twisty sound was there from the very beginning of punk rock, 14 minute long versions of Marquee Moon can be found on Youtube from the start of '75 and the fact that they predate the Sex Pistols with that sound and attitude is pretty fucking cool.
Essential Listening: Marquee Moon, Marquee Moon (album), Prove It
BIG BLACK (and STEVE ALBINI)
The mastermind behind the production of
In Utero
,
Surfer Rosa
and a lot of PJ Harvey's solo material, the producer Steve Albini masterminded one of the great bands as well. Whilst industrial rock is a genre people are eager to look down their nose at (I mean, I laughed when I first the most famous industrial rock band, Nine Inch Nails) Steve Albini's Big Black were one band that you couldn't help but admire the genius of it all. Being made up of Albini. two others, and Roland the drum machine, Big Black were the most co-ordinated, loud and down-right vicious band of the infamous US hardcore scene of the eighties. Through their two albums,
Atomizer
and
Songs About Fucking
, the band rose to huge acclaim - John Peel once said that he weekly thought about hammering a nail into his foot because he passed on an oppurtunity to see them. Their live shows too, explain this. There's a couple floating around the internet - one in CBGBs, and another in a steamplant in Seattle - the latter being the bands last gig in 1987, attended by a 20 year old Kurt Cobain. It's hard to talk about just how great this band are, and why today they have fans crazy for them, without hearing them, but man! What a band.
Essential Listening: Atomiser (album), Grinder, Kerosene, Columbian Necktie
HOOKWORMS
Okay, here maybe the term cult band is being used a little tenuously, but hear me out. Formed just a few years, ago, Hookworms are the Leeds band responsible for bringing us
Pearl Mystic
and a host of the greatest British psychedelic songs since 1990's break-up of the Spacemen 3. A cult band itself can be described as a band whose acclaim outweighs their popularity, or a band with a decent amount of fans crazy about the band, and crazy about this band I sure am! Keeping a famously low profile, through using only initials instead of names, Hookworms are one band active today (the other band in this kinda timeframe I was going to write about was WU LYF) whose legacy can surely only grow, having released a great album, a great EP and nothing more just yet! But they're poised to release another great LP, clad in mysticism and genius and whatnot. I guess they're not a cult band in the way The Fall are, but give it a few years and there'll be hundreds of people walkin' around convinced Hookworms are the best thing to happen to music this century, and people who are all "Hook-who? Let me google that..." (But don't google it, it'll scar you for life)
Essential Listening: Pearl Mystic (album), Radio Tokyo, I Have Some Business Out West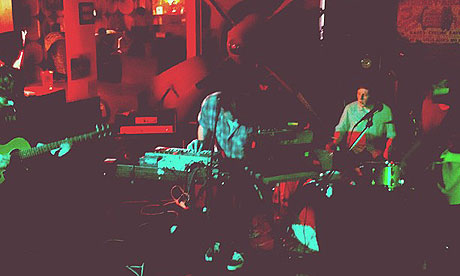 (written and compiled by calum cashin)