Living in Southampton's pretty cool for festivals; a mere boat trip away from Bestival and IOW, 30 miles from Reading, 40 miles away from Camp Bestival and 50 miles away from Glastonbury... but this weekend, courtesy of my favourite band having a free guestlist spot, I moved on down to the last couple of days of Dorset's End Of The Road festival. Although I missed the first day, which The Wytches adorned with the likes of Stephen Malkmus, Drenge and St Vincent. But I arrived unprepared on the Saturday morning with not enough tent pegs, not enough food and not enough clothes to last the festival. Which probably made it more enjoyable, I guess.
End Of The Road itself is quite a seduced, reserved festival. There are two major open air stages, a big top and a tipi-style tent, all playing host to bands of some notoriety. The main two stages were the open air ones, both playing host to the more radio-friendly bands on the lineup, and the biggest. The big top was my favourite, being awash with psychedelia, garage rock and hard rocking blues.
Day One - or maybe it should be Day Two - Saturday
THE GHOST OF THE SABER TOOTH TIGER
After I'd found my bearings, and worked out where everything was, the first band I saw were the GOASTT. Fronted by the duo of Sean Lennon, the only child of John and Yoko, and Charlotte Kemp Muhl, alongside a hat-bearing group of highly talented musicians, The GOASTT were one of the single coolest looking bands in the world. They blended the deep Americana twang of Ryan Adams or The New Desert Blues with the dark woozy psych riffs of the Spacemen 3, and boy, did it pay off! Without even realising who Sean Lennon actually was, I thought they were brilliant, and even though they started off slow and hard to get into, I got really into their set towards the end, and 45 minutes just wasn't long enough. And considering I've only just found out that that Sean Lennon is, well, Sean Lennon, they were mind-blowing whether you're really into the Beatles and whatnot or not. The lead single from their debut, Animals was full of psychedelic brilliance and Golden Earrings was beautifully haunting.
EAGULLS
It's not secret that Eagulls are one of my favourite bands on the planet. I mean both
here
and
here
I've said that they'd released the best album, and the best song of the first half of 2014...
So a chance to see them live was one that I grabbed by the ruff of the neck, seeing as they're yet to play a date on the south coast that you didn't have to buy Franz Ferdinand tickets to see. I was so excited that I even watched them soundcheck alone in the big top, which says a lot really. But Eagulls were just magnificent to behold; like a Morrissey-fronted Joy Division supergroup fuelled on anger, cocaine and hatred. Frontman George Mitchell was so completely elegant, until the band unleashed the riches of the Eagulls LP on their captive audience, and he exploded with his unique, angry voice. Although the crowd took a while to get going, Eagulls was actually the first instance of anyone actually dancing to a set in what was a festival full of otherwise reserved crowds. The guitar-driven storm of Nerve Endings was other-worldly, and the LPs climaxing opener Soulless Youth was absolutely stunning. But the highlight was the swaggering Possessed, which they rattled through in amazing fashion, each lyric tessellating beautifully. Wow, this post-punk outfit are the real deal, and in my honest opinion I think they're one of the three or four best bands on the planet.
HOOKWORMS
Singlehandedly responsible for getting me into the festival, Hookworms' 1 hour long set was the one I looked most forward to throughout the weekend, and boy! Did they not only better any expectations, but they towered high above them. The only songs from before this year that they played were
Away/Towards
,
Teen Dreams
and
Radio Tokyo
, which meant that about 40 minutes of their set was all new stuff - lots of
The Hum
. Opening with the climaxing fuzz of
Away/Towards
, which is one of the best set openers ever, their set kicked off already awash with a fantastic momentum that only Hookworms have. The mind-blowing new song,
The Impasse
, which is the first track to officially be released from
The Hum
was absolutely explosive, and
Radio Tokyo
actually saw some kind of mass dancing within the audience.The new numbers seemed in a similar vain to the rest of the stuff, but it was absolutely mesmeric. Playing to a packed out big top, they were beyond captivating, and maintained their position as 'possibly the best band I've ever seen'.
THE HORRORS
Right, okay. Well, I'd probably put myself in the bracket of adamant Horrors fans, and the decision to miss the first hour of The Horrors' 75 minute set to see Hookworms in full looked to be something of a risk. I mean, I've seen Hookworms 3 times, and I've never seen The Horrors AND I'm not seeing them on their tour. But as I got to the main stage to see the last three songs of their set; So Now You Now, Still Life and I See You I knew that seeing Hookworms' bombastic psych apocalyspse was the right decision. Faris' vocals were but a shadow of what they were like on record, and their album that landed earlier this year Luminous seems to be just too difficult to recreate in a live setting. He still had the godly yet ghostly stage presence, and the legs to end all legs, but even through Still Life Faris' voice sounded shot to pieces. Although they're one of my favourite bands, the segment of their set I saw was a bit disappointing...
UNKNOWN MORTAL ORCHESTRA
The lo-fi psych of Oregon's finest was one of the cooler sets I saw all festival. Although it was kind of same-y throughout, the Mac DeMarco style twang created the most fantastic atmosphere. The crowd swang to the oozy rough-cut psychedelia of Ffunny Ffrends and the vibrant sounds of their sophomore album II. They weren't as exciting as the two bands that had preceded them on the big top, but shouts of 'UMO! UMO! UMO!' from the crowd was proof enough that they'd delivered a brilliant set. They are the thinking man's Mac DeMarco, if such a thing exists.
THE FLAMING LIPS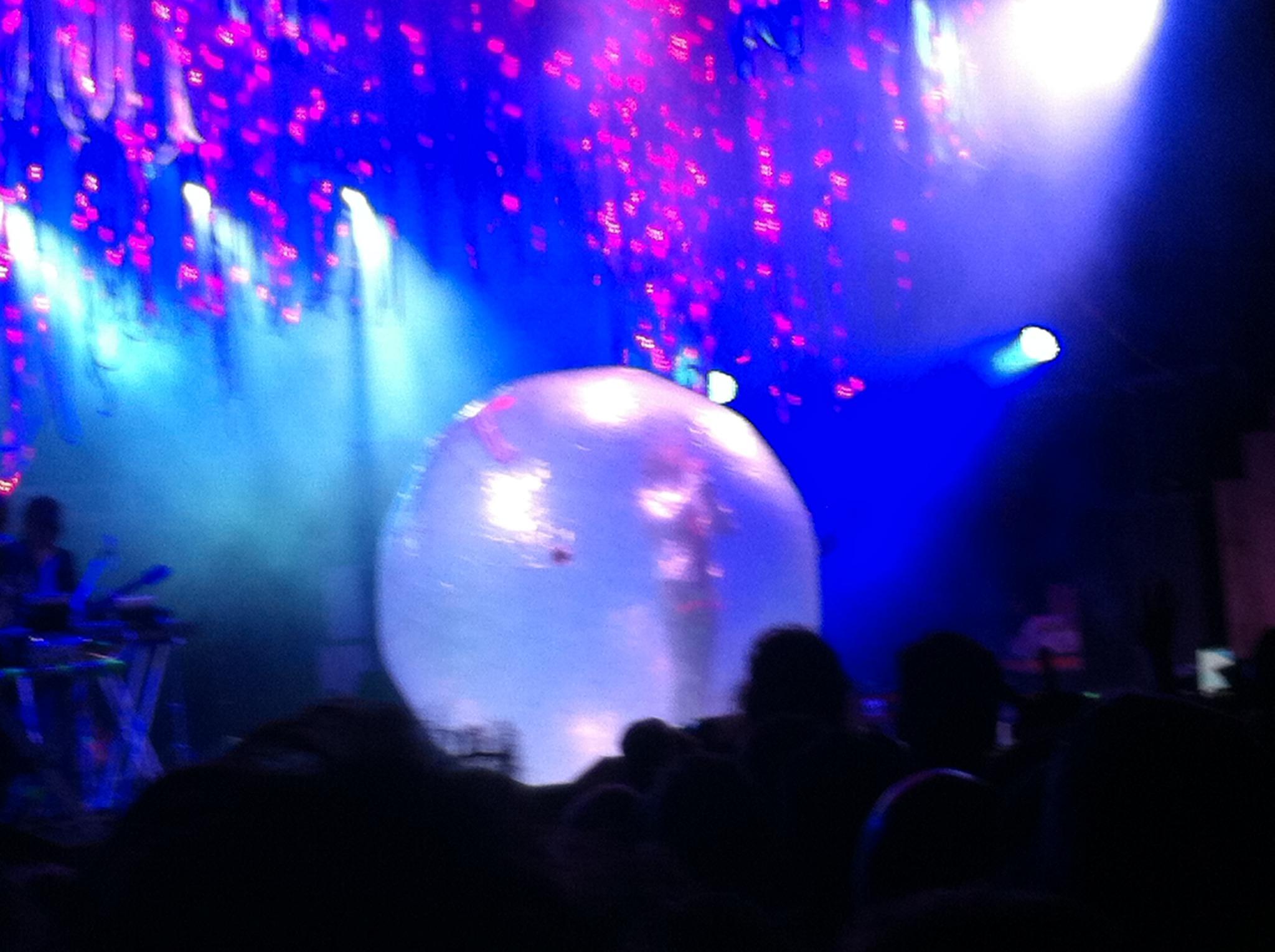 Headlining Saturday at End Of The Road was the psychedelic majesty of Wayne Coyne and fwends. I admit, I don't really listen to them enough, so I just sat back and enjoyed what was going on, and what was going on was absolutely crazy. Their set was largely based on what was probably their most successful album
Yoshimi Battles The Pink Robots
. Throughout their set, the Flaming Lips were mesmerising, and Wayne Coyne asserted his prowess through a handful of charismatic guises. The first half of the show saw two or three big inflatable monsters bop around the central figure of Coyne, before he got into his hamster ball to travel around on top of the [lifeless] crowd. But the encore was something beautiful; they came back on atop a podium to rattle through
Do You Realize?
and man, it was beautiful! But after that, all went dark, and Wayne arose higher, with confetti flying through the air, to play a fantastic version of
Lucy In The Sky With Diamonds
. It's hard to imagine a headline set at any other festival this year could possibly be as cool as Wayne Coyne and the Flaming Lips.
ELSEWHERE ON SATURDAY
Earlier on that day,
Wayne Coyne
was in the Rough Trade signing tent, and what a genuine guy he was! Of all the people I've ever met of that kinda 'fame' he seemed the most genuine. I also saw all of
The Archie Bronson Outfit's
set, and whilst they were very cool, there was one bit I didn't get. I mean, there was a saxophonist who went the whole set without making any sound, I think. And Sheff-based songer
Richard Hawley
delivered a DJ Set in the woods which was really fucking cool. Like, wow! Among his songs chosen were The Stooges, the 13th Floor Elevators, The Velvet Underground and a whole host of 60's psych garage bands. I think I even heard a bit of The Seeds in there, how cool, eh?
Day Two - Sunday
Sunday's line-up wasn't so exciting; headlined by Wild Beasts, who are really just an American Version of Elbow, aren't they? Highlights were more sporadic, but there was a very good selection of artists on still! Most importantly perhaps, Viv Albertine of The Slits was in the signing tent, so I shook her warmly by the hand and told her how cool she was.
KIRAN LEONARD
Prosperous youngster Kiran Leonard opened the big top's proceedings for me on the Sunday. Playing as part of a four-piece, with a drummer, a bassist and a keys/violin player accompanying him, the 17 year old took to the stage around midday. With a tight band to harry on his rasping vocals, Kiran stonked through an electrifying set of post-Jack White blues rock, really getting Sunday off with a bang. The highlight was the last song; a chaotic jam session, a furore of barked vocals and violin improvisation. Kiran Leonard is too talented to be my age, I just won't allow it.
BENJAMIN BOOKER
Another relatively young exponent of modern blues rock, Benjamin Booker was recently thrust into the spotlight when he was announced as support for Jack White's upcoming shows. Booker is, like White, a guitarist, and very recently he brought out a debut album. His slot at the End Of The Road was the first since its release, so you'd expect a bombastic show from the Tampa-born 25 year old. However, despite releasing an impressive album, his set seemed too sterile, without any real excitement. Although there's no doubt about his talent, or even his soulful voice, but with Benjamin Booker's set everything was just too calculated and kinda boring. No hard feelings Ben.
JOHN COOPER CLARKE
Ten seconds into JCC's big top performance and I only had two thoughts; "fuck me, that's one of my all time heroes" and "wow, The Horrors' legs have nothing on this guy's". Dressed in a slim-fit black suit, the bard of Salford was one of the single coolest things I've ever seen. He started off slow, talking a lot in his northern tongue about stuff before he read out an occasional poem. The first real highlight came after the 65-year old poet rambled on about weight and such, where he recited
Get Back On Drugs You Fat Fuck
, and ended afterwards by saying "I know there are pedants, I know there are pedants in the audience that'll have realised that 'schmuck' and 'cunt' don't actually rhyme". Throughout, Clarke had a razor sharp wit, but it wasn't until the end JCC came into his own. Ripping through a razor fast version of the punk classic
Beasley Street
, where the 'rats have all got rickets' and 'spit through broken teeth'. He then went on to talk about urban renewal, and that these days you wouldn't recognise Beasley, it's now
Beasley Boulevard
! The last two poems were the most well known, particularly to a younger audience... firstly, he recited his personal favourite; a poem banned by the BBC 'because it uses the fuck word 57 times' - it was
Evidently Chickentown
. A work of genius! Then Johnny Clarke came back on for a last poem, of course more famous these days as
I Wanna Be Yours
, the last song off the Arctic Monkeys last album. But from the mouth of John Cooper Clarke, it's not a soppy ballad of love. It's a cynical, bitter sarcastic valentine's card - how it should be, eh? Clarke's performance was Saturday's undoubted highlight.
Rating:
20/20
BBC RADIOPHONIC WORKSHOP
This one was a real curveball; a group of musicians trained in unusual soundtracky instruments, playing BBC soundtrack music to a packed out crowd in the big top. They started off with a haunting new slow piece, before progressing to something that everyone but me recognised, and then played a bit of
Hitchhikers Guide To The Galaxy
- all whilst a giant screen projected relevant footage to the audience. As the set rattled on, it was obvious what the last song would be, what the last song had to be. TV's most iconic theme tune,
Doctor Who
, was played at full pelt to close the set, and it was a great spectacle. But it wasn't the normal 41 second snippet you hear on TV - it was transformed to a masterpiece spanning ten minutes.
Rating:
16/20
TINARIWEN
Tinariwen were really very bizarre, but in a really great way. Formed of about 7 Algerians, they fused traditional music with modern day rock and psychedelia - reflected by the fact that their instrumentation juxtaposed a Gibson SG with a hard-rocking tabla backbeat. They droned through a hypnotic set, with very few words in English. It's hard to rationalise just what was going on through their set, but it was certainly beyond mesmerising.
Rating:
18/20
WHITE DENIM
White Denim are a band whose studio output has always impressed me a bit - they're not the most exciting, but they certainly have something going for them. But last year, I saw them at Latitude last year and they seemed so devoid of excitement, as edgy as a satsuma. But since then, they've released a decent album,
Corsicana Lemonade
, so I gave them a second chance as they closed proceedings on the Sunday. Unfortunately, however, they remained way too controlled to be that exciting; kind of The Hives, without all their drugs, and without their frontman. They closed their set with the song off of that advert and whilst it was quite cool, like the rest of their set it sounded note perfect to the studio work, like it was engineered in a Swiss lavatory.
Rating:
11/20
In summary, the high points on the End Of The Road bill were probably the highest of any festival I've been to. I mean, there are no other festivals that you'd see Hookworms deliver an hour-long set, some people play a 10 minute version of the Doctor Who theme or John Lennon's son sing some psych ballads about Paul Getty? Despite it's reserved nature, the music was absolutely top of the line, and I wish I managed to sneak in a day earlier...
(written by calum cashin)