For want of a better word, the
indie
contingent of the music industry probably tries to promote the belief that music is quite a meritocratic affair; the cream will rise to the top, and the shit will sink, right? The harder you try, and the more talented you are, the more likely you are to get signed and tour arenas and support The Courteeners and appear on Jools in ill fitting suits. Well, that's what they want you to think. See, recently the issue was brought to the fore when NME's favourite pseudo-metalheads Royal Blood topped the UK charts with their self-titled debut, about a year after they formed.
And, well, it's not as if it's a bad album, but it's incredibly mediocre, and it's something that pretty much anybody could recreate. It's not too musically complex, and the song-writing feels a bit rushed. It's by no means a bad album, but historically bands that make middle-of-the-road hard rock aren't regular chart toppers.
But what makes Royal Blood special isn't their musical prowess, or their good looks, or their immensely cool image. Because all those things aren't particularly in abundance with Royal Blood. No, they're where they are because they know exactly who they know. Royal Blood are just in the right place at the right time with the right people.
In June last year, BEFORE THEY EVEN HAD A SONG OUT, Arctic Monkeys' Matt Helders wore one of their 'Royal Blood' t-shirts on stage at Glastonbury. Who even has t-shirts before songs? What is the point? And again, the band shared equal billing with Miles Kane at Arctic Monkeys' two London gigs. I'm no Miles Kane fan, but that guy sells out gigs pretty damn fast, and Royal Blood were just an unsigned band, signed only to the same management company as, you guessed it, Arctic Monkeys.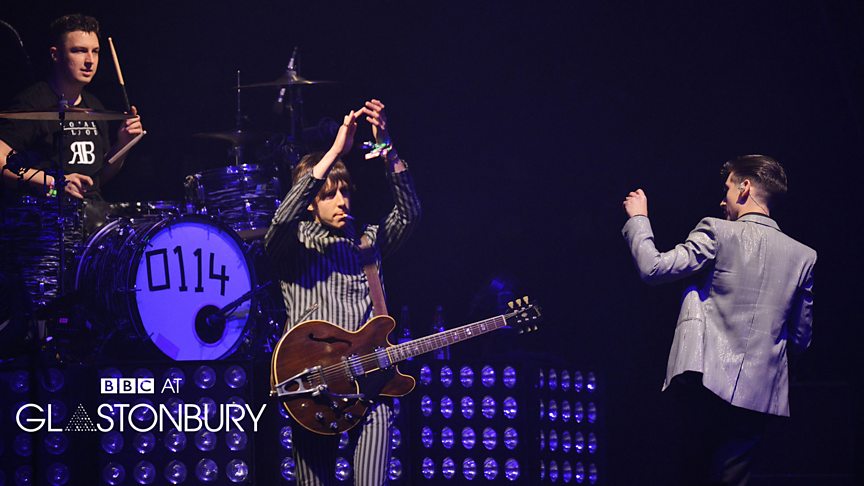 For a genre, for want of a better phrase, with fans that pride themselves on discovering new bands, and ensuring that the next big thing is bloody good. I mean, their seems to be an underlying feeling of that in the indie music community, doesn't there? I mean, maybe it's just me, but there's a lot of emphasis on the hardest working, most talented bands being recognised for being the most hard working talented bands. I think.
So the fact that a band that's literally been on the circuit a year and a bit is topping the charts at ease, it's a bit of a mystery. As well as that, it's all personal taste, but I think they're very mediocre. I mean hard-rocking rock-duos are so my cup of tea, so why do Royal Blood seem so lame? I know I'm not alone in this, but I really don't think that Royal Blood where they are for any reason other than who their mates are. I mean, with that kind of PR any given band that can string a riff together could top the charts. They're kind of the mainstream alternative version of X Factor winners, really.
And don't get me wrong, this isn't a personal attack on Royal Blood, because their music... isn't
bad
, and I'd probably favour it over Sam Smith (who took the #1 spot this week) but in the rawest sense, they are a metaphor for capitalism. Royal Blood are as functionalist as a pair of politically impartial people can be - well, you say politically impartial but with their chums not bothering with taxes who knows how right-wing they are...
BUT THAT'S NOT THE POINT, what this wibbly-wobbly rant about Royal Blood proves is just how easy being musically successful comes if you know the right people. It's less about how you can play than it is about who you know, even in /indie/ music.
(written by calum cashin)