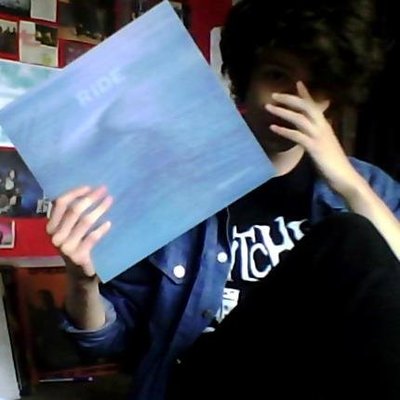 Right, OK, for me this is a long, rambly over-excited post about my favourite band in the world, ever, Ride. Earlier today, they kind of announced they might probably possibly be reuniting; they've popped up on twitter, (like Slowdive did about a year ago) they've erected a billboard that says 'RIDE' in that iconic font in Barcelona and their former record label Creation has Facebook-ed about the alleged '#RIDEreunion'. This is all really fucking exciting.
Ride, where to begin with them? They're my favourite band, and in my opinion probably the greatest band of the nineties, if not ever. I guess a lot of people reading this post won't be so aware about Ride's existence as some, so I'll start with an introduction to the band that has probably changed my life the most. This is the first of quite a few posts about a band that really changed my life - this one's more a Story Of Ride than anything else, because there's nothing more amazing than this band and introducing people to them.
They formed in Oxford, in 1988, with the founder members only
just
being old enough to leave college. They were formed of the fronting duo Mark Gardener (who did most of the singing) and Andy Bell (who was/is a real hotshot with the axe) as well as the bassist Steve Queralt and the drummer (the best drummer ever) Loz Colbert. All meeting at Cheney School, in the heart of Oxford, the duo of Bell and Gardener started to play together after learning about each other's shared love of music, et cetera, et cetera.
In 1989, the band started to play live more and more, building up a reputation as a brilliant band already, even though all of them were about 19. Creation Records boss Alan McGhee heard word of the band through Jim Reid, and followed them 'round the whole of the UK whilst they toured, until they signed to Creation - classic McGhee.
Ride's first release was a self-titled EP, which is pretty much essential listening. It's got hints of shoegaze, but it's really just a hard, fast indie record that leaves the listener hanging on for dear life all the way through. The first couple of tracks are amongst the most iconic in their whole discography;
Chelsea Girl
is pretty much a shoegazing punk song and
Drive Blind
is one of the coolest sounding things ever consigned to vinyl.
You've honestly got to hear this record
.
Then they released another couple of EPs; Creation Records top 40 singles charts entries.
Play
featured the track
Like A Daydream
which is pretty much the most perfect love song ever written. It's kind of anti-romance, and more lackadaisical than anything else. The next EP,
Fall
featured some darker tracks, and showcased Ride's capacity to write amazing automnal songs;
Dreams Burn Down
made their debut, but the EP also features the songs
Nowhere
and
Here And Now
, all three songs brilliant forlorn numbers that cannot be missed.
Then, the Oxford four-piece only went and released the fuckin' greatest album of all time, didn't they?
Nowhere
came out in the Autumn of 1990, and it's eight songs still take my breathe away each time I hear them. It starts at breakneck pace with
Seagull
(which Mark Gardener told me is named after the book by Richard Bach) which is a song with swirling guitar tones that leave the listener on the ropes for it's entire 6 minute duration. It features perfect pop songs, like
Kaleidoscope
and the euphoric
Polar Bear
, wispy forlorn numbers like
Dreams Burn Down
and
Paralaysed
and of course, it's rounded off with
Vapour Trail
- possibly the greatest song ever written. It's no coincidence that we named the blog after it. Nowhere as an album is so complete, no one could ever better it, and to hear it live would be just amazing.
If you've not heard it before, I urge you to sit down and listen to it in full.
Not only is it Ride's best effort, but it's better than anything their shoegaze contemporaries ever did, and that's far from an exaggeration.
After that, however, Ride just got bigger - in 1991 they toured the US, (the San Fran show was attended by the founder members of the Brian Jonestown Massacre) released another EP,
Today Forever
, which many people say is their favourite, and achieved a top 20 charting. Which is pretty great, for a unique band who deal in shoegazing and soundscapes.
1992 was their greatest year. It started with the single
Leave Them All Behind
- a nine minute sprawl of self-assured genius. It was the highest charting single for Ride, or any shoegaze band. It receieved limited airplay, but still reached number nine in the fuckin' charts. Ride. Nine minutes. Shoegaze. Top ten in the charts. That's crazy, that. Then, their second album
Going Blank Again
, a seminal record that's more euphoric indie pop than shoegaze was released to stupendous amounts of acclaim - it reached 5 in the charts, and it featured some songs that capture a euphoria no other band does;
OX4
and
Mousetrap
being prime examples of this. And don't forget
Cool Your Boots
, a song that not only features a sound bite of
Withnail and I
, but also takes it's title from a thing what Paul McGann says in the film. I know I'm piling a lot of WATCH THIS, LISTEN TO THIS on anyone reading this post, but gosh you must watch
Withnail and I
.
OH, and get this, they also shoegazed their way to the Reading Fest subheadline slot, playing the set before Public Enemy, the night before Nirvana. How fucking cool is that? They also made a concert DVD of a Brixton gig, and that itself is just mind-blowing...
So at this point, Ride had it all: success, a devout fanbase and the ability to carve unique sound after unique sound. In 1993, the band kind of slipped under the radar a bit; they played a few dates, but I think during that time the success got to their heads a bit. In 1994, they were set to release a new album,
Carnival Of Light
. Alan McGhee claimed it was to be the greatest record of all time, as he unveiled the Andy Bell-written
Birdman
single, which (although I love it, it's my favourite song on the album) was greeted pretty negatively. It's 6 minutes long and it's more classic rock, and the rest of the album was very much in a similar vain. Don't get me wrong, I love the
Carnival Of Light
album, but it was the first time Ride did something that sounded like someone else could have done it. Mind you, it's still definitely worth a listen, the first half of the album's songs are written by Mark and the second half of the album was written by Andy - it's generally worth a listen to compare the styles of the two.
After that, stuff kinda fell apart, and that really sucks. But the chemistry of Andy Bell and Mark Gardener was no more; they split during the recording of fourth album. Mark Gardener walked out of the recording sessions for
Tarantula
, and the rest of the band soldiered on. The result was almost a tragedy, with few interludes. There are a few good tracks on there, like
Castle On The Hill
, an acoustic track about the state of the band and
Black Nite Crash
, the lead single and a straight out rock 'n' roll track that also gives it's name to a superb record label, but Tarantula is largely an album to brush under the carpet. Creation brushed it under the carpet. Well, they officially deleted it from their back catalogue a week after it's release, and Ride were no more.
That's all very sad, but 3/4 of Ride stayed in music. Most notably, Bell formed a band called Hurricane #1 (who've now reunited without Andy Bell) and then joined Oasis, to see out the ten years of Oasis' career that probably didn't deserve seeing out. Mark Gardener did odd bits here and there, including a lot of solo work and the like. Loz Colbert joined the Mary Chain, who are probably the only band in the world as cool as Ride, and Queralt quit music altogether.
BUT NOW...
But now Ride seem like they might just be back, like contemporaries MBV and Slowdive. They look set to play next year's Primavera, and that means more stuff is on the cards. AGH. This is probably the most excited about a band's comeback ever, even Slowdive's, and like. Like. Wow, what could happen next, I hope you're all as excited as me.
More to follow
(written by calum cashin)