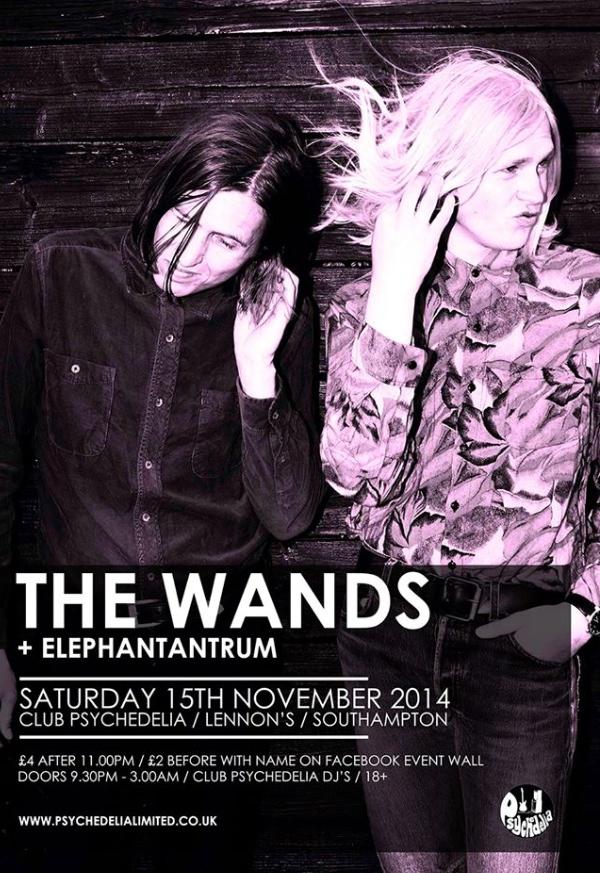 Just weeks after the release of the debut album The Dawn, Danish psych band The Wands took to Lennon's for their last UK show of 2014. With support coming solely from local space-rockers Elephantantrum, who are quite possibly the most exciting band to emerge from the south coast, The Wands' Southampton show was poised to be a brilliant celebration of some of the best psychedelia around.
Elephantantrum's 30 minute support slot was both experimental and assured, but absolutely mesmerising. The first 'song' spanned 20 minutes of their set, and sounded a bit like the space-rock feel of Spiritualized mixed with the psychedelic tones of Wooden Shjips and Temples. The rest of their slot was just as energetic throughout, and their unique set showed just why Elephantantrum are one of the greatest new bands on the scene at the moment.
The Wands, playing as a five piece clambered onto the tiny stage at about 10 to midnight. Although they started their set in the most laid back of manners - starting their set by playing over the top of the music that had been playing in between sets - The Wands' unique stage presence showed immediately as the tall danes strolled on the stage with long hair flowing.
They opened with
And Full Of Colours
off their album; a number with retro-sounding guitars that sounded oddly futuristic due to the cosmic organ sounds of the keyboard. They followed it with newest single,
Sound of The Machine
- a jerky 3 minute long pop song that saw The Wands properly getting into their groove.
The next few numbers were all much in the same vain; short, almost pop structured songs that were equal parts 13th Floor Elevators and The Black Angels. But after that, the nature of the show changed completely as frontman Christian Skibdal announced 'this is an old one'. In contrast to the first half of the set, The Wands' next song - the superbly titled
Hello I Know The Blow You Grow Is Magic
- was a 6 minute psych-out that saw the band at their most Pink Floydian.
The band picked up their customised, hand-painted instruments for the final number, the sprawling
Name Of The Mountain
. In this woozy psychedelic track, The Wands showed just why they're one of the most exciting upcoming bands on the circuit. Skibdal's robotic voice towered brilliantly over the top of the sun-kissed melodies, making the closer probably the best song in their entire set. Although the crowd wasn't the biggest, the band's cosmic set must have been one of the best to come to the venue over the past few years.
16/20
(written by calum cashin)