2014 has been a cracker of a year for gigs and all, so with it coming to an end I thought I'd round my top ten gigs and festival slots into some kind of countdown. This year I went to End Of The Road and Truck Fest as well as amount of gigs well into double figures in and around Southampton, Portsmouth and Brighton, so I guess you could say this list is pretty fuckin' prestigious...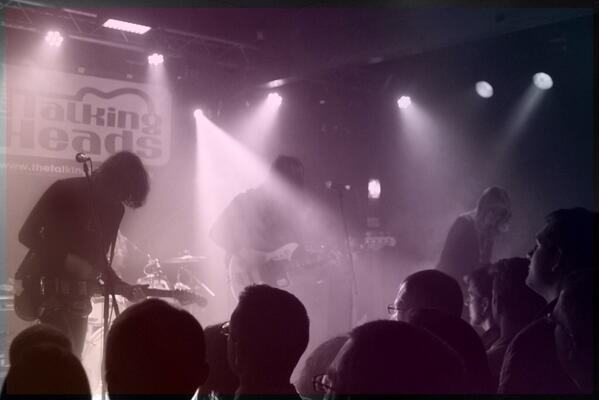 10. TOY @ The Talking Heads, Southampton
Following the success of their second album, London psych band TOY embarked on their biggest UK tour to date, and the Talking Heads date at Southampton's third best venue was one of the first stops. TOY stayed on for well over an hour, and remained mesmeric throughout. Opening pseudo-Krautian instrumental
Conductor
kicked off the psyched out proceedings in a hypnotic way, which established TOY's sound and vibe. Communicating little with the audience, frontman Tom Dougall poised himself as some kind of mysterious oracle, moving only to sing, whilst the rest of the band didn't exactly jump around either; they stayed motionless as pumped out mesmerising psychedelia. This gig showcased the unbelievable talents of TOY, who announced they're working their third album just yesterday - if their live show is anything to go by they can do no wrong.
9. The Wands @ Lennon's, Southampton
Danish warlocks The Wands stopped by Lennon's for their first UK tour since their debut album came out -
a great debut album that we put #7 in our albums of the year countdown
. Their set consisted of perfect examples of post-Loop psych-pop like
Sound Of The Machine
and
And Full Of Colours
, as well as sprawling fuzzed-out freak-outs like
The Name Of The Mountain
and
Hello I Know The Blow You Grow Is Magic.
The Wands' two frontmen robotically strutted around the stage to make for one of the tightest psych shows to hit Southampton all year.
8. Black Moth @ Truck Festival
Truck festival was one of the many highlights of my year, and although it is a largely indie-specific festival, it's Leeds doom-metallers Black Moth who stole the festival for me. Fronted by the deathly cool Harriett Bevan, the band's set was sexy, murky and one of the coolest things ever to happen in a cowshed. Instantly recognisable
Blackbirds Fall
was the highlight, but it was also a great place to showcase the material that would later go onto appear on their sophomore record...
I interviewed them about it here
...
7. Bo Ningen, Younghusband and The Scenes @ The Joiners, Southampton
This was an incredible mind-expanding night for a capacity Joiners crowd... Opening up with Finnish headcases The Scenes, the night started with a bang as the band and their enigmatic Lux-esque frontman Konsta lept around the stage to their energetic music. Then, dreamy Londoners Younghusband came on; their set was woozy and dreamy, and although it took the tempo down, it was certainly a welcome break from all the furore of the earlier band, and what was to follow. Bo Ningen arrived on stage, robed and ready to go, with their hair being blown by a big fan they'd somehow managed to carry around the country with them. Their hourlong set included 3 minute thrash freakouts like
Dadada
and
Kiroshitai Kimochi
, before they closed their set with a ten minute space jam that saw instruments fly, drumsticks break and the guitarist being swamped by the overeager Bo Ningen fans. Alongside the perfect support, Bo Ningen's taking of The Joiners was more than memorable for everyone involved.
6. Circa Waves, Public Access TV and Bloody Knees @ The Joiners, Southampton
Upcoming indie trailblazers Circa Waves packed one of 2014's surprise punches by just being out of this world. Support came from Bloody Knees' Nirvana-inspired fuzz and the perfectly polished melodies of New Yorkers Public Access Tv; who I, for one, think are going to be absolutely ma-hoo-sive in 2015 - they're dreamy, together, and everything you wish The Strokes still sounded like. Circa Waves were just the same; Strokes carbon copies that were actually a thousand times better than the original; they blistered through a set in a very sweaty Joiners which included blistering versions of
Get Away
,
Stuck in My Teeth
and everything else in between. Although their studio stuff isn't as exciting as most, Circa Waves live show is really something special.
5. Eagulls @ Lennon's, Southampton
Staggering onto the tiny nightclub stage, Eagulls' first major UK tour saw the five piece trying to squeeze themselves onto a tiny stage that was barely big enough for Bad Breeding, the quartet that supported. After a previously unheard opener opened proceedings in a dissonant way, the set began to gain a huge amount of momentum; the wall of sound on
Tough Luck
, the swarm of
Nerve Endings
and the anthemic cries of "
I'm moulting! Moulting! Moulting away!
" saw the band sounding just as great as they do on their flawless debut. Frontman George Mitchell's great stage presence - kind of Lux meets Iggy meets Ian - was amazing throughout and the cold extended version of
Hollow Visions,
Eagulls were on fire. By the time they finally finished with final track
Possessed
they'd completely wowed the crowd with their post-punk brilliance.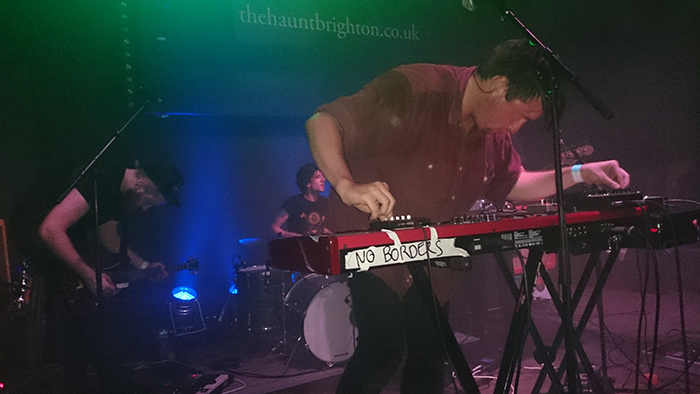 4. Hookworms @ The Haunt, Brighton
Explosive, loud, and about as together as a band can possibly be, Hookworms took Brighton's seafront venue by storm with their own unique brand of noise-rock. After opening with fuzzed out
Away Towards,
which caused the set to explode superbly to life, they unleashed selected offerings from new album
The Hum
.
Radio Tokyo
was explosive,
The Impasse
was furious and
Retreat
closed the set absolutely perfectly. Whilst here the new songs were an unknown quantity, they sounded fantastic and aptly secured Hookworms' Brighton gig as our fourth best of the year.
3. The Libertines @ Alexandra Palace, London
The Libertines reunion show was something else entirely; both intimate and biblical. Pete Dohert and Carl Barat's onstage chemistry seemed as though no time had passed since 2002 as their set sprawled for well over and hour and a half. They played all of
Up The Bracket
before a mind-blowing, heart-wrenching version of rarity
You're My Waterloo
opened up the encore. I was incredibly cynical about this Libs reunion as I was with the last, but this time the Londoners are back to quit the drugs and kick the ass. And they've just quit the drugs.
2. The Wytches @ The Joiners, Southampton
October also the Southampton return for The Wytches, who've played both The Joiners and Lennon's before this October. They were joined by hot shot upcoming band Piano Wire, and the singer songwriter Otis Elliott for this segment of their tour, making a near perfect line-up. Elliott was very Elliott Smith-like, and Piano Wire were electric, but that was nothing compared with the main act. They played almost every track from their debut
Annabel Dream Reader
, as well as latest b-side
Darker
which was quite
The
Wytches set included particularly loud, fierce versions of
Burn Out The Bruise, Wire Frame Mattress
and
Beehive Queen
before the show was closed with the rarities
Holy Tightrope
and
She's So Far Out
. The band were unstoppable, noisy, and furious - the best Joiners gig of 2014, which is an achievement in itself.
1. Slowdive and Hookworms @ The Forum, London
2014 has been Slowdive's greatest year; their reformation brought them the acclaim they deserved in the early nineties. Our blog's favourite Hookworms kicked the lid off of proceedings with a dynamic set that encompassed ALL of our album of the year
The Hum
. But what followed was the only possible way that Hookies could have been outdone; Slowdive's 90 minute set began with a stunning rendition of the thirst-quenching
Slowdive
before the ethereal
Avalyn
shrouded the whole room in that beautiful Slowdive atmosphere that is completely and utterly their own. Slowdive's beautiful shoegazing sound was beyond beautiful, and serene - the outro to
Catch The Breeze
was special,
Machine Gun
was almost like drowning whilst one thousand other people drowned with you and their infamous cover of Syd's
Golden Hair
was the single most beautiful thing I've ever witnessed - there were actual tears, from pretty much everyone in the crowd. Live, Slowdive created a sound that it's not only hard to get your head around guitars making, but a sound that it's hard to get your head around people making. As a live experience, Slowdive were more special than even I could imagine, and if their musical prowess with their old material is anything to go by, the new material they've promised should be the most amazing thing in the world.
(written by calum cashin)