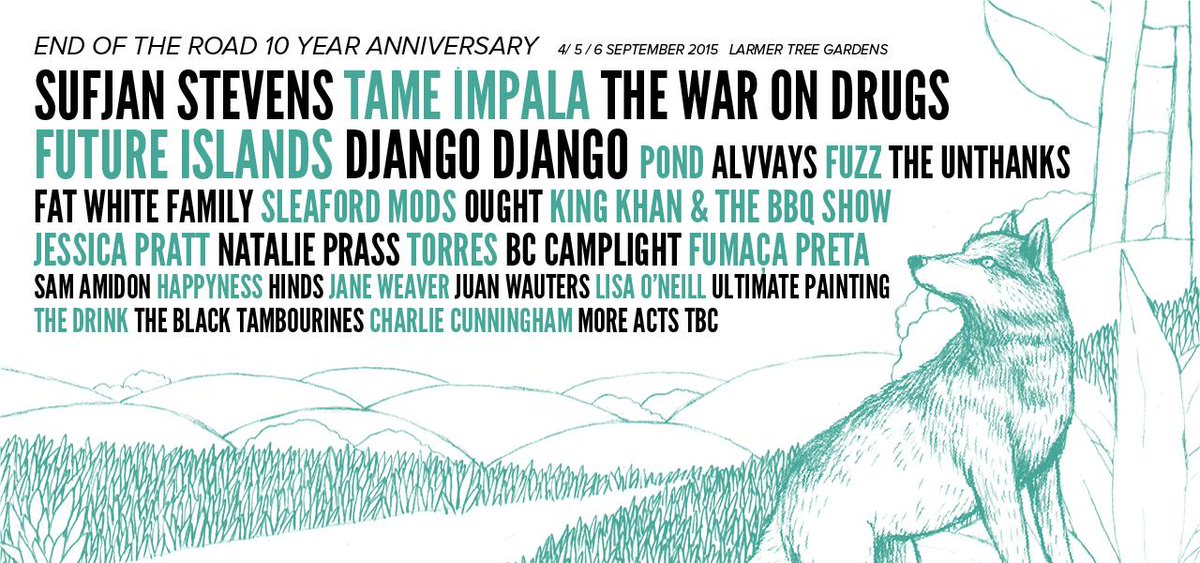 This morning, End Of The Road announced the first wave of acts for it's 2015 festival; and crikey, it's one hell of a line up.
The three headliners are absolutely out of this world, for a start; I can't imagine Glastonbury legitimately picking out 3 acts that great.
Surfjan
plays only his second ever festival performance, and his first in the UK, whilst
The War On Drugs
pretty much owned last year, didn't they? And god,
Tame Impala,
one of the best bands in the world are playing a headline show, which pretty special in itself. Last year the Flaming Lips played that slot, and although it was incredible, Tame Impala could definitely step up to the Saturday headline in a fashion that is far beyond the capabilities of any of the other bands in the entire world.
Complimenting Tame Impala perfectly is the psyched-out sounds of fellow Aussies
Pond
, whose most recent album was absolutely mind-blowing, and is in fact out today. Also providing the psychedelia is the fuzzy fuzz sound of
Fuzz
, Ty Segall's stoner thrash band, as well as the psych-inspired garage rock of
The Black Tambourines
and
Ultimate Painting
.
The rest of the line-up is solid too, with the inclusion of
Django Django
and
Future Islands
' danceable indie rock, and the art-punk of
Ought
.
Fat White Family
,
Hinds
,
The Unthanks
,
Alvvays
,
The Drink
and
Happyness
complete and make sure this is almost certainly the best line up we'll see all year.
(WRITTEN BY CALUM CASHIN)