Over the past couple of days, revelations about the lack of acts including female musicians on the Reading bill have been all over the place. On the Reading bill, of the 100 or so acts announced, less than 10 included females musicians. And whilst yes, Reading probably does have a bit more of a laddish feel to it, you can't help but feel that the biggest rock festival in the UK has some obligation to reflect a fair amount of female musicians, instead of female musicians making up about 5% of all the people booked to play. Whilst I'm pretty certain it's ignorance on the part of Reading's booking agents, some people have alsosaid that it's simply symptomatic of there not being that many female musicians in the profession - but whichever way you look at it, this is a huge, huge problem.
Everyone's seen it, but here it is again; what the Reading and Leeds line up would look like if the all-male acts were removed. (and there's certainly a few I'd like to remove, from life, but now is not the time for an anti-Metallica rant)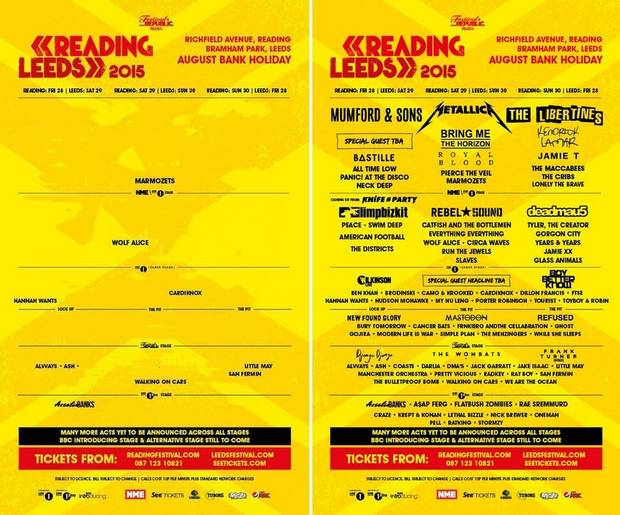 As you can see, it's looking beyond bare. It's also worth adding that Ash don't actually have the same female bassist they did when they started out, so if you remove them (that's 10% of the bands on the line up) you're left with only 9 acts over 6 stages that include a female musician. Wow. And, no disrespect to Marmozets, Wolf Alice, et al, but none of them are in particularly high places, are they? I mean, Azealia Banks, on the 6th stage is the only artist that has her name in a fancy font, and even that's right at the bottom of the page.
Reading is by no means the only guilty party, but it's definitely guilty of shimmying out female musicians, and any talk of there being a genuine shortage of female musicians and bands fronted by women in the rock/alt/indie/dance genres is absolute bullshit. I won't waste your time by lasting the hundreds of great bands on the circuit, but luckily someone did that for us already; in fact, some
wonderful soul
(freelance illustrator Phoebe Summers) went through the trouble of compiling a line up poster for an alternative Reading and Leeds, where only bands that have female members are playing - you've probably already seen it, but give it a look.
As you can see, it respects the genre-type requirements of each stage, and despite the lack of all-male acts, this faux Reading line up is a hundred thousand times better than the actual Reading and Leeds Line-Up. Even without the likes of My Bloody Valentine, Savages, Babes In Toyland, Mazzy Star, Goat and Sharon Van Etten, I'd pay £200 any day of the week to see
that
, if, for some reason you needed any proof that there are enough female acts to almost dominate a line-up completely on merit.
And I know that
there are similar offenders
, like Slam Dunk has only one non all-male artist on the bill, and Download's numbers are similar to Reading, so whilst Reading aren't the only culprit, they're pretty guilty. As well as that, Reading and Leeds, bar Glasto, is the most influential festival, and they should be obliged to promote gender equality in their booking. And it's not like it's impossible either; a quick scan of End of The Road (bar the headliners) and Green Man reveal them both to be festivals that have around a half and half split between the genders.
Pixies (featuring Kim Deal) @ Reading 2005
And even if you do, wrongly, think that there's a real lack of bands with female members, what are festivals doing to make sure that the future will see lots of great female musical talent? Because it must be toxic, to impressionable but aspiring girls to see how male dominated the festival line ups are. Bar Paramore last year, the bands that have headlined Reading since 2005 (that's 33 bands) have contained one female member between them. What kind of message does that send to female musicians? No matter how good you are, you'll always be further down the bill than the creme de la creme of male musicians.
It's not, don't get me wrong, like Reading are the worst people in the world for selecting a line-up like that. They've got more acts to announce, and there could well have been complications with booking and whatnot. But their line-up is completely symptomatic of how the music of female artists is being trivialised and pushed to one side in favour of male artists that do the same thing. But yeah, anyway you look at it, just over a handful of female artists on a huge festival bill is just plain wrong, and something is most certainly, definitely wrong here.
(WRITTEN BY CALUM CASHIN)