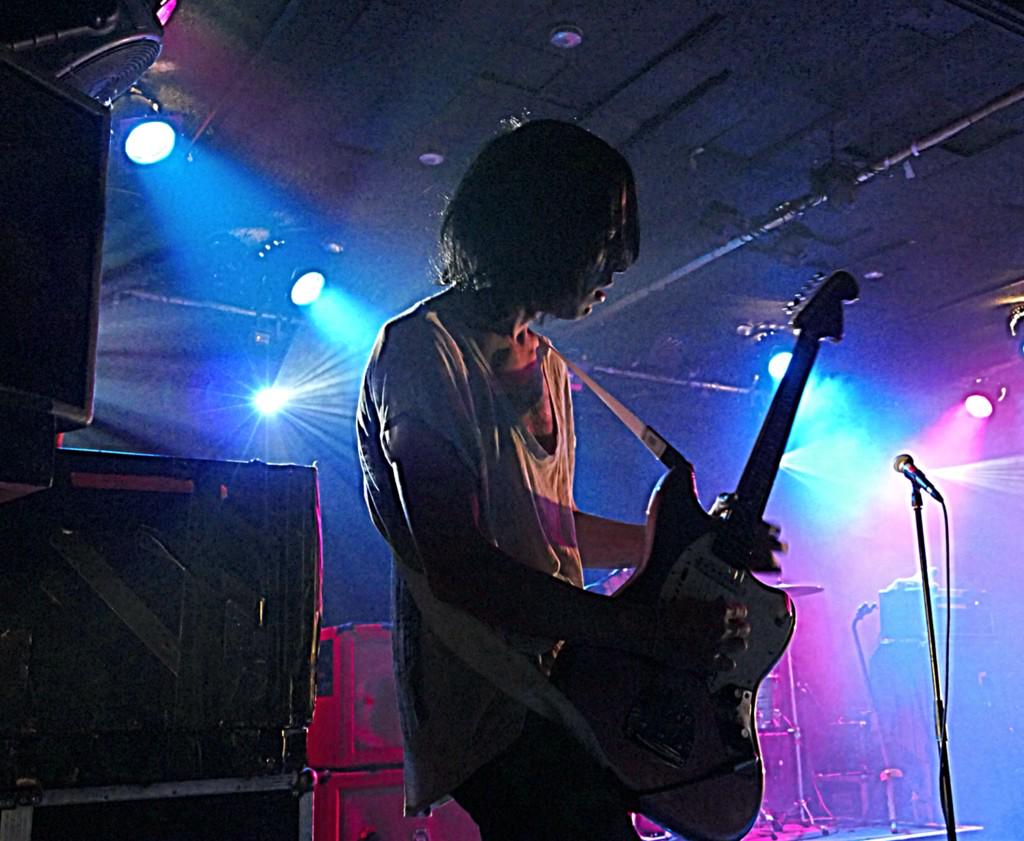 After five albums of intensely electrifying, highly acclaimed material, you'd think The Cribs would have slowed down in recent years, but as LP #6 is ready to hit the shelves The Cribs' intimate, sweaty Wedgewood Rooms gig this Valentine's Day proved that only the opposite can be true. Halfway through the final tour before
For All My Sisters
hits the shelves, they played for 80 sweaty, anthemic minutes which proved why they're just about the best indie band on the circuit.
Kicking off as the sole support act, Leeds' Menace Beach motored through a set made up of their debut record
Ratworld,
which came out last year. Perfect for The Cribs, their scuzzy Madchester sound was easily danceable, although some poor sound-work - the drums drowned out everything and the rest of the band were just too quiet (Jarman sabotage?) - let the overall quality of their set down. Overall though, Menace Beach's songs alone were brilliant enough to carry them over the line in a way that was full of the character that their LP demonstrates.
But obviously, it was all a mere primer for the headline act, The Cribs; beginning as lively as they would go onto be throughout the whole set, they smashed their way onto the stage with the sonic assault that is
Mirror Kissers.
Being not only a really fast-paced track, but one which Gary Jarman's backing vocals take centre stage, it allowed frontman Gary to get amongst the audience from the start. And with The Cribs, the intimacy and closeness they share with their crowds is such a special part of the gig, which you could have told solely by the fact that they're playing venues a tenth of the size that they probably should be.
From there the three piece (joined intermittently by a fairly anonymous second guitarist) unleashed an arsenal, and armory of some of their newest songs; they were a bit more anthemic and danceable instead of out and out punk songs, but they still had a bit of charm. In fact, throughout the set every new song sounded fantastic, and it poised their new record to be really exciting. Later on in the set, title track
For All My Sisters
' stop-start mentality was even a possible highlight, with the crowd reaction to the newbies - "that's wha' I love about Cribs fans" Ryan Jarman (I paraphrase) said, "sometimes you see a band plays all new ones but this..." with nothing but gratitude in his voice.
The Cribs, as a three piece were such a musical force throughout, as well.
Come On Be A No-One
was, as expected, an incredible chantalong that the Pompey crowd greeted by embracing each other, and
Another Number
was an incredibly electrifying experience. Both these songs, the way Jarman respectively pronounces "you" and "disappear" is phenomenal and charismatic.
But The Cribs, undoubtedly one of the greatest indie rock bands of their generation went from strength to strength through their set, just proving that statement - as well as their live furiosity, they also had showcased some of the finest post-Strokes pop songs in the world. Classics from the
Men's Needs...
album like the furious
Our Bovine Public
, live rarity
I've Tried Everything
and the absolutely classic
I'm A Realist
were really something live, and a nice juxtaposition to the softer, more melodic sounds that were ripped off of LP6.
Throughout their set, The Cribs were sonically incredible, loudly smashing their way through a 19 song set, but the crowning glory was the last three songs of the set, namely the penultimate two.
Hey Scenesters
was explosive, and if there was anything good about guitar music in 2005, the smack in the face that is
Hey Scenesters
demonstrates it all. But after that, before closing with
City Of Bugs
, The Cribs unleashed (after an intro of some white noise)
Men's Needs
upon the Portsmouth crowd, and with it's electrifying riff, consciously off-key vocals and it's general shouted choruses, it was one of the most spectacular moments the Wedge has ever seen.
The Cribs are such a special band, and indie rock titans that should in no way be playing tiny coastal venues in the arse-end of nowhere like this. But their general down-to-earthness, perhaps their most endearing quality, is what makes the Jarmans one of the most lovable bands in the world. Their newest single
Burning For No One
comes out with the album, and maybe Ryan's introduction to it just shows off why so far into their career are The Cribs so well loved...
"This is our new single, if you can think of a way to get it to number one, that'd be great... it's a real fuck you song... Christ they actually think we're being serious. But it'd be great if we could 'ave a number one"
10/10
The Cribs' 6th album ALL MY SISTERS is out 23rd March
They're currently touring the UK, but it's sold out, although the new album might yield another tour
Check out BURNING FOR NO ONE here and it's swimming-pig video out HERE
(WRITTEN BY CALUM CASHIN, PHOTO CREDS GO TO @BAE_WATCHH & @16_BEASLEY_ST)