"It's a conspiracy, they're keeping rock 'n' roll out of the Brits", said an angry Serge from Kasabian not so long ago, as if that was the sole reason that Kasabian and their hit and miss fifth record weren't nominated for a Brit award. Whilst it left me thinking "hmmm, Serge, are you sure you're not just not that great?" it did raise the question as to what it would be like if Britain's biggest music awards would be like if they focused a little more on artists off the beaten track. After all, it's all subjective and based on taste, so I wonder what it'd be like if it was us whose personal tastes were taken solely into account when dishing out the Brit awards, you know? So without further ado, me and Poppy took the titles of the Brit award categories (which is why the word 'British' appears more times than it does in the BNP manifesto) (not that I've read that, it was just a half-arsed attempt at poking fun at racists) and had some arguments and this was the product:
1. British Video
Kicking off proceedings is the video award, and as someone that really struggles to give a toss about music videos, maybe this isn't the best one to start on if I want my take on the best music around to appear noticed. Probable nominations would go to The Cribs' pig island video to Burning For No One and the sort of studio quality live Yak video for Hungry Heart, but transcending those has to be Eagulls, whose outrageous Hollow Visions video caught my attention as it did everyone else's. It was kinda gross but kind of cool at the same time, and for me, by making me sit up and pay attention it does exactly what a music video probably should do.
Winner: Eagulls (Hollow Visions)
Other Nominees: The Cribs (Burning For No One), Yak (Hungry Heart - live), TOY (As We Turn)
2. Breakthrough Artist
After much deliberation to what qualifies as an actual breakthrough artist, we decided upon the sassy young star Charli XCX. Charli has been putting out music since the age of 14, when she embarked recording her own mix-tapes before moving on to gigging - a lot of which happened at illegal raves in London. Her first official album was released in 2013 and despite having a massively positive reception, it wasn't until she featured on two number one singles (
"Fancy"
/Iggy Azealea and
"I Love It"
/Icona Pop) that people really began to sit up and pay attention to this strong character changing the face of pop music. After the release of her single "Boom Clap" which features on the Fault in Our Stars OST, she's now a chart success. 2014 was an enormous year for Charli XCX and with her second album having just been released in the UK, 2015 promises even more.
Winner: Charli XCX
Other Nominees: FKA Twigs, Kate Tempest, Temples, Menace Beach


A complete force for sonic onstage mayhem, the London 3-piece Yak got their record deal on the strength of one song and one song alone, and that's quite something. But after Fat Possum signed them because Plastic People was so great, they upped their game, and took it to the next level in a way that's completely insane for their debut single. Yak's Hungry Heart is a whirling three minutes of what I'd probably describe as "psychosis rock" meets psychedelic punk. It's crazy, and it's exciting, and it's one of the more amazing songs to emerge this decade, and I'll leave it at that because I can go on about how great and life-affirming Hungry Heart is all night.
Winner: Yak (Hungry Heart)
Other Nominees: The Wytches (Burn Out The Bruise/Darker), Joanna Gruesome (Psykick Espionage), Slaves (Hey), Kate Tempest (Circles)
4. British Female Solo Artist
As much as we think the fact that men and woman are judged separately is stupid, we are trying to make this Vapour Trail Does The Brits as authentic as possible, so we're rolling with it. And besides that, it gives us an excuse to rave about two artists we love, so it has it's ups and downs. After a short deliberation period we decided this award has to go to the punk-princess,
Charli XCX.
Charli burst onto the music scene a few years back, but this year she has well and truly found her feet. With an incredible second album being released recently, a plethora of prestigious awards under her belt and a huge UK tour coming up, Charli is well on the way to super-stardom. And my god does she deserve it.
Winner:
Charli XCX
Other Nominees: Kate Tempest, Laura Marling, Paloma Faith, FKA Twigs


5. British Male Solo Artist
Last year the Brits gave the award to David Bowie, someone that, despite being in business for almost 50 years still turned out a great pop album. This year, someone whose presence in the music industry is nearing 40 years went one better; as well as bringing out some arse-kicking singles,
Julian Cope
brought out a book. Bear with me here, because I know novels aren't really the kind of thing that win people Brit awards, but not only did Julian bring out a semi-autobiographical time-travelling shamanic novel by the name of
131
, he also released songs and singles as the fictional bands that got namedropped in the book. And for me, that is so fucking cool it physically hurts, because even after doing everything else possible in music, the Archdrude is still finding fresh things to do that people daren't have thought of before, which, alongside bringing out an anthology of his 1999-2014 work called
Trip Advizer
, is why Julian Cope is the best British male solo artist. In the world. Ever.
Winner: Julian Cope
Other Nominees: Gabriel Bruce, Gaz Coombes, David Bowie, Thom Yorke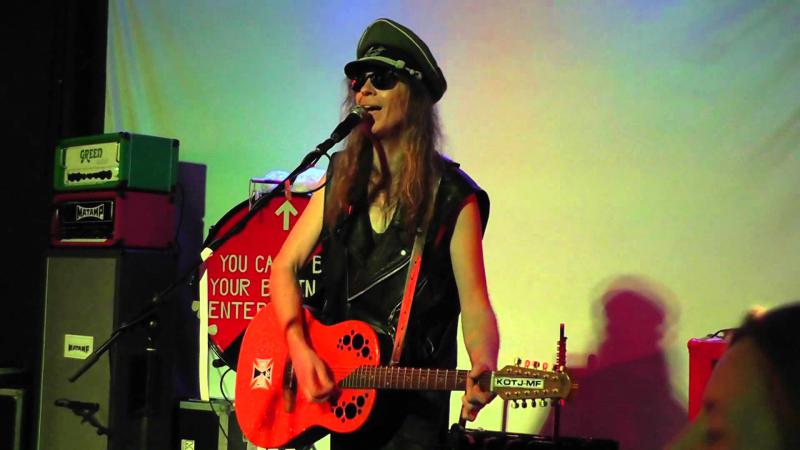 6. British Group
British music is thriving at the moment; last year saw so many great albums, gigs and whatnot by bands from across the country. The Wytches emerged to be everyone's favourite band over the course of the year, Slowdive reformed to play a number of crushingly beautiful shows, and Eagulls took the most humongous leap between their earlier material and live sound to release one of the greatest post-punk albums this side of the turn of the century. But these bands don't nab the award of Vapour Trail's best British group. The band that I believe, and Poppy kind of half maybe agrees, are the best band in Britain and indeed the world is Leeds noise outfit Hookworms. By releasing my favourite album of the past few years, making the most incredible sound live, and just being the all-round nicest, morally driven people in music, Hookworms are just the best thing in music at the moment, so just by default really, they're the best "British Group" in our pretentious hipster take on an alternative Brits.
Winner: Hookworms
Nominees: Joanna Gruesome, Slowdive, The Wytches, Savages
7. International Female Solo Artist
Again, it's kinda dumb and separatist that not only is the art of men and women judged separately at The Brits, but the stuff what foreign people (bloody immigrants, coming over here! Playing at our venues! Covering our songs!) do is judged completely separately to the stuff released by British people. I guess it's fair, because they are the 'Brit' awards but if a vaguely interesting person won the Best British Artist and a similarly interesting one won the Best International Artist, you'd probably want to find out who won. Maybe. But anyway, selecting the artist I love most who fits the parameters above was quite difficult; at the moment I really dig Waxahatchee (who I'm pretty sure is just one woman; singer-songwriter Katie Crutchfield), and I'm slowly getting more and more into the recent Bjork album, but for me the International Female Solo Artist to whom the world is the oyster of is Courtney Barnett, who, after releasing a superb debut, recently put out one of the best songs I've heard in a while; Pedestrian At Best, which sees the Aussie rattling off witty conversational lyric after witty conversational lyric in a bona fide work of genius. Through her unique lyrics, and newfound punk ethos in her sound, Courtney Barnett is one of the best recording artists in the world at the moment, and her new album is going to be a work of brilliance.
Winner: Courtney Barnett
Nominees:
Bjork, Waxahatchee, Karen O, Beyonce
(Vapour Trail Respects Artistry
™)
8. International Male Solo Artist
For years and years,
Ty Segall
has been putting out one or two albums per year, and for as long as I can remember they've been outstanding works of garagey fuzzy psych rock. This year, Ty stepped it up a gear and released a more polished, flawlessly produced album called
Manipulator
, and released some fuzzed out fuzzy singles simply under the moniker Fuzz. Whilst there are certainly a large number of hugely talented international solo males around, all our nominees actually American;
Jack White
and
Mac Demarco
have made a huge splash here in the UK, whilst on a smaller, cultier level BJM tambourine man
Joel Gion
released his debut solo album and
Bob Mould
released yet another fantastic LP called
Beauty and Ruin
; it's Ty's progression and constant production of LPs that's led me to think he's the best guy roving around the world as a solo artist in the world right now.
Winner:
Ty Segall
Nominees:
Bob Mould, Kanye West, Joel Gion, Mac Demarco
9. International Group
There are so so many great bands working across the world who've had incredible twenty-fourteens. I've been so into the genius that is the new Iceage record, on which (excuse the revolting cliche) they really came of age, and Pond's recent album of cosmic Aussie psych was similarly bonkers, yet mature. On top of that, significant waves in the UK have been made by the likes of King Gizzard & The Lizard Wizard, Perfect Pussy, Bo Ningen, The Wands and Viet Cong, so it's really tough deciding who we'd give the international group award to. But, with their incredibly caustic art-punk, Ought have been one band that really knocked me for six; sure, they're heavily influenced by the likes of Pavement, The Fall and The Talking Heads, but their sound is fresh and almost unlike anything else in the world. Last year they released a great debut, More Than Any Other Day, but what really showcased them as a genius band that genuinely stick out was their last EP Once More With Feeling - a versatile release that even featured a bit of a #party #anthem, and one of the best lyrics I've heard in ages. (Who built a house, just to lock me out? (...) Who invited Paul Simon? I didn't invite him!) Through this, as well as generally being cool as fuck and having a lead singer who reminds me of a pasty faced art college equivalent to FBI Special Agent Dale Cooper, Montreal art-punks Ought have stood out as the single best band to emerge on the world stage over the past year or so.
Winner: Ought
10. British Album
This was the award that we had the most deliberation over. It took a few days and a few squabbles but in the end was have decided upon Menace Beach's, Ratworld. Put shortly, it completely affirmed my faith in the future of new bands. Produced by none other that MJ from Hookworms, this surprisingly short 33 minute long masterpiece draws on influences from just about everywhere. It's chaotic yet melodic and the array of different genres they have managed to pull into one album is not only impressive but it falls together perfectly to make a fantastic compilation. It's the very best in slacker-pop, making
sounding-like-we-don't-give-a-shit-but-we-actually-do
like the best thing in the world. Read our full review of it
here.
Winner: Menace Beach (Ratworld)
Nominees: Eagulls (Eagulls), Hookworms (The Hum), Cheatahs (Cheatahs), Honeyblood (Honeyblood).
Anyway, that concludes me and Poppy's ramble about our favourite bands, artists and albums from both Britain and all around the world. It's kinda just a bit of fun, but we put it all into a playlist for your listening pleasure anyway that contains a lot of the artists here, in a combination of album tracks, singles and the best live sessions on the internet. Give it a listen HERE, and use the comments below to tell us what you think about our choices and whatnot.