I know loads of people are in bands as teenagers, but recently I've seen a handful of bands around that are both formed purely of teenagers and absolutely fucking phenomenal - I mean, obviously age doesn't make your music better or worse, or any more or less 'valid', but I find it cool as, and even slightly inspiring that people my age and younger are making great music. So like every other time I think about something in depth, I decided teenage bands would be something I'd write myself a blog post on. So this is the product; a post on teenage bands. But as well as that, I went and playlisted it into a mixtape for you all to get your fix of teenage talent, check that out.
The first of these? Riot grrrls BABE PUNCH put their new single up a week or two ago to fantastic reaction, so it's only fitting that they should be up first in this post. They're a 5 piece from Nottinghamshire, they're currently gigging in and around Notts, but the main talking point here's gotta be their debut single Snake Tongue; it's both snarlingly furious and slickly produced, and actually among the best debut singles I've heard in a while. For a little more, click here.
Down here in Southampton, another absolutely brilliant band making a lot of noise at the moment are HOWLAND with their own brand of energetic, catchy indie rock. Currently they're priming themselves to record their debut single, which will most likely be the double a-side of Waiting For You/Concrete Maze, and alongside that they're playing a few dates in and around the Southampton/Winchester/Basingstoke area. Hit them up on soundcloud for a solitary live version, or follow twitter to stay tuned on the Howland front.
Staying on the south coast, neighbouring Portsmouth is home to CLUES, who make indie rock with a psychedelic influence. Just this week, they put up the brilliant Telegram-esque Confused just this weekend, and for a debut track, it's really something to get excited about. Bounding along at breakneck pace, it's driven by a rumbling, yet melodic bassline, which quite pleasantly draws the attention from the low-mix vocals in a way that really works. For a band that only emerged on social media this week, CLUES are set to make a big splash very, so maybe stay tuned in to their twitter for updates and new songs.
Another band, this one from Dorking, in Surrey, made up of teenagers are VINYL STAIRCASE. Vinyl Staircase are heavily influenced by a lot of psychedelia, stating Pond, Sunflower Bean and The Horrors as two main influences, but at the moment their sound is much more rooted somewhere between C86 janglepop and the more modern 'maths-rock' of indie bands like Foals. At the moment, they've released a few EPs, all of which are available on their soundcloud, but with their sound always developing it's quite possible that they'll get a lot more psychedelic in the near future.
Moving up the country a bit now, to the capital. South London is home to the quintet known as SHAME, whose members are all about 17 or 18. SHAME are already muscling their way into the subversive London psych scene with their psych-pop, which in itself varies between a lot between their only two soundclouded songs; the summery JAWS sound of Furry Freaks is infectious, and at the other end of the spectrum Repoman is a frenzied and garage post-Stooges freakout. Already they've played with the likes of The Fat White Family (who we talk about being in love with here) and Telegram (who we're in love with also), which is incredible because they're two of the best bands to emerge from London this decade. Quite possibly on their way to great things, SHAME have a hell of a lot of potential to be The Next Big Thing.
Making a lot of noise too is Brum based five-piece FRANK, who combine the thrashy grungey sounds of Hole, Bikini Kill, and The Stooges, with a more melodic shoegaze or psych influence to make something that, even in the rough live demos on their soundcloud, sounds really something to take note of. Their soundcloud is the first place for you to go to check out their sound, whilst their facebook is their main means of social media.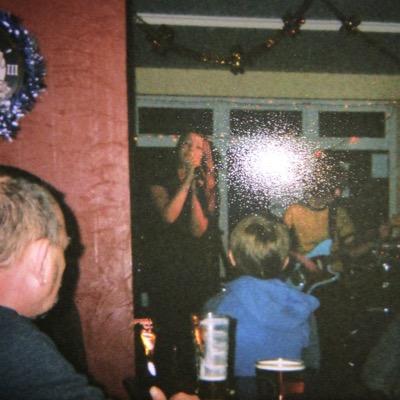 What some younger bands generally lack, despite a real energy is a sensibility for writing great lyrics - but that's not always the case. JUNEAU are a lyrically fantastic songwriting duo from Derby, whose sole track, so far, features vivid lyrics over the top of dreamy accoustic guitars to make an incredibly mature sound that wouldn't be out of place on the 6music lunchtime show. Maybe the best point of comparison for them is to imagine a waypoint between Laura Marling or Courtney Barnett, because, with their nigh-on photographic lyrics (which you can hear on their first demo Spit It Out (nab it for free here)), they're a beautiful blend of those two singer-songwriters. Like their facebook et al, to keep up to date as they record more new and exciting material.
A 3-piece that make some of the most interesting, freakout sounds of all the bands on this list, WAVEFORMS are a Braintree-based band that make great music. With a vast cannon of influences, their current highlight to date is the energetic drumdriven indie-pop gem Oliver 1.1.0, which you can stream on their soundcloud right here, alongside a bubblegum Tame Impala cover. Oliver... sees Beatles-esque harmonies, which occasionally overlap in a way that sounds almost like Gang Of Four
Also worth shouting about though, are DOLLHOUSE, a four-piece who combine electronica with conventional stompy psych pop in a way that's not dissimilar to Caribou or Django Django, or maybe the Fat White Family on ecstasy. Driving on and on, their music's nothing short of effect-laden, and as a consequence hypnotic. From the west, the quartet are gigging at the moment, so check out their facebook for more.
Last, but definitely not least, THE OLDER GIRLS are a Bournemouth duo that lyrically fantastic, catchy music of the indie rock persuasion. Their soundcloud is littered with acoustic sketches, live versions, demoes and fully formed pop songs that you'll (well I) find it easy to listen to for ages and ages. As well as that, they're supporting one of the South's best bands this April, playing a support slot on Bel Esprit's debut EP (which we'll review soon) launch show at The Joiners, and you should definitely come down for that if you can.
As much as each of these bands really is fantastic, there are loads of bands made up of the world's younger musicians. If you're in such a band DROP US AN EMAIL, and we'll get your stuff out there.
-WRITTEN BY CALUM CASHIN