Believe or not (I certainly didn't at first), the coastal city of Southampton is quite recently becoming a hotbed for artists making music of the alternative and psychedelic - a few months ago I saw the grunge-influenced indie band Wild Smiles, supported by the scornful surf of FEVER and the shimmery indie rock of Bel Esprit (
read our review here
), and as well as that, Howland and The New Desert Blues are making more excellent indie rock, and Sleeping Tigers and Palms & Pelicans are releasing a lot of great dream-pop a la Captured Tracks. However, as well as these bands, specialising mainly in the soon-to-adorn-the-pages-of-NME, Southampton's psych bands are some of the best in the country. Fuzz Club Records' Southampton signing, Dead Rabbits played their first local gig of 2015, this Saturday, at The Joiners, and it was the perfect snapshot of some of Southampton's more psychedelic talent.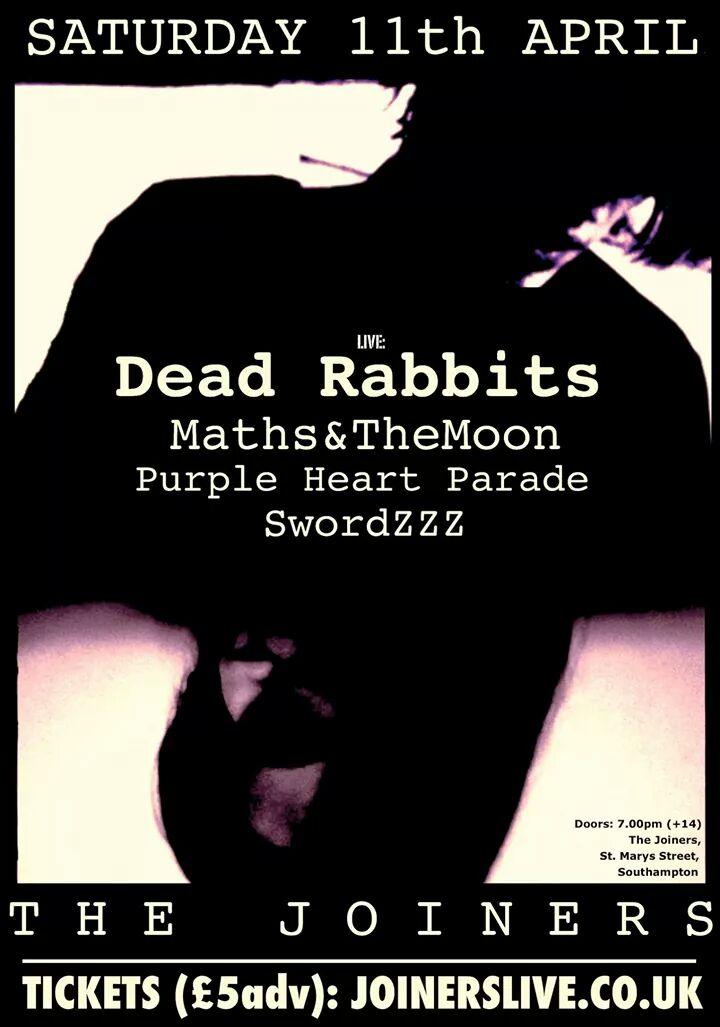 Starting proceedings in a way that was Earth-shaking came mysterous locals,
SwordZZZ
. Their three-piece setup maximised their ability to make some of the loudest (and in fact best) support bands I've ever seen; their frontman's vocals were distorted by a range of pedals to sound like Hookworms' MJ in a bad mood, and his bass the same, whilst the guitar sound was drenched in reverb and fuzz. Their songs were all 2 and a half minute explosions of noise, screeches, and odd time signatures that was extremely experimental and utterly brilliant. Maybe like the Jesus and Mary Chain in 1984, amidst a wall of white noise they started playing, blew my mind, and stopped playing 20 minutes later, having played a fantastic set. Keep 'em peeled for more from this fantastic band, whose online presence is sadly lacking a bit (
although their soundcloud's here and features a Slowdive cover
).
Following them were the night's only outsiders -
Purple Heart Parade
had come down all the way from Manchester, making them distant travelers. They're a four-piece, fronted by Iggy Pop-like Peter Cowap, who make more classic psychedelia, sounding maybe similar to The Black Angels, Moon Duo, or the Fat Whites. Their set saw six pretty long, majestically swirling songs, and although the highlight probably came with the opener,
Starfucker Blues,
a fair amount of the rest of their set proved that, as well as being keen stargazers, their sound's more than prone to sounding like they're keen to gaze at their shoes.
Following them was more local talent; this time
Maths And The Moon
. Although for the most part, their sound was quite bog standard vanilla guitar rock, they did have a lot of interesting krautrock influences, which climaxed with an extended set closer that sounded like it could have been an outtake from
Neu! 75.
About 6 minutes of 4/4, fizzling guitar lines and jabbing repitition, the way in which M&TM closed their set was much more up my street than the rest of it, and ensuring that all 3 support bands had something great to offer from all the various realms of psychedelia.
There was a short pause in proceedings, as Dead Rabbits set up their many effects pedals, keyboards, and other sonic apparatus - with the help of SwordZZZ, this gig made sure that a record amount of multi-sockets were left on stage over the course of the night (8). The local shoegazers took to the stage at about 10.30, and with their first two songs
Heavenly Way
and
Pull The Trigger
, the opening duo from their debut record
The Ticket That Exploded
, they (
as I geekily promised in this post for the Oxfam I work at
) turned the Joiners into a sonic cathedral with their haunting, repetitive sound. As I'm sure you'd know if you've listened to their 2 studio albums, Dead Rabbits have a sound that has the stomping shoegazing influence of the first few Brian Jonestown Massacre records or Loop, which they combine with a more modern, cosmic atmosphere and arid vocals - and during the Joiners show, because of both excellent venue acoustics and the band being on top form, this sound was at it's absolute best.
The middle part of their set was made up mainly with music from last year's album,
Time Is Your Only Enemy
, as well as stuff that might well be new. For the most part, it was entrancing, the band's sound was rich, and hypnotic, and they showed that even though their music's very revivalist, they have a fresh sound all of their own, and the band were covered in psychedelic projections that looked like animations of their geometric album covers.
Dead Rabbits played about 9 songs, in an hourlong career spanning homecoming set, but it wasn't til the two closing tracks that the band reached their absolute pinnacle (or said any words to the audience). Their penultimate track was the dazey, 'gazey
When I'm Blue
from their debut record, which sounded just like something from a Sofia Coppola film, being impossible not to lose yourself in. Finally, bringing an end to their triumphant hometown gig, Dead Rabbits played the closest thing they have to a hard rockin', hard rollin', stadium fillin' anthem.
All In Her Head
saw the same hypnotic, formulaic sound that haunted the rest of the set beautifully, combined with raucous cries of "
It's all in her head, 's all in her head
" ensuring that the set was closed on a heady high.
Dead Rabbits are arguably the city's finest musical asset, and Saturday showed just why they've got a deal with one of our favourite record labels, have been booked to play some of the most prestigious psych fests in the world, and a couple of great albums under their belt. But as well as that, in the shape of SwordZZZ, I also discovered a new favourite band, so it was a night of highs for me, and I'm sure it's the same for everyone that went.
Stream and Buy Dead Rabbits' 2 albums here (and nab a free download of their early demos here)
(WRITTEN BY CALUM CASHIN)