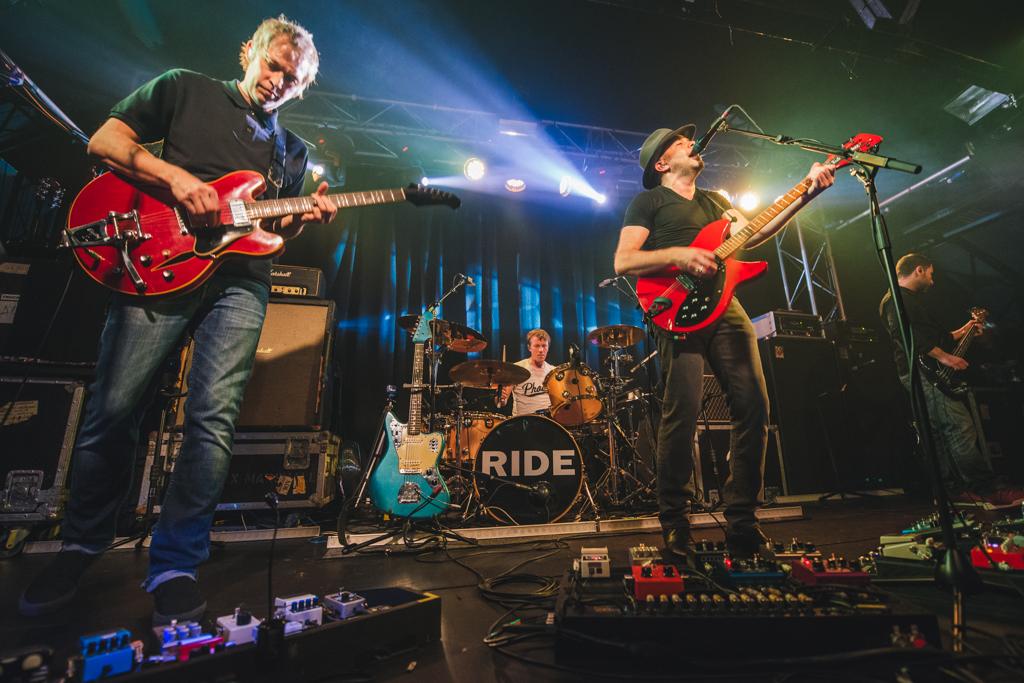 It's apt that a band so synonymous with Oxford should play their first gig since their reformation, and indeed their first in 20 years there to an incredible ovation. Since announcing their reformation, Ride have announced dates in the UK, on the continent, Japan, and, mainly, in the US of A. And whilst I couldn't be happier that my favourite band were receiving huge amounts of bookings after 20 years out of the public eye, it was ever so slightly annoying that their first 21st century dates lay in the States, in early April. That was, of course, before on the first of the month the band announced that their first show back would be in a homecoming gig, in OX4. Easter Sunday 2015, host to the resurrection of Ride.
With no support band at all, an hour of reggae and dub passed by between doors, and the first few notes of cinematic score. As what sounded like the score to an array French film sounded, the quartet walked on, led by drummer Loz Colbert and Andy Bell. Oxford's finest picked up their instruments, wired into multiple pedalboards, and just like that, after a 20 year absence, once again the wheels were turning round.
For the opening song, which was Polar Bear, instead of Leave Them All Behind, Ride's 'sonic cathedral' wall of sound almost became a sonic aquarium, because extra serene guitar tone echoes made the majestic album track into even more of a euphoric 5 minutes - and this was maybe a pattern for the rest of the Nowhere album tracks, Dreams Burn Down in particular, making a bit of a shift from it's icy album incarnation into a much wavier, aquatic number.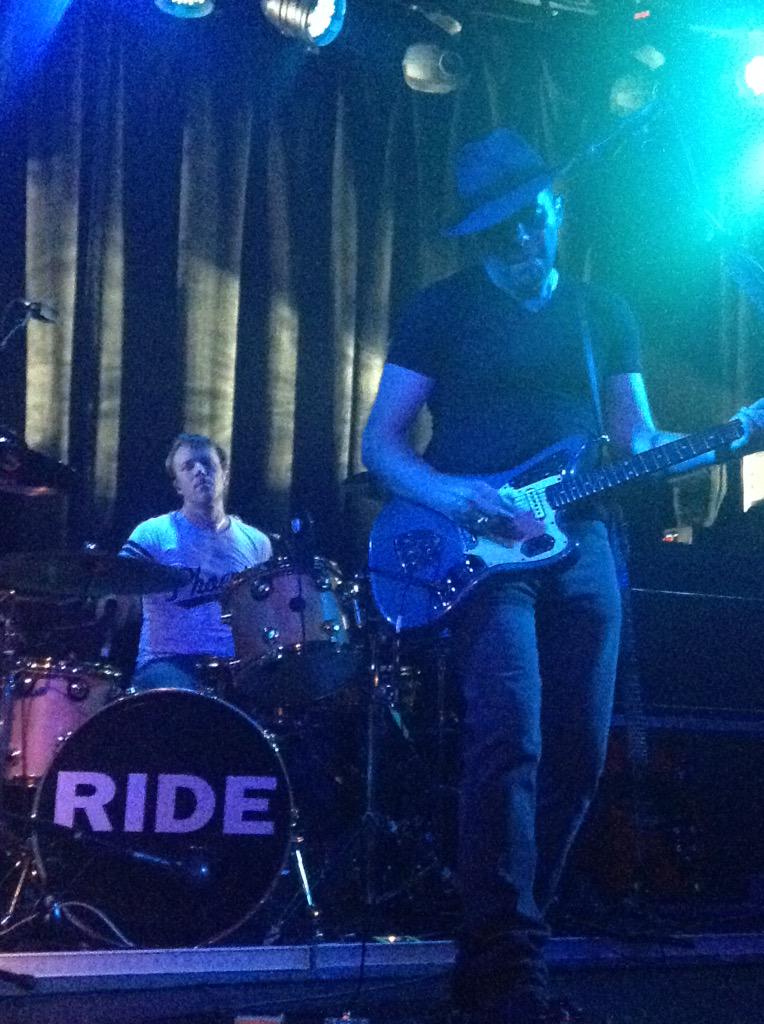 As well as from
Nowhere
, the material from their sophomore album too, adopted an ethereal sound that wasn't there before.
Cool Your Boots
, which takes soundbites from classic cult film Withnail & I, was rarely played in the 90's, but wriggled it's way onto the setlist for the Oxford show in all the more dreamlike way than it did before, whilst
Chrome Waves
, from the same album, shed it's synth-strings part to become a properly mesmeric shoegaze number. The sole track not from these albums' eras,
Black Nite Crash
from
Tarantula
lacked the dreaminess of the rest of the set, but made up for it with raw power and sheer clout.
Whilst the dreamier, more hypnotic number were stunning, when the band really hit their stride was in the fast, loud, screechy numbers. Seagull sounded menacing, going in for the kill early in the set, whilst Vapour Trail - the song with the honour of giving its name to my blog - was a bit faster than the version on their 1990 debut, but no less beautiful. Following Vapour Trail, and closing their main set came what was arguably the highlight; Drive Blind's verses sounded raw, and menacing, like on record, but live - even after all these years - the Day-In-The-Life middle meltdown holocaust section sprawled 5 minutes of intense screeching guitars (because Andy stepped on the curious looking polka dot pedal for the first time in the set), frenzied cymbal bashing, and general sonic assault to make for something that was both stunning to hear and damaging to the ear.
Not to be outdone though, the band's 1992 #9 single Leave Them All Behind, which everyone thought would open the set, sparked life back into the set, after a slight delay between the main set's close and the beginning of the encore. Although the very word disgusts me a bit, it'd be wrong to describe this as anything other than 'an epic'. Swirling guitars, and vocals that belted what was as near to a mission statement as Ride ever came close to - and in one that was fulfilled at that, because the band could have left anyone else in the world behind on the night.
Triumphantly, after Leave Them All Behind, Oxford's finest returned to blast through two of the shoegaze movement's greatest pop songs; a tight rendition of Like A Daydream and then a furious, swirling version of debut EP classic Chelsea Girl closed proceedings.
In total, it was a good 100 minute long set, and if it showed just one thing, it's this; RIDE ARE BACK. But it did show a little more than that; the band are back to how they maybe were at the beginning, with Mark Gardener's brilliant onstage presence fronting the group, whilst Andy Bell remained the archetypal shoegazer, with enough pedals to send Kevin Shields running to the hills, and Loz and Steve remain one of music's tightest rhythm sections; and it's probably not going too far to say that Loz is one of the all time great drummers. Overall, this intimate gig showed that this legendary band, rich in gratitude, are just returning to their peak after 20 long years. It's Easter, and we, a few hundred people in OX4 have just witnessed one hell of a resurrection.
RIDE PLAYED
Polar Bear, Seagull, Twisterella, Unfamiliar, Cool Your Boots, Black Nite Crashm OX4, Dreams Burn Down, Time Of Her Time, Chrome Waves, Paralysed, Taste, Vapour Trail, Drive Blind, Leave Them All Behind, Like A Daydream, Chelsea Girl