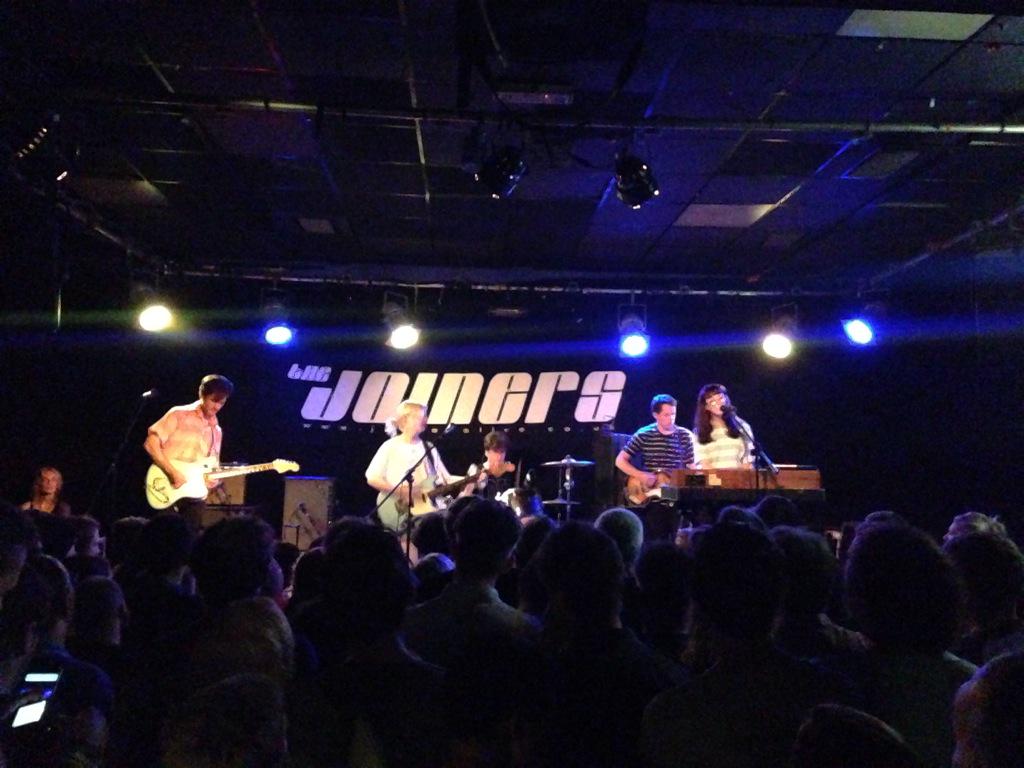 The all-Canadian charm of Alvvays at their Joiners headline gig, their warmup before they took to Glasto, was something of a glitter covered indie pop fest. The Joiners once again pooled together a sweaty crowd of all ages eagerly awaiting (albeit mellowed out) Nova Scotian) anarchy.
Beginning the gig, much anticipated support from Gengahr could only be described as entirely apt for the occasion. Following their debut earlier this month (
speaking of which, you can read our review here
) they played a ethereal set fuelled by the mature and whimsical falsetto of Felix Bushe. Their live sound was much heavier than on record, and showed just why they keep getting compared to shoegaze bands constantly. The repetitious S
he's a witch
and
Heroine
illustrated to anyone present that the band were not unknown to the crowd, and nearly as hotly anticipated as Alvvays themselves.
Opening the set with the unexpected
Agency,
Alvvays followed the dreamy Gengahr, with their very own Wes Anderson film nonchalant cool. Frontwoman Molly Rankin is not one to be described as enthusiastic during her bands performance, but the gig was nonetheless enjoyable for the rest of us. Cracking a smile at intervals the band described their guitars as something similar to a 'slip and slide' - no doubt caused by the malfunctioning air con, and asking the question whether we have 'wild ponies' here. This did not deter the crowd, who appeared to be looking for something more rock than pop, and they were far from disappointed, the bands cover of
Alimony
(by The Hummingbirds) may have even got the crowed jumping!
Electrified by this rather more 'crazy' side to Alvvays, the rest of the set, consisting of the whole self-titled album and finishing with
Adult Diversion
, was intensified, making the whole experience something of a gift to the south coast's music and gig scene (it's not everyday you see an internationally respected band for 12 quid).
An encore consisting of
Red Planet
was much welcomed as Rankin's head voice soared right into space itself. A well crafted performance, enjoyed by all, Alvvays haven't lost any sparkle since the release of their debut album in 2014. Maybe in the future Molly Rankin will even start to look as though she enjoys the insane performances she gives as much as the crowd do...
(WRITTEN BY GRACE GOSLIN)