Right, so by now you're probably aware that we've taken on a bunch of new writers, to freshen up things and whatnot. This is the first post by Ruben Clark, who's from the midlands, and was lucky enough to catch DIIV live, so here's his review...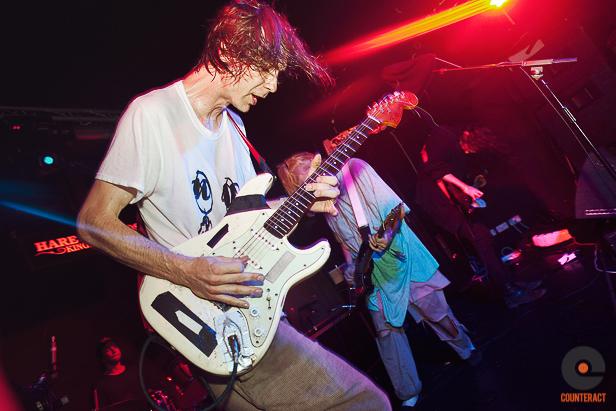 photo creds : counteract magazine
Zachary Cole Smith and his New York band DIIV have had a rocky couple of years since the release of their excellent debut album. Scandals, controversies and upsets have already been over-analysed and over-publicised. The private life and internal struggles of Cole Smith have been exposed and criticised in a similar way to the way how his hero Cobain's troubles were made into headline news. Much to the relief of Cole Smith and his band, music has become the focal point of DIIV's attention; a new album announced, festival dates added (
including Field Day, which we have a review for
) and two intimate UK gigs in Birmingham and Manchester have ensured that all else has been largely forgotten and now the songs can speak for themselves.
As in tune with the traditions of these things, before DIIV graced the tiny stage there was the matter of the night's support band: Chartreuse. Admittedly having never even heard of this Birmingham band before this night, I was very pleasantly surprised by both their musical substance and stage presence. Playing dreamy, lo-fi melodic songs that grew heavier and more powerful throughout, Chartreuse and their charming, smiley frontwoman made a very good impression on both myself and the rest of the audience. Clearly a band who enjoy playing music together, they are certainly a group to listen out for.
After Cole Smith had politely muttered one of the night's many "Hi we're DIIV from New York City" pleasantries the band threw themselves into two new songs presumably from their upcoming album
Is This The Are
which were were overwhelmingly well recieved by the crowd although they weren't groundbreaking or too experimental in comparison to
Oshin
. The night truly began three songs in as the familiar and beautiful riff of
How Long Have You Known?
began and the crowd really went wild. A key feature of this performance was the band's ability to play songs which sound so mellow and dreamy on record and turn them into extremely danceable tunes which encouraged a few mosh pits and plenty of joyous jumping. In particular
Sometime
and
Oshin (Subsume)
were huge crowd pleasers, with the latter being my personal highlight of the whole set.
Other than a few amusing chants of "4chan" from a group of girls in the crowd (bravo, ladies), the audience were totally in the palm of Cole Smith's hand throughout the hour long set. Masterfully balancing exciting new material with old crowd-favourites, the band performed with an air of true professionalism and focus. I was honestly blown away by how strong and powerful the
Oshin
tracks were performed live and equally impressed by the slightly heavier, more aggressive new sounds from DIIV. Be sure to catch them live at the next possible opportunity, if not sooner.
[WRITTEN BY RUBEN CLARK]