It's about time Southampton had a proper festival. Well, ummm, okay we had Common People in May, but another one. And yes, okay, Isle Of Wight is this month, and literally 5 miles south. And the same story with Bestival. And Glastonbury, Reading, and End of The Road are all within an hour and a bit too. OK, maybe Southampton doesn't
need
another festival, for the sake of having another festival, but we've got one anyway.
A while back, it was announced that a new festival, iNDEPENDENCE, would be held at the uni in November, and because the people behind it were Psychedelia and Advance, you knew it would be more than worth looking out for. Then, last Monday, via social media, the first wave of acts was announced, and, well.. have a look for yourselves...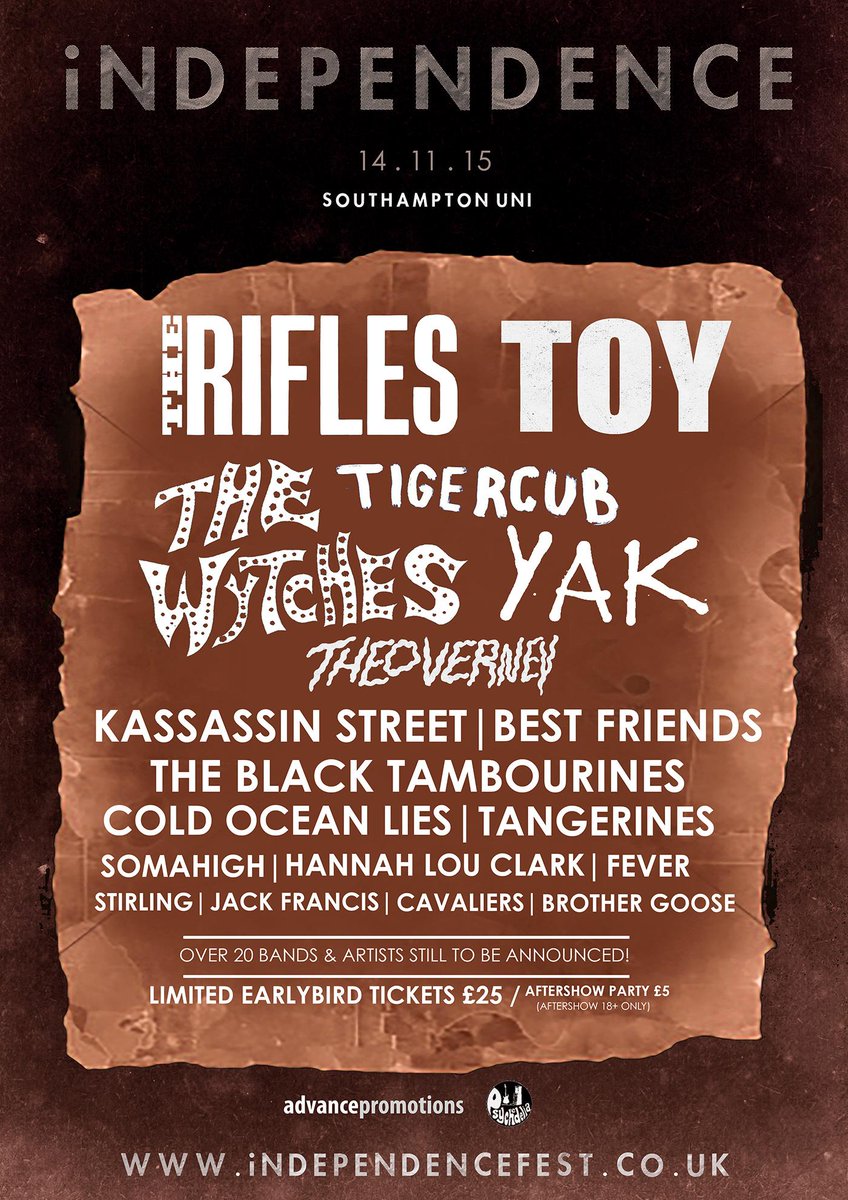 First off, the psych bands - this festival offers, already, some of the best neo-psychedelic acts the UK has to offer. There's the surf-doom of The Wytches, TOY's kraut-pop, and the insane, intense, escapist show that Yak offer - really,for anyone reading this post, this psych trio will need no introduction, and you'll know they're bloody good bands. Tigercub too, are a really great psychedelic pop band, that are definitely going to be a lot more renowned in 5 months than they are now.
As well as that, the South-West's finest band since, umm, Muse? are also invited, The Black Tambourines. Having seen them before, there's nothing more exciting to me than seeing their frenzied live show again, kind of a cross between the Velvet Underground's garage perfection and Sonic Youth's manic guitar driven power. As well as that, they're joined by beach-rock equals, Best Friends, who are also going to dispel any Winter weather feelings outside the venue.
Finally, what makes this excellent is the local bands - FEVER are a brilliant live act, and Kassassin Street have really blown up over the past few months, it's crazy. SomaHigh are brilliant too, and it only leaves the window for more superb local bands like SwordZZZ or Rickyfitts or Gang or Bel Esprit to join in the festivities.
It's not for 5 months, but this one day festival is something you should mark off on your calendar, because it's bound to be a great day full of psychedelia, surf-rock, and anything else you need to escape from the grim realities of November.
Tickets on sale here
Get updates from here
(WRITTEN BY CALUM CASHIN)