In the lead up to this album, I was really excited. I kept telling people, and I kept telling people - "I AM SO EXCITED ABOUT MUSE'S NEW ALBUM", and I constantly got quite a disdainful response. I don't think all my super-indie friends like it when my super-indie music taste gets really embroiled in charty Radio 1 music, but as someone that really got into music aged about 11 through the Teignmouth trio, I'd struggle not to get a bit excited about a 'back to basics' Muse album.
I think really, all in all, Muse get quick a harsh time of it amongst communities of musos. They're music isn't particularly great, but in their early career there are much more gems than that of any other big mainstream rock band;
Absolution
and
Origin Of Symmetry
are both a hundred times better than anything Kasabian or Biffy Clyro could ever offer the world, and let's be honest, no matter who, how, or where you are,
Plug in Baby
is a BANGER. With this new album, after a kinda wayward 6th release
The Second Law,
Muse are going to try and get the oomph that powered them to all those festival headline slots in the past.
I love Muse, deep down, and although they're nowhere near a favourite band, I've got a soft spot for them. Unlike The Foo Fighters, or Biffy, or maybe Green Day, the rock music that Muse churn out is genuinely entertaining; it's operatic, cinematic qualities, are genuinely fun, and Bellamy's constant rallying cries of freedom from ideological slavery and all that lark are at least admirable, in a time where almost every other band in the mainstream stick to singing about relationships and being angry about relationships and other tales of narcissism that generally have something to do with relationships. Muse are definitely a well-meaning sonic force for good in the world, and
Drones
is just the latest chapter of that.
Drones
was billed by the band as their most rock-based effort since 2006, but within 20 seconds of opener
Dead Inside,
you know it's not going to be an out-n-out rock record as you're confronted by stabs of synth, heavily distorted computer vox and fuzz computer-type sounds, and computers mean a record is not a real rock album, according to legendary rock music greats of great rock music, Royal Blood.
The record as a whole is much more rock-inspired than the second law, but it does have piano-bits, and in (probably not enough) places it does have that pompous, overblown rock opera feel that Muse borrow from Queen. It's the rockiest moments that provide the best thrill on
Drones
though, as the likes of
Mercy
and
Revolt
aren't quite the operatic masterpieces that are in abundance on
Black Holes...
and
The Resistance
.
Lead single
Psycho
completely divided people critically; most people thought it was fucking dire, and the most cringeworthy moment of Muse's career, and the most of people thought it was just alright. Hmmm. But here, it absolutely sounds brilliant; where maybe it felt overlong at first listen as a single, it's swinging, stomping sound perfectly fills the duration, and well, when you think about it, with the
Full Metal Jacket
segue at the beginning, the lyrics aren't that bad. Sure, the riffing's a bit ham-fisted, and anti-military message put across ham-fistedly, but really, Bellamy's stance on the matter is pretty spot on, and the whole explicit "I AM A PSYCHO KILLER!" dialogue gets the message accross really clearly to it's audience, and when you have a huge audience of people that aren't necessarily music fans, it's quite important to make the message easy to understand.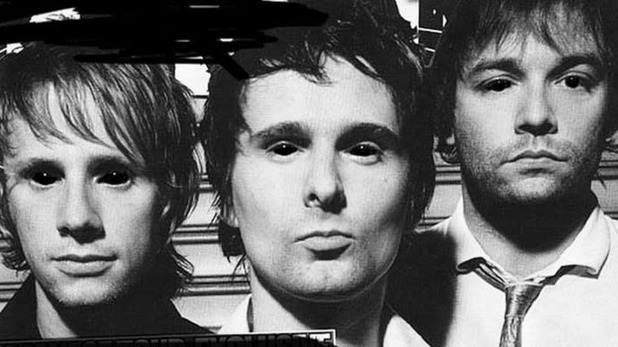 Reapers
is probably the best track on the record - cosmic guitars, and a really mixed up bag of riffs thrown all over the shop throughout the six minute duration probably shouldn't work, but it's so fun. It's really got a good momentum to it, and whilst it really lacks the stadium pomposity of Muse's best works, it still is really just a bit of fun.
The last of three absolute bangers that Muse have given us is
Defector
, which has a sorta
JFK
intro. Muse are as far removed from messy indie rock as it's possible to be, but it's bright guitar line in the opening motif kind of gives it the perfect balance between Foo Fighters and The Cribs. Matt Bellamy isn't the least bit annoying on this, and again, the 'I'M FREE' message is so simple to understand, but that's what makes it so good for an easily consumable mainstream radio song.
There are moments though, on this album, that the album slumps. Either it's riffs are just plain stale, like
The Handler
, Bellamy's voice gets way too nauseating like on
Mercy
, or the over-the-top production let's it down like on
Dead Inside
and ultimately, some of the tracks just don't have the
Citizen Erased
or
Stockholm Syndrome
edge, and feel very staid. In fact, more than half of the song on here are kind of staid... but that doesn't take away from the general appeal of the songs that really bang. Ultimately, the songs on this record are hit and miss, and apart from
Defector
, ten minute sprawler
The Globalist
, and
Reapers
I'm not sure I'd be so into it if I wasn't a former 11 year old Muse obsessive, but this album does have some complete gems in places. In summary, there's a lot of average filler on this record, and it's not easy to look past, but there's genuinely some excellent rock songs on there.
This is by no means at all Muse's best album, but I'd say it's probably better than their last two efforts, so by extension it's their best album in 9 years. It's fun, and it makes a genuine attempt to target genuine issues, however ham-fisted it's actual execution is. Muse continue to divide critics, but this is just about as un-divisive as the band could be - there are highlights - but it's a very average record, and in the future it'll only be a record remembered by completists.
6.6/10
(WRITTEN BY CALUM CASHIN)