Explaining the importance of The Strokes to me, as a child of the late nineties, is like explaining the importance of sunlight to a plant: Without them I'd probably have withered and died, like a school experiment left in the cupboard over the summer.
In the landscape of the ignominiously titled 'noughties', without The Strokes, there would've been very little for developing waifs and strays to cling to; Julian Casablancas and co were the welcomed new-dawn after a Britpop hangover, who defined a new era of music. Indie from the early part of the Twenty-First Century might not have been the most consistent movement, but if we had to put up with two Pigeon Detectives for every Strokes, I'm sure you'd all agree it was worth it.
The Strokes playing British Summer Time at Hyde Park was so significantly important because of the influence they've had on everyone from the likes of Dev Hynes all the way down the chain to me, a kid whose major talent is having Internet access. During their absence from the UK, the post-Strokes generation has grown up, most of whom never had a chance to see them last time round. As such, attending their biggest show in the UK to date was something of a pilgrimage.
The influence The Strokes have had was evident in a number of the opening acts, Public Access T.V. in particular. They sound like they could be the next step in the tradition of New York bands, taking a great deal of influence from groups like Television and The Velvet Underground. Their signature pop-stomp sits somewhere between the aforementioned headliners and T.Rex; think New York indie with a glam sensibility. Manic performances of brilliant songs like 'Rebounder' make them a definite hope for the future.
I'm sure you could see a Strokes influence in Hinds, who also took to the stage, but it isn't so overt. Their throwaway optimism made for an overwhelmingly 'summer festival' experience, but that is, perhaps, because the sun was shining. I'd have to see them again to judge whether or not they could maintain that level of effusive joy during a downpour.
Amongst the bands I unwittingly missed in favour of some time spent at the Carnival stage were Yak and The Wytches, but if you had someone shouting at you to "lean to the left!" as people dressed as neon dragons pass by, you would've done the same.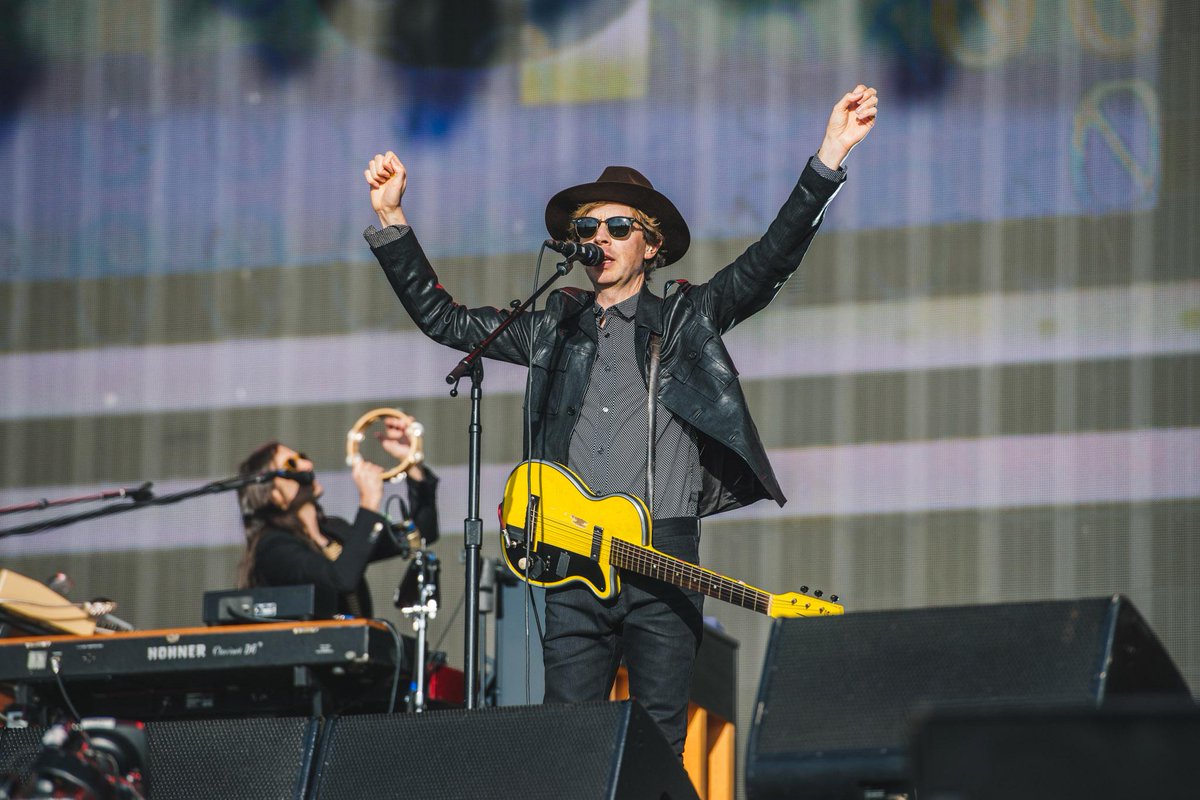 I made it back to the main stage in time for Future Islands, whose music might be a secondary factor in their appeal, but it was a spectacle enough regardless. The band's singer, Samuel T. Herring is responsible for most of their notoriety by way of his dancing and demonic growl. All I could think is that I'm sure the set would have been equally as good if it was just him on stage.
Following on almost instantly was Beck, who is someone I've always been ambivalent towards. His set swung me round from viewing him as the kind of person who plays art-institutions for discerning dilettantes to someone who I consider a talented songwriter.
Songs like
Devil's Haircut
and
Que Onda Guero
are modern classics in their own right, and Beck's imperturbable calm had a certain charm to it.
E-pro
, as one might expect, was excellent and the perfect segue to the performance I have been waiting for since the age of thirteen.
The crowd compacted, sprawling back for what seemed like miles, and a well place excitement erupted as the introduction to
80's Comedown Machine
led into
Is This It
. As you might've guessed, The Strokes had taken to the stage for a long overdue meeting with their audience.
So much of The Strokes oeuvre is so incredibly danceable that it would've been quite a commendable feat not to have a good time. That, hand in hand with everyone's anticipation, meant that even if the band had been having an off night it would've still been incredible. To put things into perspective I managed to have a good time even after being hit square in the back of the head by a cup of wee – I had as good a time as someone can have sodden by the urine of a moron.
Julian's voice shone on songs like
Barely Legal
, which helped to festoon him as a post-punk Sinatra with a multi-coloured skunk-mullet. He wished Hyde Park a 'M
erry Christmas
' and briefly mentioned his love of funk, which was surely more than anyone could've hoped for.
The rest of the band was exceptional, too, from Albert Hammond Jr.'s strobed guitar playing, interwoven with Nick Valensi's precise guitar-solos, to the stoically brilliant rhythm section of Nikolai Fraiture and Fabrizio Moretti. The speed of tracks like
Hard to Explain
and the technicality of
Heart in a Cage
boasted how well The Strokes play together; this is a band that deserved to be play Hyde Park.
The set was heavy with classics – the songs you've all been waiting to hear live for years – with a predominance of songs from Is This It;
New York City Cops
evoked an appropriately chaotic response. Songs from Room on Fire like
Reptilia
and
Automatic Stop
, along with a few selections from First Impressions of Earth made me notice how magnificent their 'greatest hits' are – to be able to play
You Only Live Once, Reptilia
and
Last Night
in the same set is a commendable feat after commendable career so far. Newer material was light on the ground, and an actual version (rather than just the intro) of
80's Comedown Machine
was arguably missed.
This was one of the longest gigs I have ever been to, but it passed the quickest. 'Take It or Leave It' was a fitting sentiment to end the night, after nearly twenty cataclysmically, bewildering, astounding years of The Strokes. Is this it? Only time will tell…
(WRITTEN BY JONAH HARTLEY)