OK, so since I asked for the help of other writers to contribute to my blog, we've had a few posts like this - Top Fives - and it looked so fun that I wanted in. Ride have been my favourite band for a few years, and this year, I've finally got to see them! But as if there wasn't enough Ride on this blog, here's my all time top 5 favourite Ride songs - if yr a long term Ride fan, you can tweet/comment any agreeances, or anything I've missed out, and if yr a first time listener, I hope it's a fairly easy access point for you - and maybe you can see them on their upcoming tour and love it just as much as me - give them a listen, and tell us what you think.
5. Vapour Trail (off of Nowhere, 1990)
Ride don't really have a
Love Will Tear Us Apart/Creep/Teenage Kicks
song that almost everybody from all walks of life know, but this is the closest they've got to it. This beautiful, beautiful pop song, said to have 'one of the most beautiful 10 second intros of all time' by Robert Smith is basically a forlorn pop song of teenage loss. It has a really beautiful chord progression that genuinely makes you wish that the semi-orchestral outro was 10 minutes long, and it has the most luscious guitar tone too. This is definitely the most well known Ride song, despite the fact that it's only an album track, and I think it probably deserves to be looked at as a pop song that will never cease to sound fantastic.
4. Polar Bear (off of Nowhere, 1990)
ANOTHER
NOWHERE
ALBUM TRACK - where
Vapour Trail
is the serene closer to side 2, this closes side 1 in a touchingly euphoric, echo-laden way.
Polar Bear
is another example of the icy, glacial atmosphere that the band's debut album is full of, and it's a really elegant, almost symphonic track. If anyone's seen it live recently, they'll vouch for the same thing, it's a really beautiful sounding song, and its simplistic lyrics sound so beautiful with all of Mark Gardener's vocals.
3. Leave Them All Behind (single, 1992)
In 1992, this was Ride's commercial zenith. Creation were really focused on selling The House of Love's new single that week, but still; not only was this the highest charting Creation single, but it entered the charts higher than Michael Jackson's new single. In fact, it charted #9, despite the fact it was only a bit shy of the 10 minute mark. But this is such a work of brilliance, that's hardly surprising; it's so ambitious, and every moment of it is just... incredible - from the keyboard loop at the start, to the trembling choruses, right to it's biblically huge outro. It's a bit of a move away from the wispy shoegazing, but god, this is one hell of a ballsy show opener - it literally turns the gigs of a band of Oxfordian neurotics into an overblown sonic Queen-style rock opera, for the ten minutes of it's live duration.
2. Drive Blind (Ride EP, 1990)
You'll need to have seen it live, or heard the live version from the
Roxy
album, or seen a bit of recent footage to know why this is number two, but this is a masterpiece of incredible proportions. It has it's standard, but consciously cool beginnings - verse - chorus - verse - "
ooh-ooh drive bliiind
", Mark Gardener sings, before a middle eight pops up, reverb builds up, and suddenly you're into a huge meltdown. By that, I mean sort of Ride's answer to the MBV holocaust section - the loudest wall of noise you've ever heard, with killer drones, and it builds and builds for minutes and minutes. And then bang - you're straight back into the last verse, casual as you like. Live, it's one of the greatest things you could ever experience, and I mean, alone, on record with a 10 second bit of a windy middle 8 meltdown, it's superb, but live, 10 minutes of a sonic storm are beyond incredible.
1.
Seagull
(off of Nowhere, 1990)
Ride have written so many great songs that it genuinely saddens me to have to pick an all time favourite song. But in the end - this is what I've gone for - it's the blistering album opener from
Nowhere
, which is probably my favourite ever album. The reason that I love this one so much is that it's just a complete showcase of everything I love about Ride, and why (in my opinion at least), they're head and shoulders above the other shoegaze bands they're often lumped in with. It's got a bassline that's strong, and a beautiful tone all of its own, which, combined with a nice amount of controlled screech kicks the song off. From there though, the song completely takes off, racing into full flight (no pun intended) - it roars along, and screechy, swirling guitars slap you right in the face, as Andy and Mark's wafer thin vocals nestle somewhere into the mix. As it gets towards the end, its climax, the swirling guitars get more powerful, and well, it's mind blowing - it blew me away first time I heard it, and I'd do anything to hear it again for the first time. This is my favourite song by my favourite band, and it's definitely a worthy #1, right?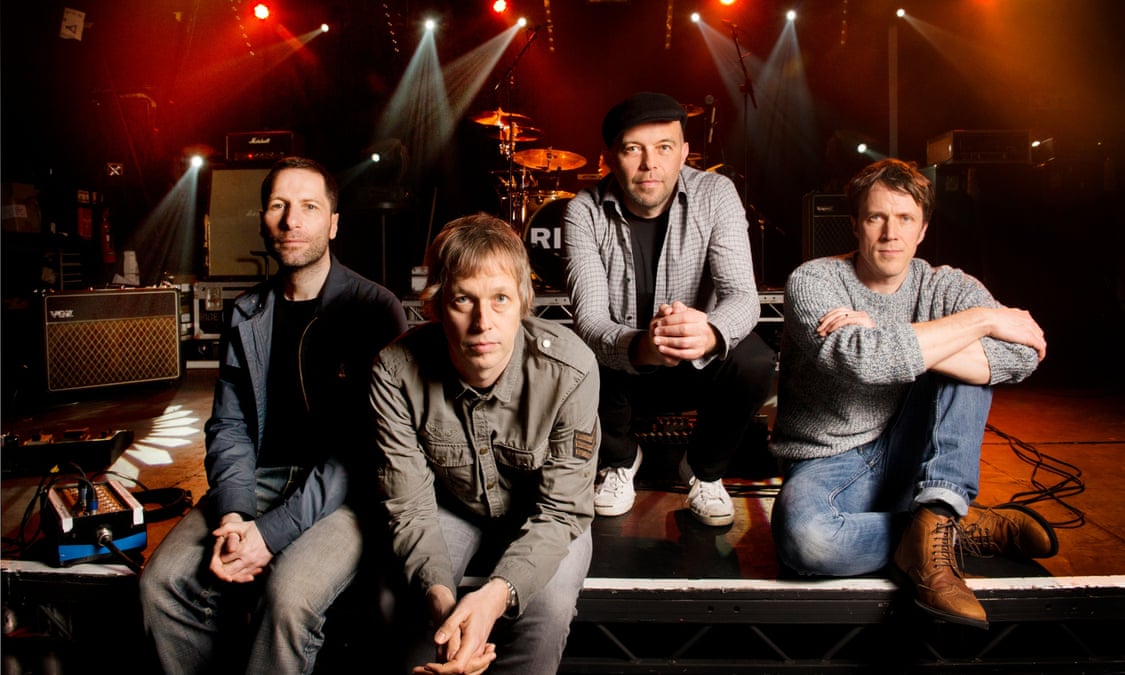 (written by calum cashin)