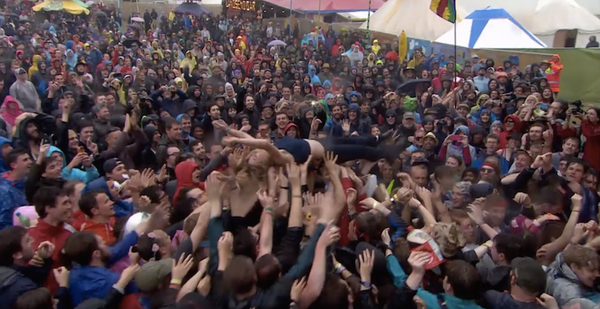 Earlier today we had a review of The Libertines' secret set (which you can read here), so our armchair coverage of Glastonbury continues with this : a review of Wolf Alice's set. They played songs from their new album My Love Is Cool and even crowdsurfed. Here's our review of one of our favourite band's stunning sets...
Wolf Alice, London's favourite four piece, kicked off their set on Glastonbury's Park Stage with
Fluffy -
one of the earliest songs from 2013, and highlighting quickly how hard they have worked to get where they are today. After getting the crowd going, Wolf Alice jump into
You're a Germ
a song from their debut
My Love Is Cool
(
which we reviewed here
), a powerful song full of their signature drops and Ellie Rowsell's haunting vocals. The crowd are entranced by the gang's glitter and guitars.
Wolf Alice have made a huge jump from their debut at Glastonbury last year on the John Peel Stage early in the day to playing an open stage near the top of the bill just a year later.
They followed up
You're A Germ
with two songs from their first EP
Blush; She
and
90 Mile Beach,
both of which have become crowd favourites by now. Next is
The Wonderwhy
, the final track on
My Love Is Cool
which features both glittering riffs mixed with their new style of distorted backing vocals. It created a wonderful atmosphere for fans to dance to and chant along to, making Wolf Alice's set one of the day's best. Half way through the set in typical British Festival style it started to rain, but Wolf Alice undeterred carried on their electrifying set, the crowd happily staying with them.Wolf Alice continue with
Lisbon,
a massive track featured on their album.
Blush
and
Bros
follow, two other early songs which, personally, are exactly what drew me to them in the first place. They play the album version of 'Bros', which is although quite different from the original release, is soaked up by the crowd anyway.
The sun returns to shine on Wolf Alice as they played their final two songs
Giant Peach
and
Moaning Lisa Smile
.
Giant Peach
(a single which Zane Lowe named hottest record in the world) is a fantastic song that has been part of their setlist since their early days under the name of 'Jam'. The set draws to an end with
Moaning Lisa Smile
, and it saw Ellie crowd-surf (for the first time ever) on the arms of those that drawn in by their sparkling set. Both their set on Friday and secret set on Thursday (alongside Drenge) have led Wolf Alice to be named Glastonbury's breakthrough band - a well deserved and rightful title in my eyes. An immense performance which showed the amount of talent they have and also the journey they have been on to get the success they have today.
(written by isobel mcleod)