Last week we unveiled our favourite albums of the year so far, but albums aren't everything - here's a list I've put together of singles that have completely blown me outta the water, but might not be on your radar. Scroll right to the bottom to hear them all in a big playlist...
Sunflower Bean - I Hear Voices
Sunflower Bean are a cool trio from New York that make dreamy psychedelic punk a la DIIV and Beach Fossils. Their debut EP dropped earlier this year, and although it's fantastic, this is (for me) their best work so far; beautiful vocals, dreamy guitars, and an already evident brilliant chemistry show that Sunflower Beans are really one for the future.
Hooton Tennis Club - Kathleen Sat on the Arm of Her Favourite Chair
Out on Heavenly records now, Hooton's most recent release is a glorious gem of catchy indie pop. Their sound revolves around fuzzy, scuzzy guitars welded into the structure of a two and a bit minute pop song, and
Katleen...
is just the perfect example of this; it was on 6music's playlist for ages, and every time it came on I got up outta my chair to have a bit of a groove.
Melt Dunes - Epicaricacy
8 minutes of dark, stomping psychedelia from one of our favourite small bands in the world,
Epicaricacy
is the second single by Southampton quartet Melt Dunes. It's a hypnotic, mesmerising number that, although reaches it's full power in a live environment, contains lots of brilliant guitar motifs and dark atmospheres, and is probably in my top 5 songs of the year so far.
The Wytches - Wastybois
OK, so The Wytches aren't really a band that could generally slip under ours, or anyone else's radar, but due to the lowkey release of this RSD 7' some people might have missed this one. It's The Wytches at their most furious yet, Kristian belts out every note, and the music in the meltdown-type middle 8 bit is so damn ANGRY that it would terrify even people big into Swans.
Birdskulls - Good Enough
Operating outta Brighton, Birdskulls are a three-piece that make skater-type 21st century grunge music, much like Bloody Knees. I think this is their most accomplished track yet, and seeing as they've got a new album on the way later this year, it makes that seem really, really promising.
The Vryll Society - Deep Blue Skies
Liverpool psych band The Vyrll Society are a really promising act, as they've already toured the country alone and with semi-commercial psych five piece Blossoms. This is a free single you can download if you sign up to their mailing list, and it's a dreamy, bluesy track that's a really escapist number too.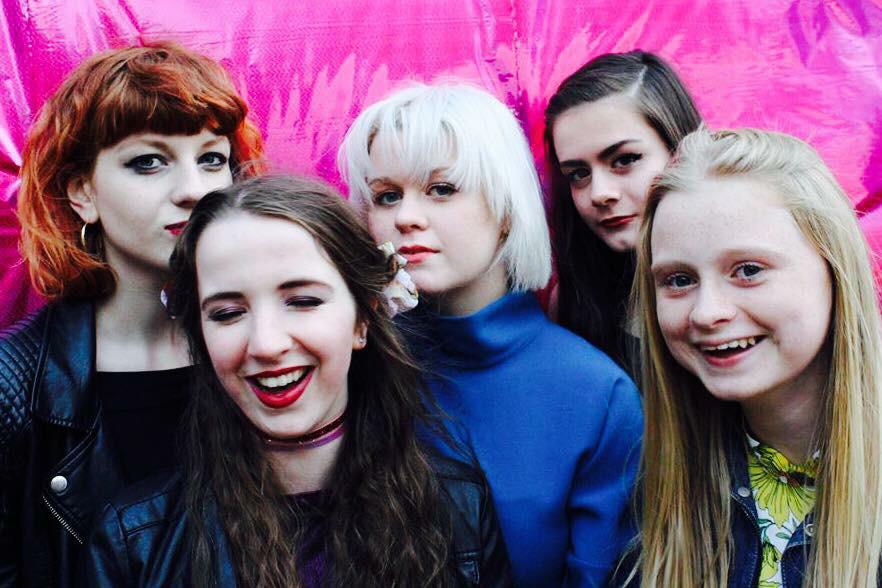 Babe Punch - Snake Tongue
Released much earlier this year, the debut single by teenage riot grrrl band Babe Punch caused quite a stir when it came out. It's a grungey, venomous homage to the likes of Babes In Toyland and Sleater-Kinney and, alongside the slightly catchier b-side
Fixation
, it shows a lot of promise for this young band
RA! - Oh Unhappy Bella
The title track from their debut album,
Oh Unhappy Bella
is an emotionally gripping example of the 'suicide pop' that Southampton collective RA! release. It's dark, raw, and really, really great.
Cherry Glazerr - Sip Of Poison
Cherry Glazerr are a noise rock trio, kinda big in overly-hipster-type communities and all that, but unlike a lot of bands with that sorta demographic they're actually really, really good. This is probably the noisiest song they've released, and is available free
here
, as part of Adult Swim's singles program...
Spring King - City
Not necessarily a single, but the lead track from their most recent EP, this is a really excellent track by a band who I've otherwise not heard anything by that I've liked. It's a furiously quick indie rock track that, thanks to some really spot on production, sounds a quite dreamy in the same way that DIIV's
Oshin
does, or Viet Cong's song
Silhouettes
.
(written by calum cashin)