OK so I'll admit that, unlike the previous 3 albums we've covered, this album isn't as renowned, but I think ultimately its long-lasting appeal has survived for the same reason as them. Ambulance Ltd's only album, 2004's
LP
is the epitome of a lost classic. Back in 2003, they were the hottest new thing there was; hailing from New York, they seemed naturally to be the next great band from NYC (after the Yeah Yeah Yeahs and The Strokes basically owned the first few years of the 2000's), but due to a lot of problems - i.e their label going bankrupt, inner band tensions, and writer's block - they never managed to release a follow up, even though they were technically still a band til 7 or 8 years after the release of this record. They could've been great, they would've been great and they should've been great, but due to all the problems that faced them, they're just a band that everyone's forgotten about.
But the thing is, Ambulance Ltd were actually fucking phenomenal, and what you can do is enjoy the incredible output of the band - so here's a celebratory post about the incredible
LP
album, which, coming out 11 years ago, sounds every bit as modern, and essential, as it did when it came out to great reviews in 2004.
LP
is something I stumbled on by accident, at my part time job at Southampton's Oxfam record shop, as an interesting looking CD to review. It's classically understated on it's cover, but inside, you put the disc on and you're greeted with one of the best, most overlooked albums of the early noughties.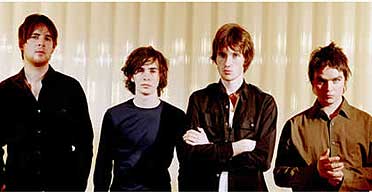 Opening with the self-assured, riffing guitar instrumental
Yoga Means Union
, there's something straight away about
LP
that makes it sound like classic from the off. It's huge, reverb-laden sound is powerful, and gripping, and like the instrumentals that open
Bossanova
(Pixies) and
Oshin
(DIIV), there are enough infectious, catchy melodies to make it just as interesting as a song with like, words.
Primitive (the way I treat you)
is the second song on the record, and it's the obvious pop hit; lyrically sharp with a Wilco-esque strut, it's Ambulance Ltd's absolute fucker of an earworm that you can't quite get outta your head. Whilst it's then followed by another two pop songs
Anecdote
and
Heavy Lifting
, the further you get into this record, the more interesting it gets.
My personal highlight is the (I hate describing songs as this but) HUGE dream-pop track
Swim
, which is textbook 80's college radio stuff with a few shimmery dream-pop guitar lines. It demonstrates the band's really outta this world sound, and is one of the most innovative songs on the record, because lots of bands sound a bit like that these days (think everyone from Beach Fossils to Alvvays).
As well as that,
Sugar Pill
is brilliantly atmospheric; for about 10 seconds it sounds like the first piece of music,
Screenshot
, from the most recent Swans record, before some menacing guitar riffs chip in, complimented by singer Marcus Congleton's higher-than-usual vocal tones to make it the absolute archetype for cool indie rock that sounds like it's come straight from a cool New York nightclub. Am I going to say Arctic Monkeys completely ripped this track off for the entirety of their
AM
record?
Yes
OF COURSE NOT, but it's that sorta thing done to a much slicker, dreamier, BETTER degree.
Absolutely every song on this record has some merit to it; the wispy math-rock of
Stay Tuned
is gorgeous, whilst
Young Urban
sounds like something that beach-pop groups The Drums or Splashh would kill to have written.
LP
is almost certainly a record that people are just going to forget about in 10, 20 years time, but whilst there's enough existing copies for me to have to review one in a charity shop, there's hope that this absolute gem of an album will be remembered for years to come...
It's everything that
[insert Strokes album you found most disappointing here]
should slash could have been, and something you just really need to hear right now.
READ OUR OTHER PIECES ON CULT CLASSIC
#1 Vivadixiesubmarinetransmissionplot - Sparklehorse
#2 The Earth Is Not A Cold Dead Place - Explosions In The Sky
#3 The Sophtware Slump - Grandaddy
(WRITTEN BY CALUM CASHIN)