Heavenly Records is celebrating it's 25th birthday VERY SOON, and you should too. It's one of the UK's best record labels, specialising mainly in neo-psychedelia, but also dabbling in indie and that kinda stuff. To celebrate, I thought I'd put together a list of my favourite 6 albums by them, much like my
shoegaze list
or
Elliott's Elephant Six list
... Most the albums on the list are recent, because that's when the label really hit it's stride. At present, even if you don't know it it's probably host to one of your favourite bands; The Voyeurs, The Wytches, TOY, Jimi Goodwin, HHawkline, Stealing Sheep, King Gizzard... & Kid Wave are ALL on their roster, so they've got some of the best bands in the business in their catalogue.
The best analogy of them I've heard comes from Don Letts, 6music DJ and member of The post-Clash Mick Jones side project Big Audio Dynamite;
"For most labels music is their business. For these guys, music is life itself (but not as we know it!). They exude a passion that's rarely ever seen these days. But could I walk a mile in their shoes? Are you crazy??!!!"
6. Gwenno - Y Dydd Olaf (2015)
I'M SORRY THIS ONE ISN'T EVEN OUT YET BUT I GOT SENT A PRESS PROMO COPY A FEW WEEKS AGO AND I AM SO IN LOVE WITH THIS ALBUM. This is a fiercely feminist, socially aware record, (as I've read in the press, I can't understand the lyrics oops) by the ex-lead singer of a band called The Pipettes, who I hadn't actually heard of til I came accross Gwenno's lead solo single
Patriarcheth
, and I could tell you a million things about this record, but the main thing you've probably noticed is that it's ALL IN WELSH. Which is really cool I think, but it means I don't understand any of the lyrics, etc. But musically, this stands up on it's own, so even as a non-Welsh speaker, this is a really gorgeous album. It's full of bubbly, kraut-rock influenced pop songs, and like Jane Weaver, Gwenno's voice is just so beautiful that you can't help but get really immersed in this record.
5. Saint Etienne - Foxbase Alpha (1991)
I guess this is probably the only like, classic, in Heavenly's discography, that's already got it's own place in the history of indie music. This came about at the time where the in thing was acid house (and shoegazing too), so despite the fact it's firmly routed in indie rock and Beatles-y power pop, it's very much a product of the time. It's full of really classic pop songs, like a cover of Neil Young's
Only Love Can Break Your Heart
from his BEST album
After The Goldrush
and
Nothing Can Stop Us
. I think the band took off a lot more after this album, with a load of top 20 singles and all, but this itself is a bit of a cult classic, and really helped establish the band as a leading indie pop group.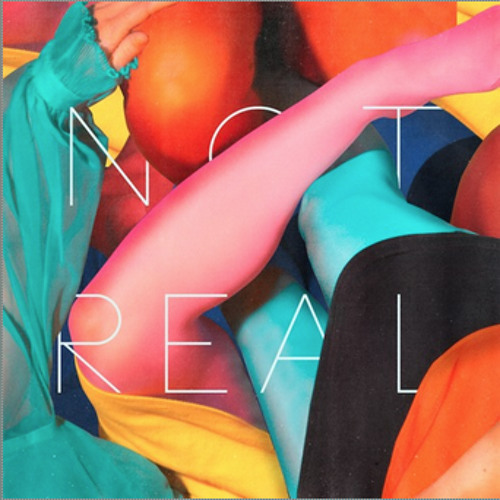 4. Stealing Sheep - Not Real (2015)
Stealing Sheep are one of my absolute favourite bands at the moment, and well, if you check back to the blog for when we put our ALBUMS OF THE YEAR SO FAR list up, maybe they'll be in a similar position on that list as they are on this one. This is their second album, and they've honed everything that's good about their first record, making it x100 better. This has all the gorgeous 3 way harmonies you'd expect, a nice injection of energy, and lots of jumpy, angular melodies that make -despite it's general, all-round quirkiness really easy to dance to. The oddly hypnotic
Greed
sounds like it could've been a rejected part of the
Kid A
sessions, and
Sequence
is a beautiful bubblegummy indie pop track. Stealing Sheep really are great.
3. Temples - Sun Structures (2014)
Right, okay, nope, I definitely prefer the angelic masterpiece that is Beyond the Wizard's Sleeve's
Sun Re-Structured
reworking. But this is genuinely a really well done psychedelic pop album. The singles are really quite good for a start;
Shelter Song
's riff feels classic and iconic already, and
Mesmerise
's gorgeous, electrifying motif is FANTASTIC. But whilst I didn't really like the record when it first came out, it's grown on me so so much, because the album tracks really do work. The title track has a stomping, no nonsense strut to it, and
Golden Throne
brings that element of eastern music that The Beatles brought to their psychedelic works. And although I prefer the romping, stomping, exciting version on
Sun Re-Structured
,
A Question Isn't Answered
is still such a solid pop song that you can't really fault Temples here.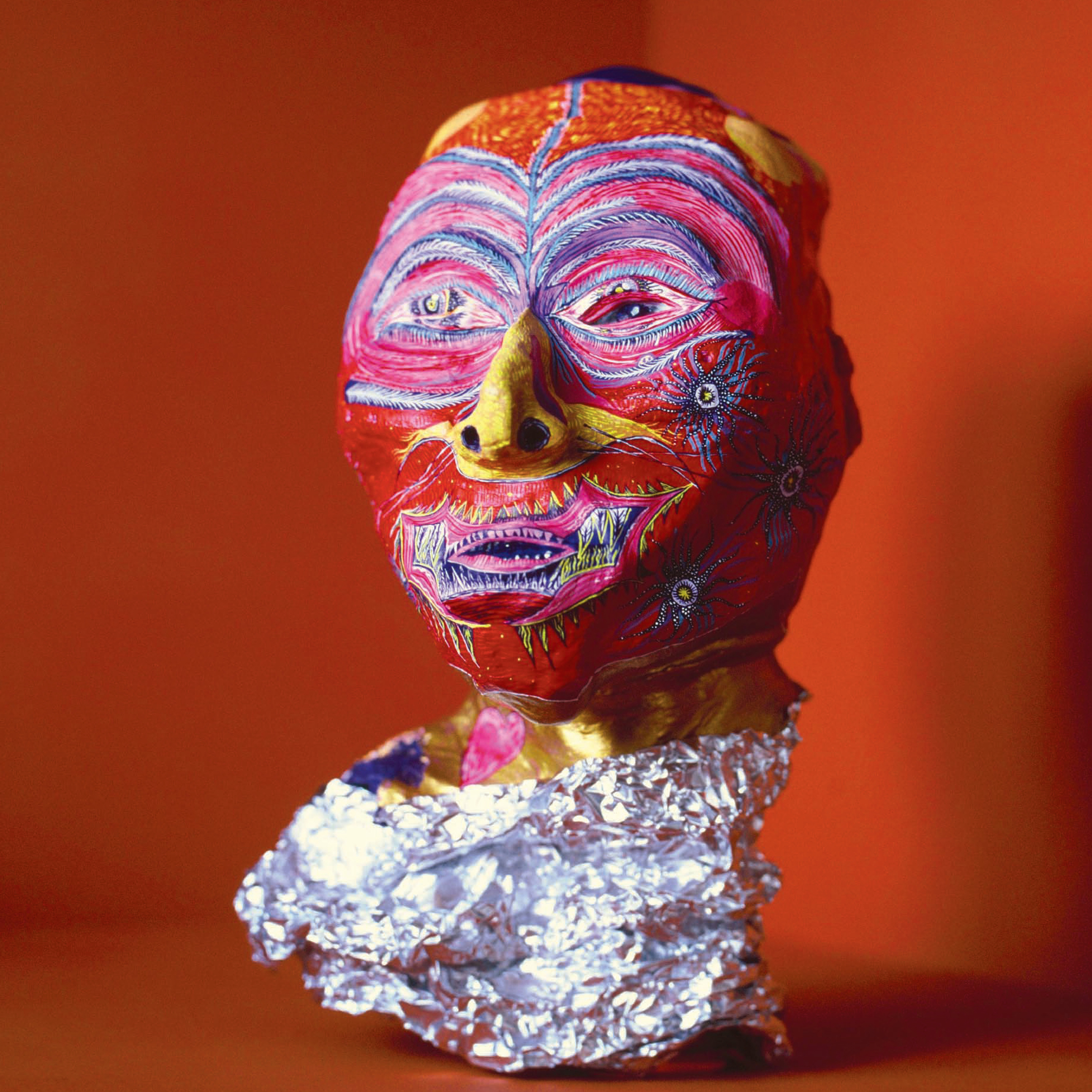 2.
The Wytches - Annabel Dream Reader (2014)
One of the most exciting bands of the past few years, this band really are the real deal. They describe themselves as surf-doom, and I guess that's a much more interesting way to put it than
grunge
. This was their first album, and what made it great was that under the surfy-doomy chaos, Kristian Bell is just the most fantastic songwriter.
Digsaw
,
Gravedweller
, and the incredibly stormy
Burn out the bruise
(the first record we ever gave full marks to) are all fantastic, filthy grimey singles, and like the rest of the album's first side, they're easily danceable, yet incredibly heavy. The second side sees brilliantly written goth ballads like
Summer Again
, which will probably tear your heart out you chest, and
Weights and Ties
is - despite Bell's raspy vocals - really quite relaxing to listen to.
1. TOY - TOY (2013)
TOY are the golden boys (and girl) of neo-psychedelia and really, weighing up what their best album is wasn't the easiest thing to do -
Join The Dots
with it's 8 minute title track, out and out powerful krautpop songs
Endlessly
and
It's Been So Long,
and OF COURSE, its beautiful 10 minute closer
Fall Out Of Love,
is arguably one of the best psychedelic pop albums of recent years, but the TOY album that's my #1 choice as both an embodiment of Heavenly's support for upcoming psych artists, and general essential album, it's gotta be their self-titled debut. It begins with the brilliant
Colours Running Out
, and progresses through a range of brilliant, motorik songs - like the amazing
Motoring
and the dreamy
Make It Mine
(but to be honest all of TOY's material is dreamlike in it's way) - and gets to the close with the incredible sprawling NEU! pastiche
Kopter
. Both their albums are examples of the tightest drumming you'll ever hear, but this album just has a lot more heart to it, I think. TOY are really great, and really great live, and you'll do a lot worse than to sit back and listen to this record now.
Heavenly are celebrating their 25th birthday with an event in Liverpool THIS SUNDAY. Go along, and see uhhh 2 and a half of the artists on our list SMASH IT.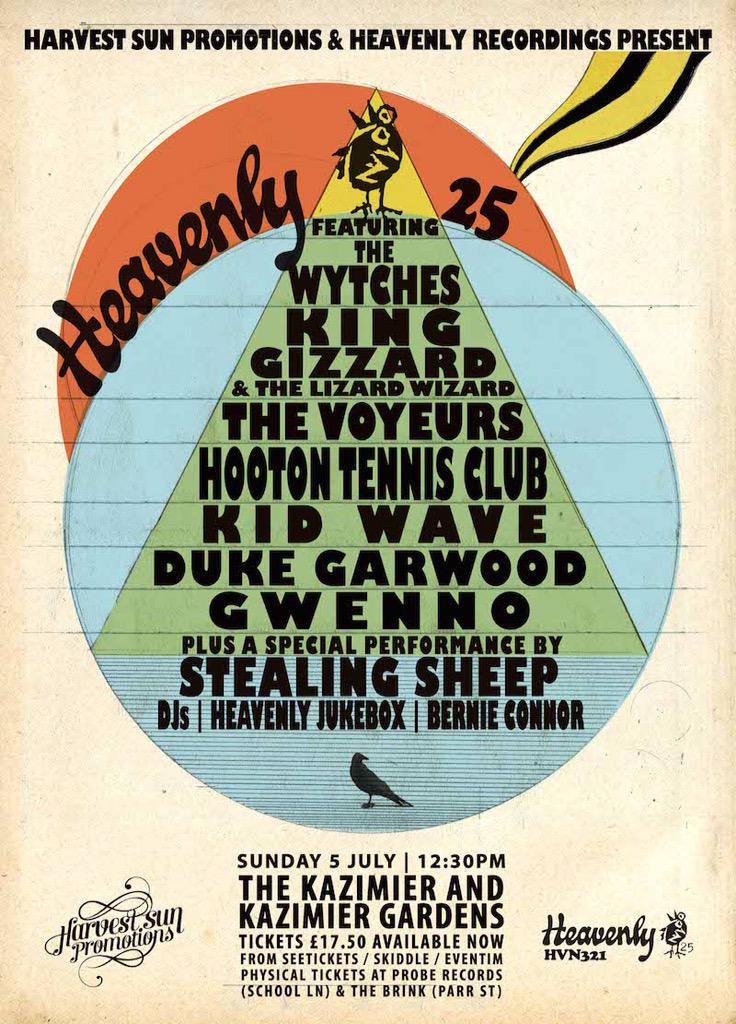 (Written by calum cashin)