Kanye West is, for me, one of the most influential artists of the 21st century, and his headline performance at the biggest festival in the world proves just that. He walked on stage and launched into Stronger with a brazen ferocity, an energy that he delivered throughout his set that was for the most part reciprocated by the audience. He performed mostly on his own, with only a backdrop of blaring lights behind him, it seemed like he was making a point. People expected a set with a monumental production value and lots of special guests, so Kanye delivered the opposite.
West managed to keep thousands of festival goers captivated as he performed on the Pyramid Stage, alone. Kanye played a very clever game, one that was designed to silence the music snobs who signed a petition to get him replaced by another white boy guitar band.
N****s in Paris
electrifies the place, the whole crowd is buzzing, not even Lee Nelson's lame stage invasion during
Black Skinhead
lulls the mood. It becomes clear why Kanye is hailed as one of the world's most exciting artists, he is unwilling to compromise and performs with a refreshing passion. Part way through, admittedly the energy begins to drop as Justin Vernon comes on stage, the music becomes self-indulgent and the crowd loses momentum. But these new tracks are exciting, demonstrating that Kanye is just going to continue to grow as a musician.
Jesus Walks
is one of the greatest of Kanye's songs, and it doesn't disappoint. It's loud and angry, his passion pours through, impossible to ignore. I don't feel like Kanye is given enough credit as an ardent performer - he put everything into that headline slot. This part of the set picks up again, especially at the mention of Kim before
Bound 2
.
Touch The Sky
begins, we all start screaming along, then suddenly everything stops. The screens go black, the music goes off and Kanye is not on stage. People begin to boo. We thought that was it, he'd just finished and that was that.
Two minutes later, the lights are on and Kanye is on a crane. A fucking crane. He protrudes over the crowd triumphantly, picking up where he left off. It's quite a spectacle and the energy shoots right back through the roof. He rips through the rest of the tracks, including a Queen cover.
Gold Digger
gets an almightily reception, the audience yelling the words right back at him. There are a few moments in the set where Kanye listens to 100,000 people screaming the words of his songs and he looks humbled. Yes, he is arrogant, but most artists are, for example, the Gallaghers. Without such an impressive ego he couldn't create what he does. It takes balls for a man to get up on stage, alone, whilst aware of the backlash against him being there. Kanye put on a show, a show that impacted a lot of people in a lot of different ways. It got people talking, and I for one had fun. I thought it was incredible, that Kanye is a force to be reckoned with. It seemed to be a massive fuck you to those who doubted him (and still do). Kanye West makes enticing, poignant music, the world should probably start paying more attention, and his set demanded that attention. He might not be 'the greatest living rockstar on the planet' but he is pretty fucking close to it.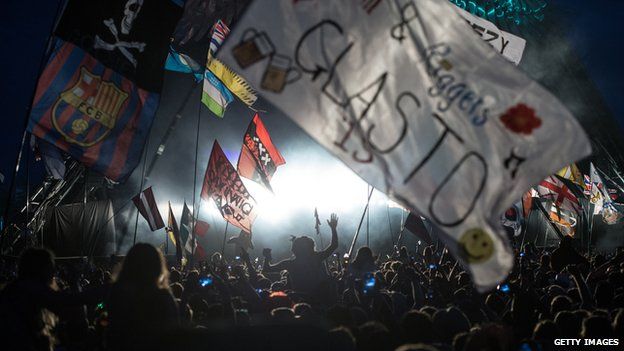 (written by Rachel Tindall)