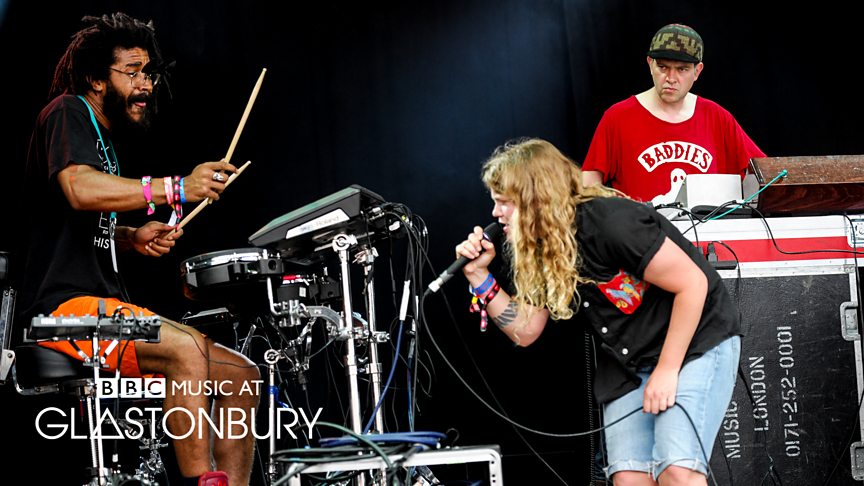 Kate Tempest (or Kate Calvert, if you hate Shakespeare) is an incredible young woman. She elevated herself from a "shitty part of town" and a wayward youth to writing multiple full length pieces of theatre, spoken word poetry and crafting a Mercury Prize nominated album. That album,
Everybody Down
is one of my favourite hip-hop albums of all time, and it's objectively probably one of the best too. The beats throughout are glitchy without being messy and melodic without being straightforward, meanwhile Kate's delivery is brave and personal throughout. Although predictably for an artist with a career so entwined with the written word, the lyrics are the true highlight of
Everybody Down
. Thus I was curious to see how music centred so integrally around language would transfer would transfer onto the live stage. I sat at my desk, tomato soup at the ready, and watched Kate Tempest's set on the BBC's (excellent) live streaming website.
To put it bluntly, her set on The Park stage was a masterpiece. Mixing her upbeat and danceable new single
Circles
, her gritty industrial album tracks such as
The Beigeness
and her spectacular shouted-word poetry, she delivered an incredibly diverse and moving set. It's a credit to her and her band's performance that throughout most of the set the ever growing crowd was silent, listening intently to Kate's lyrics before erupting into massive cheers at the end of every song or spoken piece. At times this set seems as if it would feel more at home at a protest than at Glastonbury, with lines like "
because wages are fucked and rent is outrageous
". To the credit of the audience, such statements were lapped up enthusiastically drawing cheers and nods. This set reduced some members of the crowd to genuine tears, as pointed out repeatedly by the no-doubt giggling BBC camerapeople.
It seemed at times that Kate and her band were having more fun than their audience, who were too busy being intensely transfixed on what they were witnessing. Although perhaps they were all just very hungover...? Either way Tempest was clearly having a blast throughout, parading around the stage preaching to her choir, exchanging joyous glances with her band and drinking champagne straight from the bottle. Her innocent and excitable manner was a refreshing antidote to her uncomfortably close to home rhymes and I can only imagine how mesmerising she would have been in the flesh rather than through my dingy computer screen. Although there's a huge array of music and poetry on show at Glastonbury each year, it's rarely done as coolly and honestly as this. Musicians can often get caught up in pleasing their audience, playing an act or trying to prove their status but there's none of that here. A near-genius and extremely refreshing performance all round. Buy her album, read her plays and then bow down to her because Kate Tempest is a real talent.
(written by ruben clark)