Lucy Rose's new album 'Work It Out' is a thoroughly fun record and a more pop-orientated step away from it's folk-filled predecessor, 'Like I Used To'...
Produced by Rich Cooper, known for his work with Mumford & Sons and Tom Odell, and recorded in London's Snap Studios
Work It Out
is Lucy Rose's energetic second offering. Opening with an initial feeling of sparse melancholy, the first track
For You
builds to a colourful crescendo before throwing listeners straight into Rose's bouncy new single
Our Eyes
. Rose herself has admitted that she has pushed herself "more than ever before", exploring new sonic horizons whilst stating that
Work It Out
illustrates how she has developed and changed as a person and a musician.
With catchy choruses from songs such as
Like An Arrow
and
Cover Up
sewn elegantly together with her lighter melodic interlude
Fly High, Work It Out
sees Rose
fully hitting the song writing potential we saw demonstrated by her debut, successfully casting off her shackles as "Bombay Bicycle Club backing singer". Her sophomore record has proven Lucy Rose is willing to venture into new territory in order to attain her personal optimum, whilst not straying too far from her musical roots in her efforts to carve her own quietly-inventive niche into the musical landscape.
7.1/10
Lucy Rose has confirmed she will be embarking on an extensive autumn tour, so get down for it.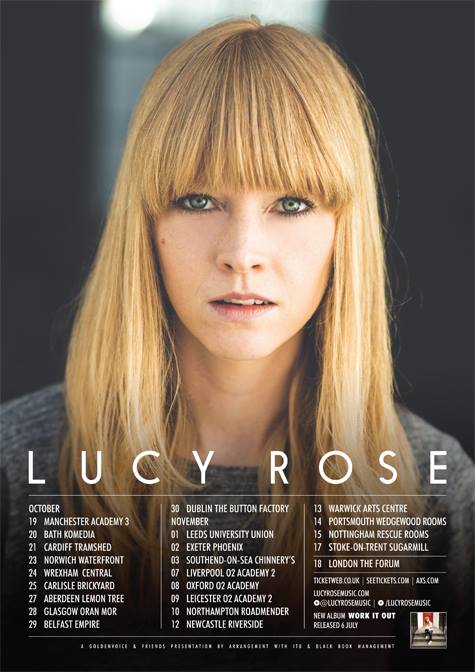 (written by chris minihan)