Many people nowadays assume indie rock to all be Noel Gallagher-influenced 3 chord strumming, leading to many axe-wielding geniuses to be written off and not get the credit they deserve for being the driving force behind their respective bands and creating some incredibly interesting sounds. This is a list of some of indie music's most talented guitarists, and why they're making some of the more interesting noise in the UK right now.
5. Cai – Kagoule
Kagoule are relatively new to the game, however they are already recruiting a number of followers due to the constant flow of brilliant singles powered by an amalgamation of their grunge and britpop influences. Perhaps the main driving force behind the band is the lead vocalist and guitarist Cai. His use of a distorted Fender Strat helps to concoct a raw and edgy sound that the band carry over from their early singles through to their debut album
Urth.
Cai favours fuzzy lead lines, which often include warping string bends, and smooth transitioning slides between chords.
4. Jon Victor – Gengahr
Although the secondary guitarist and vocalist in Gengahr, Felix Bushe, generally handles the delicate fingerpicking and shimmering chordwork that makes up the most iconic sections Gengahr's dreamy brand of indie pop (think
She's a Witch
's
intro or the
Fill My Gums With Blood
verse parts), John Victor is a genuine candidate for the UKs next alt-music guitar great, following in the footsteps of the likes of John Squire and Andy Bell, both of whom clearly influence his band. His studio sound is more understated but his raucous live tones and his torturing of the fretboard are
the
reason for Gengahr's live shows are some of the UK's most hyped. His cool-headed but frequent approach to effects aid Gengahr's dreamy sound at times but Victor can also flick on the quartet's heavier side with his fuzz laden solos which still maintain a strong sense of melody.
3. Freddy Cowan – The Vaccines
Despite The Vaccines more recently adopting a more polished, synth-heavy quality to their songs, Freddy Cowan is still one of the most dynamic guitarists to rise from mainstream alternative music in the last few years. From the crusty opening riff of
Bad Mood
to the winding lead lines in
Handsome,
Cowan has the knowledge and skill to always find a place for a overdriven six string yet keep a personal spin on Indie and Punk guitar sounds and keep Justin and Co sounding a little bit different. He also has his own signature model of guitar from Farida Guitars.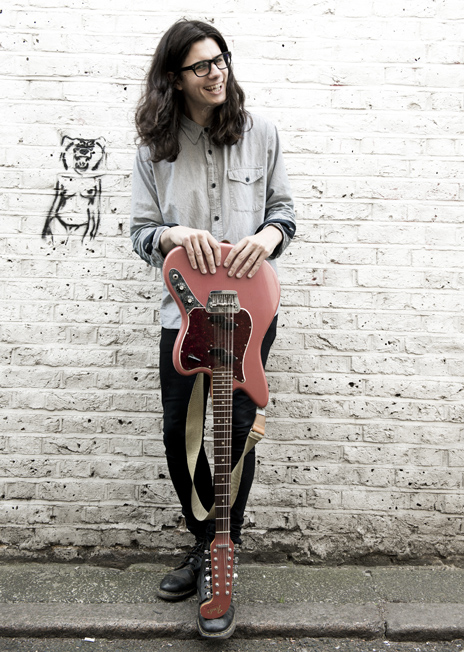 2. Josh Hayward – The Horrors
Probably the obvious choice for a list such as this, Joshua Hayward's contributions to the Horrors is the very essence of the band alongside the synth foreground. His love of shoegaze guitar techniques and sounds of the 90s power his unique guitar sound and lack of regard for the rules when it comes to what is considered normal for indie rock guitar music. 2009 album
Primary Colours
is full to the brim of 'chord gliding' pastiched straight out of Kevin Shields' arsenal. However, Joshua keeps his guitar sound completely unique due to his competence with electronics and the fact that he creates most effects pedal that he records or uses live himself. His stompbox ridden soundscapes and lead sections battle the Horrors' psych pop which is rife with synth, to earn his place on the list.
1. Kristian Bell – The Wytches
The Brighton threesome's brooding front man Kristian Bell is often praised for his vocal ability and style but overlooked for his fearsome guitar sound, which is the kingpin of the Wytches' raw, gnarly blare. Little is known about his exact setup but whatever it is produces a loud and aggressive wall of noise. Kristian's sound is almost a demented twist on surf guitar (he uses similar Fender guitars and amps to those who are interested). He deserves his place on the list due to his imaginative riffs based around eastern-sounding scales reminiscent of Nirvana's debut single
Love Buzz
. Kristian acts as the abrasive force behind the Wytches, and is due more recognition for his creativity with strangling an electric or fitting together distant, creepy chords rather than exclusively for his lyricism and talent for screaming.
(written by oscar sault)