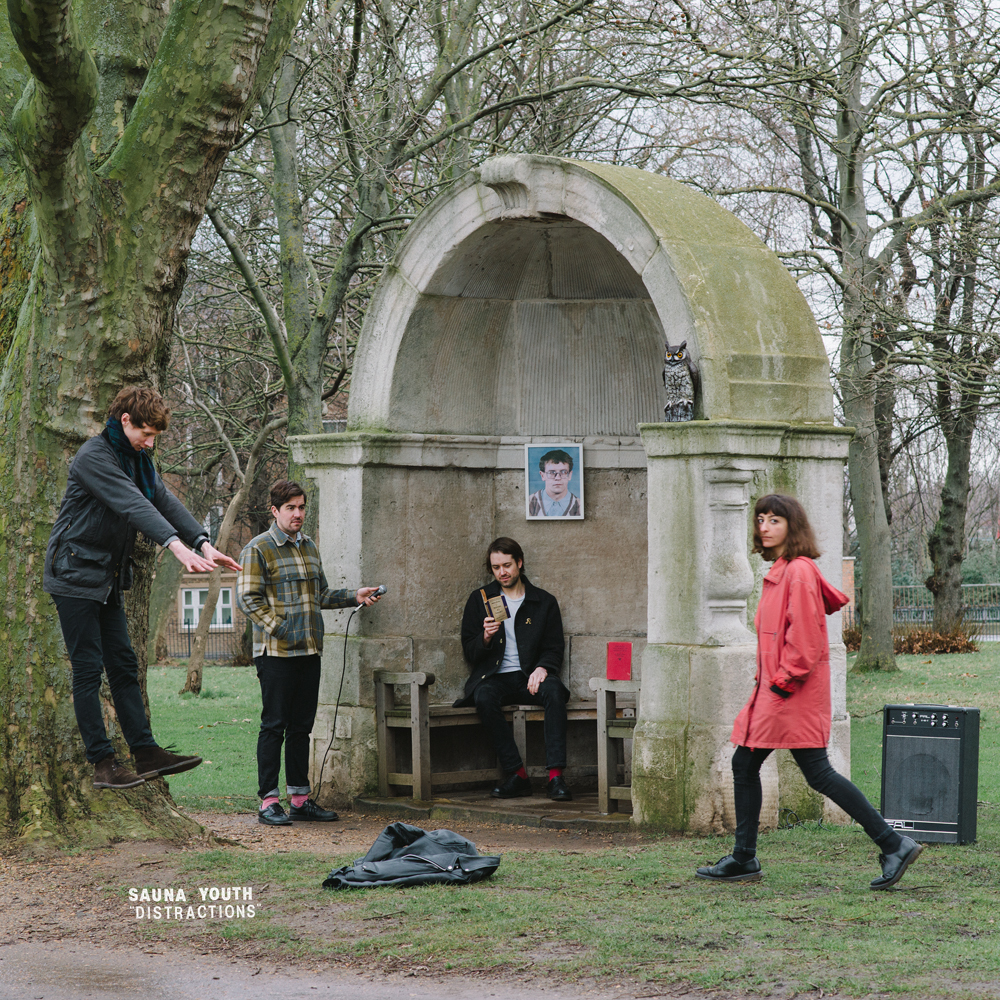 A few weeks ago, we got asked to review the self-titled 12' by London punk band Monotony, who are an offshoot-type-thing of the band Sauna Youth who are one of my absolute favourite bands at the moment. This led me to think 'FUCK, I HAVEN'T REVIEWED THE SAUNA YOUTH ALBUM YET', which means that a review of
Distractions
is long overdue. Coming out earlier this year, but evading me til kinda June-ish, it's the second record by Sauna Youth, and one of my favourite records of 2015 so far.
At 29 minutes, it's not a long album, but for every single second the four-piece's hammering indie-rock guitars put you on the edge. It's not really something you can have on in the background, because despite it's pop sensibility, it's noisy and shouty and full of apathy - but despite that, it's still a melodic, harmonic record that's easy on the ears and very accessible.
After a 17 second bout of white noise, you're immediately thrust into
Distractions
' first song,
Transmitters
. Like most the record, it sees Sauna Youth's vocal style as a kind of ruthless chant atop some absolutely perfect sounding guitars. It's like the flawless tones of The Horrors'
Do You Remember?
squeezed into the thrashy noise-pop structures of Joanna Gruesome, with catchy lyrics chanted over the top.
From there,
Distractions
doesn't really stop.
Monotony
(which originally came from the band's side project Monotony) is given a huge injection of melody, and becomes even more of a stomping 21st century punk anthem than it did on the
Monotony
12'.
Abstract Notions
and
Leather
don't quite top 2 minutes during their ferocious duration, but are some of the year's most scintillating listens, showing one of the UK's best bands at their best.
Right until sugar-sweet sounding closer
Creeping
, this album is fantastic song after fantastic song; in the same way that the Buzzcocks and The Ramones wrote some of the greatest punchy pop songs of all time, Sauna Youth have come together to make some seriously great, intelligent pop music, with a fizzy punk rock aesthetic.
8.9/10
(written by calum cashin)