Taking place on the Southsea seafront at the end of the month, Victorious fest is one of a handful of really exciting music events taking place in and around Portsmouth and Southampton this Summer. Headlined by the likes of Primal Scream, the Flaming Lips and Ray Davies (Kinks frontman), it's a two day event that showcases both some of the best of local music and some world-beating superstar artists.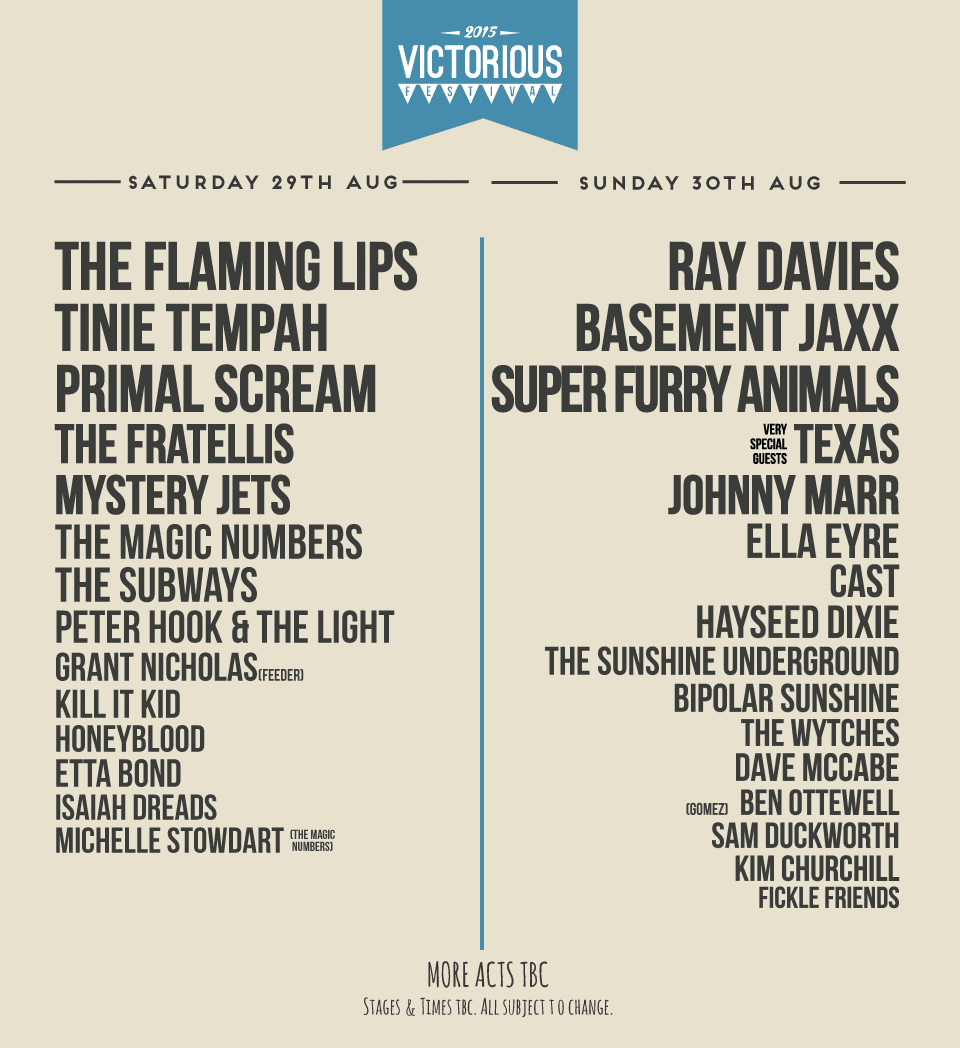 on saturday...
#1 THE FLAMING LIPS
Okay, so maybe this one was a kind of obvious choice, but let's be honest, if The Lips don't jump out at you from any line up, this music blog probably isn't for you. They're a great choice for the festival, because they create a brilliant psychedelic noise that'll impress any muso, whilst at the same time putting on a show that anyone of any age will love. Their last album was a cover album of
Sgt Pepper's
, so maybe expect them to break out the cover versions throughout the set.
#2 PETER HOOK & THE LIGHT
Back in the dark ages, when punk rock only just finished happening, Britain was under Thatcherian-rule, and thus even more dystopic than it is now - so soundtracking that were legendary Manchester gloom-bringers Joy Division - for whom Peter Hook played the bass guitar. In 1980, just before the release of their second album
Closer,
the frontman Ian Curtis tragically commited suicide, and Joy Division were no more. Then Peter and the rest of Joy Division, formed New Order, had some hits, and were happy for thirty or so years, before Hooky left the band to do this - The Light. Peter Hook & the Light play versions of old Joy Division and New Order songs, and let's be honest, could he be picking from a greater arsenal of material to showcase? Generally at festivals he plays a sorta greatest hits thing, so that will certainly be worth seeing.
#3 HONEYBLOOD
Scottish twee-two-piece Honeyblood released their debut album last year, and it was so good that we made it the 4th best album of the year. They make raucous, energetic indie-pop, and are fronted by the wonderfully energetic frontwoman Stina Tweeddale, ensuring that they're completely gripping live. Probably the strongest of all the *new* bands on the bill, they'll be making a lotta noise on the Castle stage.
#4 PRIMAL SCREAM
More great Scots here, Primal Scream have been
in the game
for ages and ages, producing loads of amazing albums that span tons of genres; from twee janglepop, and out-'n'-out rock 'n' roll, to full on house music and dub. It wouldn't be a stretch of the imagination to call them legends, and seeing as they've got a huge amount of material to belt out, their set should be amazing; just imagine being in a huge crowd as they play
Loaded
. Wow.
#5 FLYTE
Tourmates of Bombay Bicycle Club, Flyte are an indie band that look very likely to make it big soon; a handful of tight, bright indie-pop singles under their belt, I think they're a band to catch and then proudly tell everyone that you saw them first. And if that's not enough, our writer gave their latest single
Closer Together
a big thumbs up
here
...
and on sunday...
#6 THE WYTCHES
Fearsome three-piece, based in Brighton, The Wytches are one of the most amazing live acts on the planet, and I can say that having seen them 4 or 5 times since the release of their debut album
Annabel Dream Reader
. Grunge-laden guitar tones hammer out finicky surf-rock melodies to create some incredible, doomy sounds. Like Honeyblood, their debut album made it into the top 5 (#3 actually) of our best albums of 2015 countdown, and there's enough material on them on this blog to fill their first full-colour picture biography.
#7 RAY DAVIES
The standout name on the line-up, Ray was once the frontman of The Kinks, a British rock 'n' roll band responsible for some of the greatest songs of all time, as well as what is basically the invention of the guitar riff. Everyone knows
You Really Got Me, All Day and All of the Night
and
Lola
, so you just know that Ray's set would be heavy in ABSOLUTE BANGERS and light on boring bits.
#8 JOHNNY MARR
Hmm, see I'm not big on Johnny's solo albums - it's all a bit lad-rock stuff that could easily soundtrack Match of the Day every single week - but live, the former Smiths (and Modest Mouse and The Cribs and The The and... ok I'll stop now) guitarist's solo stuff is a different kettle of fish. Firstly, you can't discount some of the new stuff as being brilliant -
New Town Velocity
and
Generate! Generate!
are absolutely brilliant tracks that only realise their full potential when stripped down and belted out live. But maybe obviously, the highlights every set come when he plays songs from his Smiths days -
There Is A Light That Never Goes Out
and
Bigmouth Strikes Again
are quite simply two of the greatest songs ever written, and sound so perfect when Marr plays them live. Come along to see his set on the Castle stage to see some fantastic new tracks, and some absolute classics.
#9 CURXES
CURXES are a sorta shock-horror-pop band that make a hell of a racket on the south coast, and ummm, well if you've ever dismissed anything as 'just noise' then they're not for you. But while their music is challenging, but it's fantastic, and they're certainly my favourite locals on the line-up - their debut record
Verxes
dropped earlier this year, so give it a spin and then see them at the end of the month.
#10 NEW DESERT BLUES
Another great local band, New Desert Blues have been one of the south's leading indie bands for about 3 years. They've got their album on the way, at some point, in the future, but their previous releases are good enough to make a trip to see them live more than worth it - if you want anthemic indie rock, a la REM (80's REM) or Mercury Rev, check them out -
their debut EP is up as a free download
...
VICTORIOUS FEST IS A HAPPENING HAPPENING ON 29th & 30th OF AUGUST - GET YOUR TICKETS HERE AND SEE SOME GREAT BANDS FOR A REAL CHEAP PRICE - tickets etc here