With it's own unique, twee charm, End of the Road is unlike most of the UK's other major festivals. Wild peacocks roam the ground, fairy lights adorn a large percentage of tents, and everything has been designed meticulously so that every spot is as aesthetically pleasing as possible. This year, as well as the exquisite setting, End of the Road brought one of the best festival line ups I've ever laid eyes on to the table, featuring everything from Sufjan Stevens' first ever UK festival slot, to intimate performances from the likes of Palma Violets, Marika Hackman and Jacco Gardner, to a huge smattering of bands we regularly feature on the blog. As a last great weekend before starting uni, I went to
enjoy End of the Road for the second year in a row
, and here are my top ten highlights.
10. Palma Violets (Tipi Stage, Thursday night)
The first major set of the festival, Palma Violets' set was one of the most fun of the whole festival. Opening with a few album tracks from
Danger in the Club
, the Lambeth quartet's messy renditions of songs from their debut was what really made the band's set fantastic on the tiny Tipi stage. Musically, the quartet were weathered by a long summer and not really all too together, but they had enough energy to make sure EOTR was opened in style.
Best moment:
Chilli Jesson's acoustic rendition of
Jacket Song
or the storming
Tom the drum
9. Girlpool (Big Top, Saturday afternoon)
Teenage two-piece Girlpool are one of the year's coolest breakout bands, and their bass-and-guitar-only sound is refreshing and youthful. They managed to nearly fill their alloted 45 minute slot by playing almost the entirety of their debut record
Before the World Was Big
, and adding a few energetic new tracks into the mix. There was something so wonderfully endearing about the chemistry of Cleo and Harmony, who filled the gap in between songs with really infectiously enthusiastic antidotes, but that's not to say they weren't musically brilliant; the tracks from their album were just every bit as lovely and heartfelt live.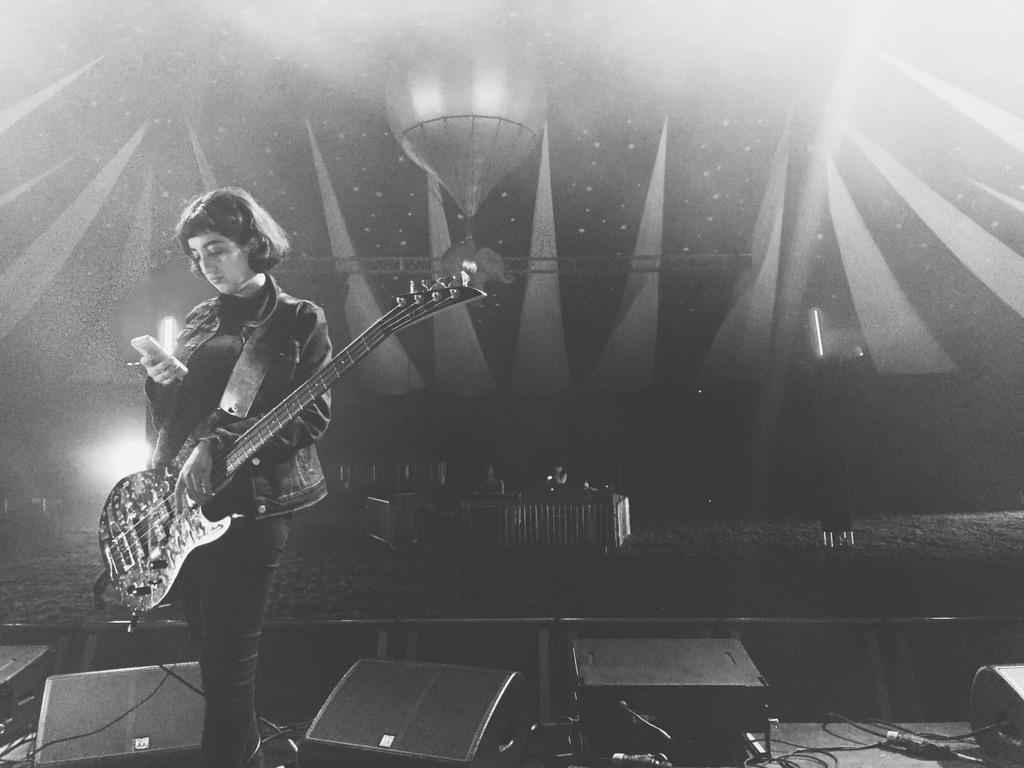 Best moment: Cherry Picking
was super-heartwreching live, but a new number was brilliantly energetic
8. Dolores Haze (Big Top, Saturday morning)
Dolores Haze are a Swedish four-piece whose grungy indie rock lit up the Saturday morning. Combining scratchy dystopic guitars with rumbling basslines, the band were incredibly tight and the frontwoman, dressed as Wonder Woman, had such a cool, sassy quality to her spat out vocals. It was a really tough decision choosing between these and Hooton Tennis Club, but they really smashed it.
Best moment:
I have no idea what any of their songs are called, but the last one with a stabby synth track was something special.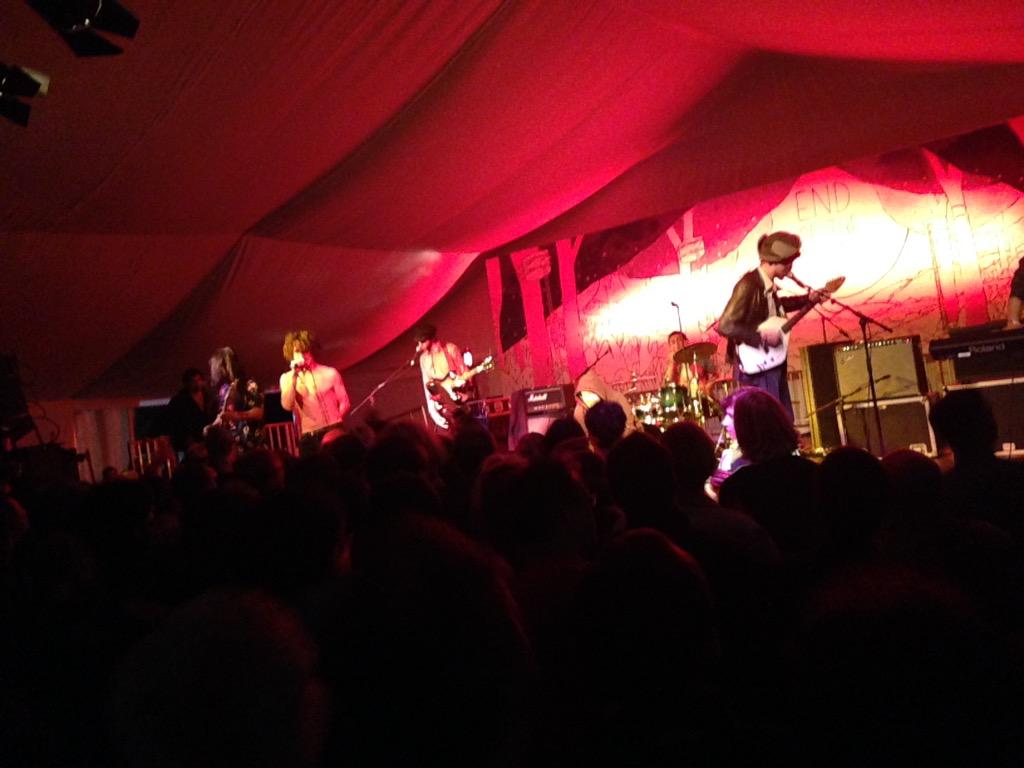 7. The Fat White Family (Tipi Stage, Saturday night)
Secret sets are always slightly exciting, but nothing quite prepares you for the excitement of seeing the likes of the Fat White Family flounce out at 2AM to wreak havoc. This set, unlike their earlier one, was more of a rarities and new material one, opening with a strutting version of
Wet Hot Beef
, a split single they did a while back, playing a couple of unfamiliar (possibly new) ones, and then closing with an album track, maybe this set shouldn't have been the spectacular shot of adrenaline that it was, but due to the amazing charisma and appetite for destruction this band have, it was one of the highlights of the whole festival. Lias willed the crowd on to the stage during the closer
Bomb Disneyland
with such a chaotic result that within a minute there was 6 security guards on stage launching drunk teenagers back into the crowd.
Best moment:
The Fat Whites' bassist trying to put his bass round the neck of the security guard during
Bomb Disneyland
6. Metz (Big Top, Friday evening)
Definitely the noisiest set of the whole festival, this three piece put more energy into their set than anyone else and as a result sounding much more vicious than any of their studio output. Held together by the absolutely incredible, almost hypnotic drumming of Hayden Menzies, the band's noise-influenced punk rock was uncompromised and pretty much polarised the audience; lots of people were scared off, but lots of people thought Metz were an incredible force.
Best moment:
a sizeable chunk of new material from their new record
Metz II, Acetate
being the highlight
5. The Black Tambourines (Big Top, Sunday morning)
Thrashy Falmouth, Cornwall-based surf rock, The Black Tambourines are literally the tightest indie rock group in Britain today. Playing a set made up almost entirely of new material from their latest record, the DIY band's chemistry was completely stunning; the three singing frontmen pinging around the stage and playing some of the most energetic guitar lines this side of the Atlantic, whilst all three of them belted out some pretty strong vocals all the way through the set.
Best moment:
almost every song was brand new, which makes their new record seem even more promising...
4. Sufjan Stevens (Woods Stage, Saturday night)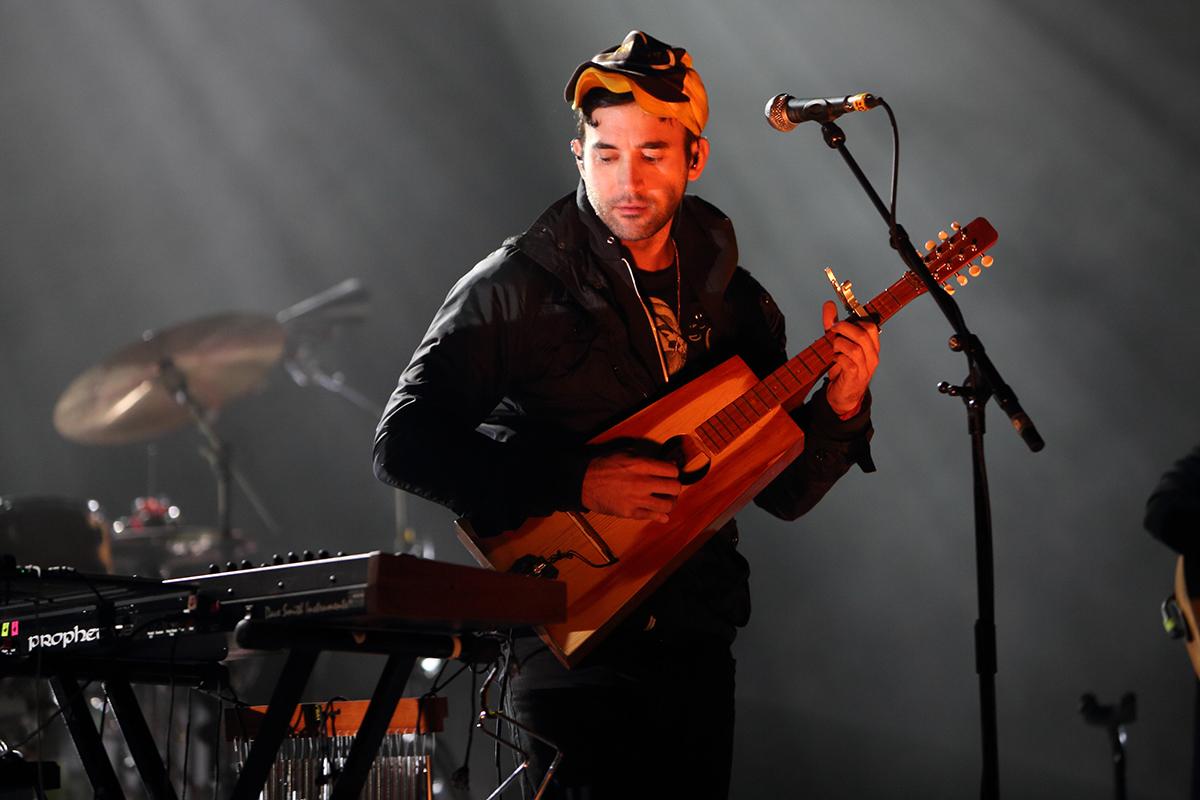 Never have I felt so honoured to see a headliner at a festival as I did standing there watching the elusive Sufjan's immensely beautiful set. Heavily rooted in material from his perfect new album
Carrie & Lowell
, Sufjan was backed by a luscious section of arrangements that added orchestral and electronic touches to bits of his set;
Carrie & Lowell, Should have known better
and
Fourth of July
were all amongst the highlights of new songs, before he closed with a beautiful neo-classical noise segment that made sure that the whole thing ended as magically as it began. Sufjan is amongst the best singer-songwriters in the world, and his beautiful lyrics and beautiful voice combined with a wonderful setting just made for one of the most special performances of the weekend.
Best moment:
the euphoric version of
Chicago
that he played penultimately, rich in (I think) gorgeous analogue synth sounds
3. Stealing Sheep (Garden Stage, Saturday afternoon)
You don't need to look too far down this blog to see just how much we love this Liverpool three-piece - potentially the loveliest band I've ever met making potentially the loveliest electronic psych-pop going. Their set on the Garden Stage showcased everything I love about them, with their brilliant chemistry, wonderfully written off-kilter pop songs, and their brilliant musicianship, as all three members exchanged synths, guitars and drum pads to make their trademark sound.
Best moment:
the closer
Shut Eye
, or the brilliantly danceable
Sequence
2. Fat White Family (Big Top, Saturday evening)
Their chaotic secret set was probably the most hectic of the weekend, but it was with this one that they showcased just why they're the most exciting band, and the most important artists in the country right now. Opening with a powerful version of
Auto Neutron
, and charging into the brilliantly energetic
Is It Raining In Your Mouth?
the Fat Whites started with so much momentum that never really subsided.
I Am Mark E Smith
had it's regular menacing strut,
Touch The Leather
was as beautifully sickly as ever, and
Bomb Disneyland
was just it's regular psychobilly blitz - all of which led me to one conclusion; you just can't beat the Fat White Family as a live band, they're so incredible.
Best moment:
Lias fondling himself whilst belting out the lyrics to
Bomb Disneyland
, probably.
1. Ought (Garden stage, Friday afternoon)
Canadian art-punks Ought haven't really done much in the way of UK shows during the year and a half I've been obsessed with them, so I knew that when I finally did see them around teatime on Friday it would be kinda make or break. But during their set, it was impossible not to completely fall in love with them. Their 10 song set was split evenly between new songs from their forthcoming
Sun Coming Down
album (which is out next week, and seeing as we got sent a copy of it last week and are gonna review it soon, we can promise it's perfect) and their first record
More Than Any Other Day
(which was one of my favourite 2 or 3 albums of last year). The new songs sounded brilliant, with a pummeling hypnotic
Beautiful Blue Sky
and the fiddly
Men For Miles
being the highlights, whilst the old ones were nothing short of gold; the crowd chanted back the lyrics to
Today More Than Any Other Day
and
Habit
, whilst
Pleasant Heart
was a brilliant visceral opener. However, the highlight from a set of really high lights came as the band stormed through
Gemini
. As they finished, you couldn't help but feel Ought really are one of the best underground bands at the moment, they've got it all - brilliantly put together songs, brilliant musicianship, and in Tim Beeler. the perfect frontman, as charismatic as he is camp, and the perfect cross between Ian Curtis and Agent Cooper from Twin Peaks... Ought were almost certainly my band of the weekend.
Best moment:
Hearing Ought's new material in a live setting;
Celebration
and
Sun Coming Down
come into their own as songs in a live setting.
end of the road is probably the loveliest festival in the whole of the uk, and early bird tickets are available for next year very soon - i highly recommend you prioritise it over reading or latitude next year.
(images sourced from twitter - i didn't take them and don't own them - contact us if you want us to take any of them down)
(written by calum cashin)