1997 was a time for a lotta political change in Britain; it signaled the ousting of the Tories after about 20 years of Thatcher & co's political stranglehold. Tony Blair was elected in on a landslide, by moving the core of the Labour party to the centre a notch, and everything seemed really great for Britain. Dandy.
Fast forward to some elections and an illegal war later - Tony Blair and the New Labour movement subalternated the voices of the left wing, and left all the political parties seeming just like homogeneous fuck pies that were completely indistinguishable from one another.
Similarly, flash back to the 1980's and 1990's. The music magazine known as the New Musical Express is one of the most important things for underground music. It's a weekly paper that comprehensively informs everyone of indie, alternative, hip-hop and noise music in a way that's only tackled by niche online publications these days. I don't want to go on and on about how great the NME was before I was born, but to lots of people it was hugely important collecting loads of reviews, gig previews, and big features on bands that are just really exciting, and at the time were driving on the alternative music of Great Britain. Really alternative artists were on the cover and were completely made by the positive press that papers like the NME granted them.
And again, fast forward to the present day; it's a really important week for the New Musical Express; it's going to be free for all to get. If you were like me and walking the busy streets of London (or any other city for that matter), you'll probably have had the magazine thrust under your nose by someone with a great megaphone. Once I was handed the mag I immediately had a scan of it - and I was immediately disappointed, because it had quite literally BECOME NEW LABOUR.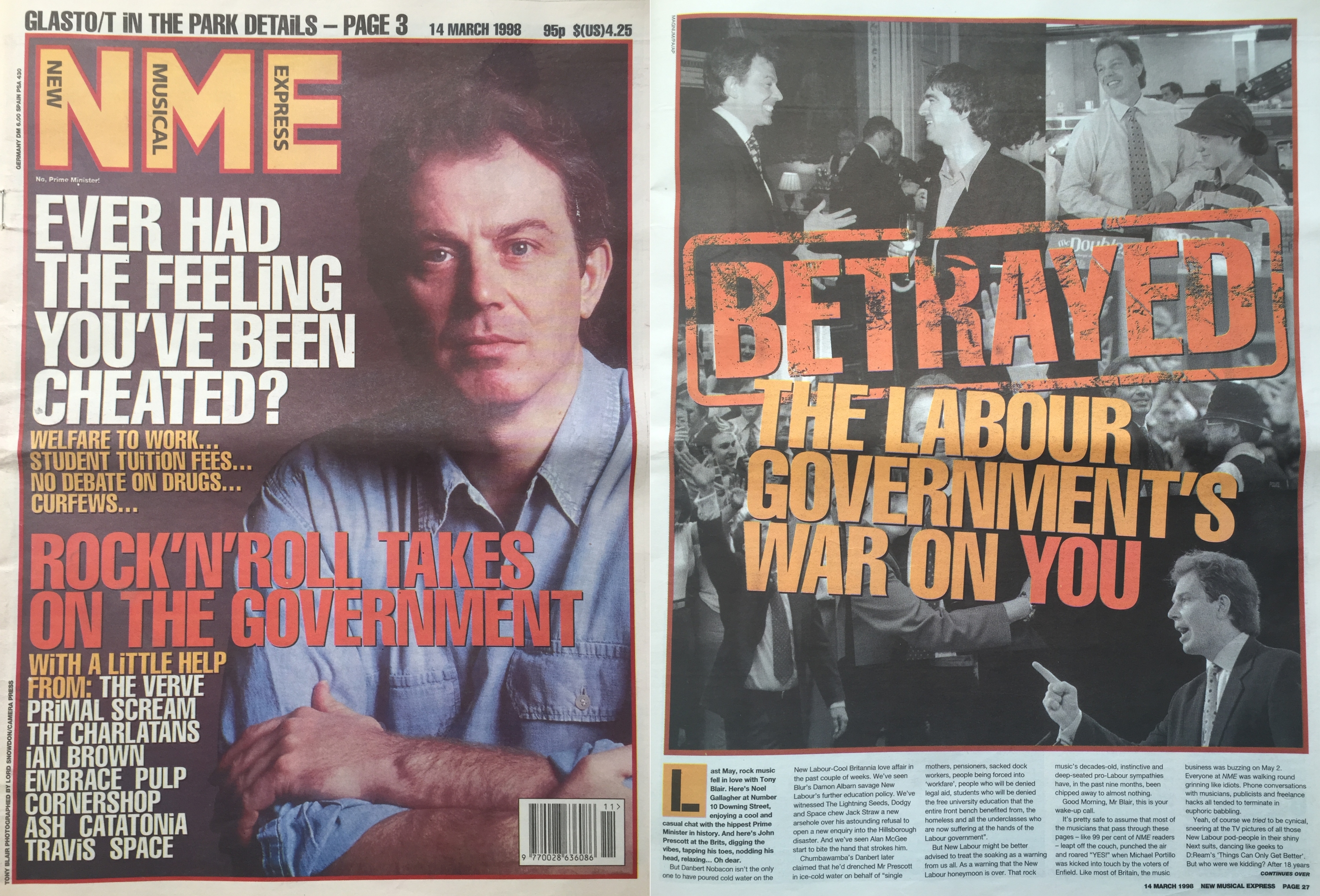 Over the past 10 or so years, the music covered in the NME has probably tottered closer and closer to the mainstream; this is shown by Rihanna's presence on the front cover - which isn't something I'm wholly against because she's a successful talented pop star - instead of the presence of artists that are, for want of a better word, more interesting. As well as this, this week's comes with a whole section on the Big Bang Theory, a feature in which well-dressed people are asked what they're wearing and what they're listening to (shout out to Jamie-Leigh from that section though, for listening to Micachu and The Shapes) and a sort of 'things we like' section, which is a seemingly half baked advertorial.
I guess that all the focus on this instead of any actual music coverage is the latest in a line of ideas to make more people consume the whole music magazine, to go with it's really well-to-do NME.com website, but really, the whole thing just feels a bit half arsed and not very specialist at all. Instead of focusing on what it really set out to do, provide really good coverage on new music and the like, it's just here to provide OK coverage on lots of stuff, which means that on the whole it's just not all that interesting a read for me, even as someone really interested in new music, old music, and even the sorta fashion and film areas they're trying to branch out in.
I don't think the New Musical Express' foray into film and fashion is necessarily a bad thing, but seeing as the coverage on music that the magazine grants suffers so badly for it, maybe they shouldn't be so all over featuring whatever else. For example; as recent as a year ago, the music review section was really quite spot on (whatever your opinion on the stuff that's being reviewed), because it was conscise and offered actual insight on the content of the albums, live shows and festivals being reviewed. With the new issue and all its *~
aesthetic
~*, though, the reviews have been cut down to only covering a few pages, with only the two 'biggest' getting more than a sentence on them. For example, the new Mercury Rev's review literally offers no information about it other than a sentence of paraphrased press release, and a two star rating - come on NME, to fuck did you actually listen to that album.
So ultimately, NME has moved so far away from its 'heyday' that it's almost unrecognisable, offering a really small amount of press coverage for young underground bands and artists that aren't just four white boys with guitars covering
Last Nite
. It's been kinda like this for a while I know, but the new rebranding is another drastic slip of quality for the NME in it's newfound mission to please everyone a little bit instead of please a small audience a hell of a lot.
Oh, and it shouldn't be exempt from criticism because it's 'free'. CRACK magazine is free and it's fucking brilliant. Loud And Quiet is free and it's fucking brilliant. DIY magazine is free and it's fucking brilliant. And Vapour Trail is... alright, but certainly free. NME is now very much the New Labour of music magazines, and if it takes Jeremy Corbyn putting Beach House or Savages on the cover with his bear hands, then that's what it takes to make the NME worth it's price tag of £0.00 again.
you can pick up the NME from pretty much every major city's hmv, topman, uni and transport station, but i'm not really sure it's worth it. instead visit your local record shop and pick up a crack magazine or a diy magazine
(written by calum cashin)