In passing weeks there has been a new buzz on Twitter as word spread about groping taking place at multiple Peace gigs. Until recently I hadn't heard of many cases of sexual assault at live events, and I'd always assumed that gigs were safe due to the amount of security at the venue and the general progressive attitude that surrounds music. There was talk a few months ago about it taking place at a few Drenge gigs, but other than that I'd heard nothing. Yet as I searched deeper and found occurrence after occurrence I came to a realisation, the issue hasn't became more common in the past few years, it is just becoming more talked about as many of its victims have started to speak up.
Imagine you are at a gig for one of your favourite bands in the world. Everything is perfect; the music, the atmosphere, the venue; nothing can ruin your night. Except that is when the guy behind you believes that it his right to put his hands on you and touch you inappropriately. We're not talking about the accidental kind where because of the lack of space someone is pushed up to you, here they normally apologies and move away within seconds. But if that person leaves their hands on you for more than a minute and tries to proceed further it is a criminal sexual assault. The last thing any girl wants is to be touched without her permission, never mind the location, and the constant worry that this might happen whilst attending a gig; something which is meant to be fun and an enjoyable event; can ruin your evening and put you off going all together.
Whilst attending an event last week, I was flung into a mosh pit, without even thinking a moved to stand next to a group of girls. The fact that girls feel they have to stand in big groups together to avoid situations in which they feel threatened and vulnerable is a disappointment. In the age we live in it is disgusting that things such as sexual harassment and groping is still an ongoing thing. I've even heard of situations where certain bands and artists refuse to crowd surf due to they have been assaulted and violated in the past.
Knowing that girls needed a campaign to raise awareness and stop sexual harassment from taking place at gigs @girlsagainst was formed and took twitter by storm. Gaining 800+ followers in just over 24 hours (and at time of writing it's at 3,216), they have already received support from the likes of Peace, Ratboy, Baby Strange, Sundara Karma and Drenge. We here at Vapour Trail had the chance to speak to the girls about the all important issue…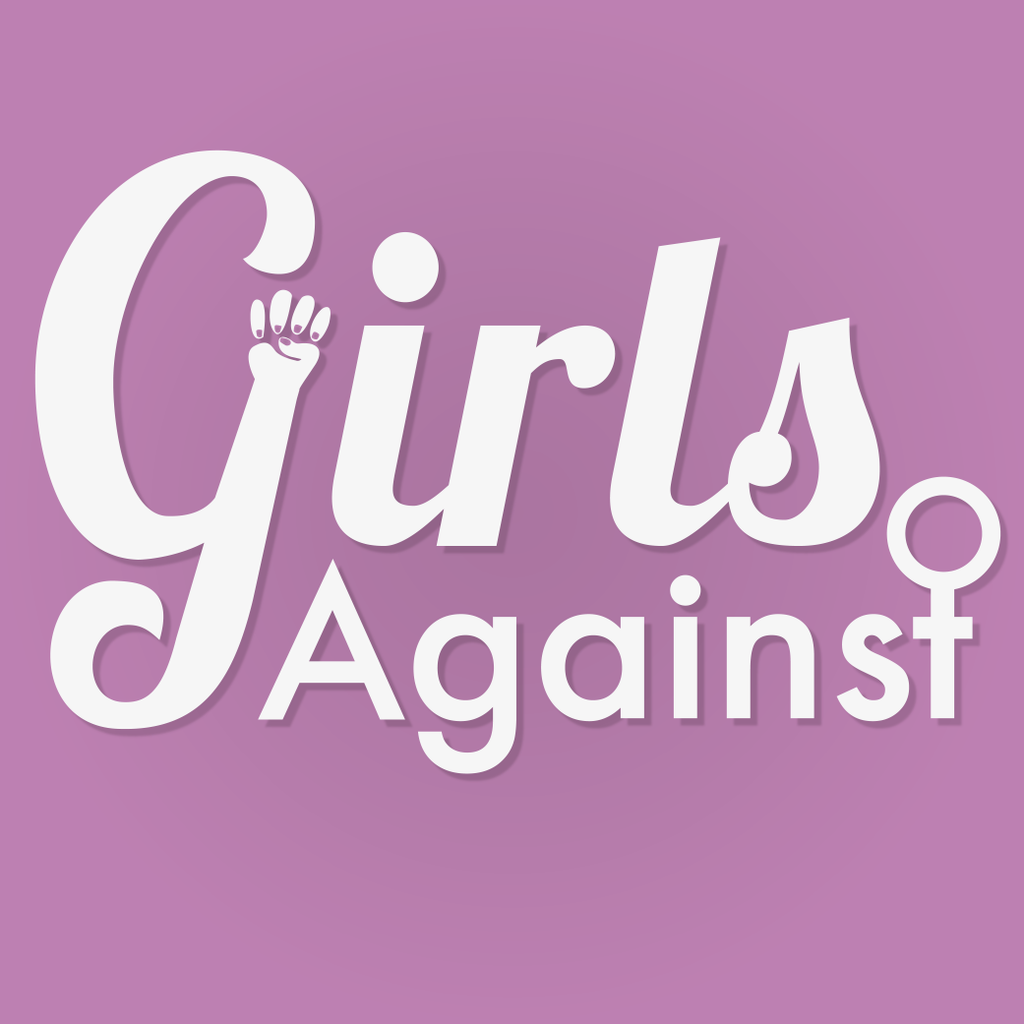 -----
Hannah (@Hdans1975)
We can't believe the support we've got; it's insane we're always freaking out on the group chat, aha. After we saw the support I got following my experience of being sexually harassed at Peace was made public we decided to do something. We'd always wanted to do something together so it just kind of happened. We've all had this group chat for about three months so it was pretty easy to figure out it would only be us to run the main thing. Not that we want to exclude people; it's a collaborative project so we're asking for suggestions on what people want to see us do.
(The support of so many bands and artists) is incredible! Like I said we can't really wrap our heads around it, we didn't expect this much at all or so quickly. These are the guys we listen to and we're DMing them and they all seem really enthusiastic so we're super happy. It makes us feel like we're being listened to and that this isn't a shot in the dark.
There have been a few things (that have shocked the group). The fact that someone tweeted us and said that they had no idea this stuff even went on was crazy. We really want to bring awareness and educate people so it was kind of positive and negative! And again just the amount of people who have tweeted us and how honest and open they're being. I didn't tell any of the girls what had actually happened to me for ages so it makes us feel really proud and happy that people trust us enough to tell us this.
(To raise awareness) we'll have badges made ASAP; we're having a meeting next Sunday when we're all back home so our goals will be set out in detail then. We 100% want to raise awareness, get bands involved. All of us are writers so we're working on some poetry and articles on other feminist issues. We'd like to get involved with security companies and people like Ticketmaster as well eventually. We have such a great platform so we want to use it to its' full potential.
If you do have an experience like this at a gig, we would say to speak to somebody, contact or have someone contact the venue/ band. Bottling it up is the worst thing so we think it's good that we're here if people want to discuss it to someone they don't know without being judged because sometimes I feel that's easier. Everyone's different so we can't generalise but that would be the basic advice I would give.
-----
Ava (@vanmccann)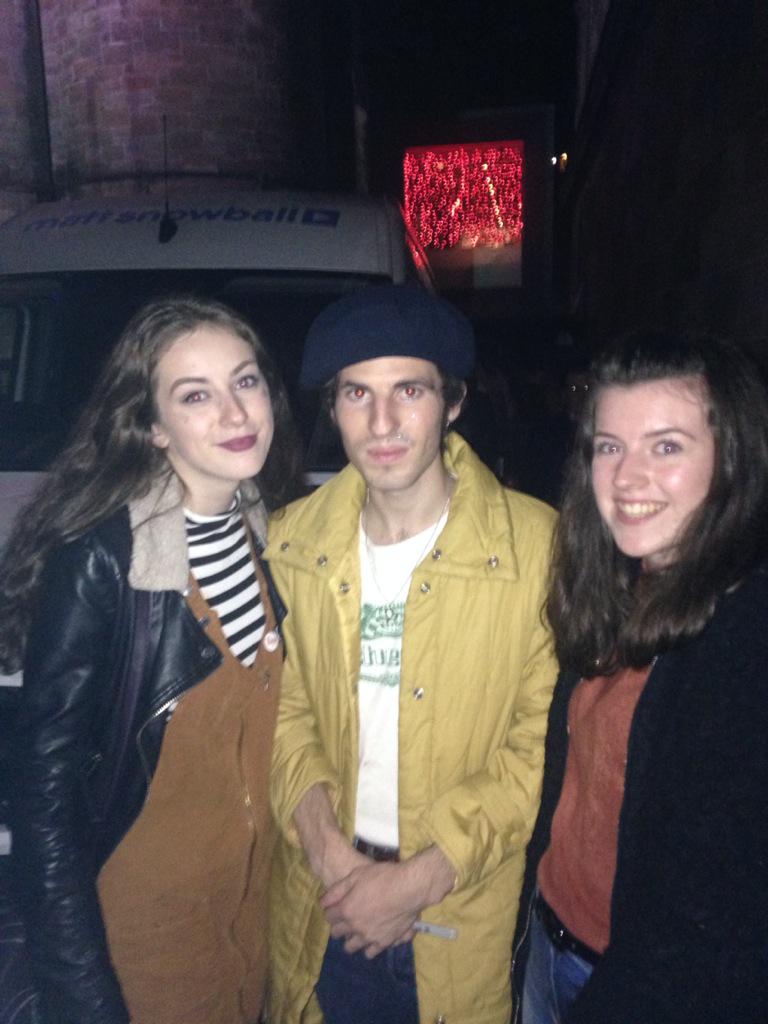 Austin, singer of Swim Deep, with members of @girlsagainst -
he gave the campaign a shout out from onstage at that gig...
None of us can believe the amount of support we've received already, it's so overwhelming! At Peace, I had a really bad experience of being groped by somebody that I know and I found it very difficult to open up and talk about. However, after seeing the support Hannah got following her experience of being sexually harassed at the same gig, we decided we wanted to do something. The session to start this account was made pretty quickly as we realised that this is becoming a growing issue and we figured that creating Girls Against would be a good way to raise awareness of this. The fact that we have gained nearly 2000 followers since the account started only a few days ago is insane; none of us can believe it! We have even received a huge amount of support from many bands including Drenge, Rat Boy, Jaws, Sundara Karma, Swim Deep and Slaves which is absolutely amazing! Peace in particular have been amazing, the support we've had from them is unreal. We all think that making badges is a really great way to spread awareness of this as we have already had a lot requests for them. Like I said, I have experienced sexual harassment at a gig and the only advice I can give is to talk to someone about it. For me, bottling it up was the worst thing I could've done as it was constantly on my mind and bringing me down but once I finally spoke about it. I felt so much better for it. I realise that it is very difficult for most people to talk about, which is why I feel this account will benefit a lot of people as we are always here to discuss it. We have already received a lot of DMs of people sharing stories which makes me feel proud as it means that we are begging to raise awareness of this and people are feeling more comfortable about opening up to it!
-----
Bea (@float4ever)
The motivation basically came from the other girls experience at the Peace gig in Glasgow. We were close friends already and wanted to do something together to stop this happening again. We all agreed that it would be a brilliant idea and in no way expected it to be as successful as it has been!
The support from bands is unreal, we can't believe it! Sometimes we have to remember to be professional when contacting them which is a crazy thought, it's literally a dream and we're so grateful that they recognise what an important issue this is.
Experiences have definitely been a big shock, it's scary to think about how often this is happening - an even more reason to keep fighting. The support has shocked me too! I can't believe how many people have got behind us in such a short space of time.
Raising awareness is really important to create a safety bubble around going to gigs and to make sure nobody there feels uneasy or anxious about attention; we want to put a stop to groping all together!
(On the topic of who met Peace…) It was me who met Peace! It was surreal! I was honoured by their kindness and interest into the cause and I'm so glad we have a band such as them behind us. They made me feel like doing this was all worthwhile and I feel blessed to have had face to face contact with them about such an important cause.
Badges is the first step (for their plan to raise awareness) yes! We want to somehow create a sort of universal sign that can be used to warn security and the crowd if someone around them is at risk of under threat, we are still working on this though. Hopefully in the future we may even be able to set up stalls at gigs or festivals to really let everyone know about the campaign and to hopefully stop harassers from attending.
(if someone gets assaulted at a gig) I would suggest letting people around you know, and security and then, at last resort, moving to somewhere you feel more comfortable. We understand moving at a gig is extremely difficult and not ideal which is why we are working on ways security can help this.
-----
Anna (@L0VESICK)
We started up the account after Peace noticed Hannah's story; we realised how common it is, and knew that we had to take some kind of action. We've all been friends for months, and as we're all huge music fans and gig goers we knew we had to do something!
It's such an honour (to see some many bands support them), especially because it's band we all love, knowing that people we look up to support us! I saw Swim Deep with Ava the other night and hearing them give us a shoutout felt surreal; to know that that was for US! It's unbelievable, and we are so grateful.
Some stories have been quite hard to hear - but it's why we're doing this. We have to know what's happened in order to help. Between the five of us, we've all experienced harassment in some way, so we have to relive past experiences which can be difficult, but if it's to help other people then that's what we have to do.
Raising awareness means other victims can realise they aren't alone; it's the same with any form of harassment. Many don't realise just how common it is. We want to collect statistics to have hard hitting facts to show people who deny or overlook the problem. As we've just started out, we've yet to form a proper plan. However, we want to contact venues and security companies and raise awareness for the issue. We also want bands to show their support, which so far they have done very well, so that people can hear about the problem directly from the artists. There are many very high hopes we have for this campaign, as we're quite optimistic, but we need to take it one step at a time!
If you are assaulted at a gig, I would recommend firstly letting the person know that you know, so they don't think they're getting away with it, but I wouldn't get physical or aggressive as that can get dangerous. Instead, give them a look and move away. Alert security as well; do not let it spiral out of control.
---------
Anni (@queenkrule)
After Hannah spoke out about her experience at Peace I had the idea that we make badges to give out at gigs so that everyone showed their intolerance toward the issue. We then realised that many other people had similar experiences to Hannah's, so thought it best to make a campaign to try and help as many people as possible. We were always a group so we thought it best to do this together - these girls are some of my best friends and I know I could trust them with everything.
It's amazing to have support from people whose music we admire so much. It gives a good insight into their character knowing they too want to fight sexual harassment - I have placed my faith in the right people! It also means we can generate an even louder conversation - awareness will really help eradicate groping at gigs, we think.
It's been really troubling to see just how many people have had bad experiences at gigs, and to hear the details has been equally difficult. It is sad, but it motivates us even more because we know we have the opportunity to help so many people.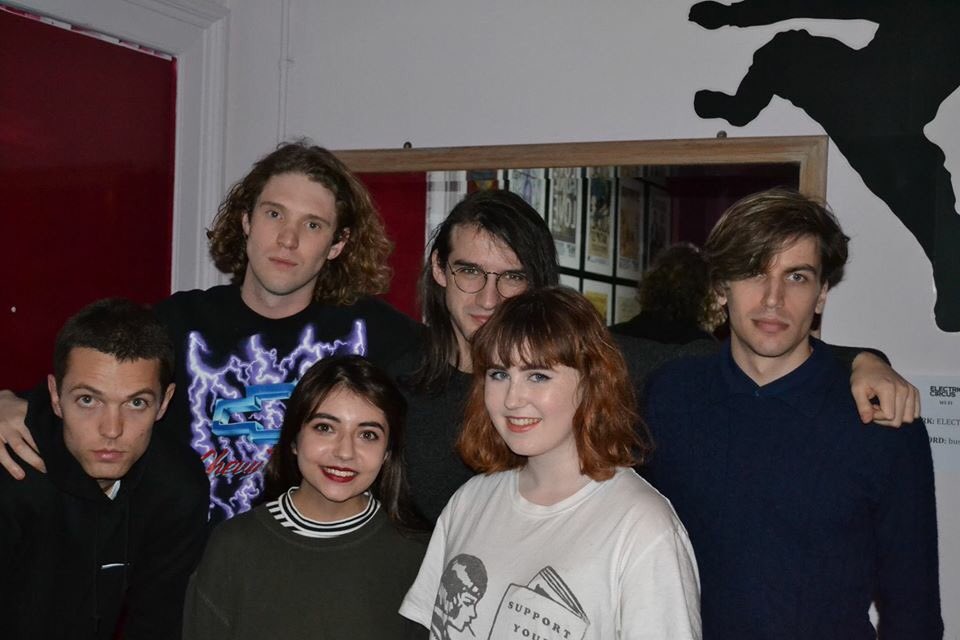 Girls Against with the band Spector
So many people have been clueless to this behaviour, so the more people learn that this is happening, the more people can look out for each other when they're at gigs, to potentially help someone in an unsafe situation.
We were so excited when Sam invited Bea to talk to them about the campaign. Just knowing how much they really care about this has been so refreshing - we feel as though we are being listened to and that we can really do something to end this.
We are working on establishing a solid safety plan should someone find them in that sort of situation at a gig. We are trying our best to just offer a safe place for victims to speak about their experiences, and to generate a loud and clear conversation - our community won't tolerate this kind of behaviour any longer.
It's difficult to know what to do in the situation. Some people act out aggressively whereas others just freeze, unsure of how to react - I'd suggest that you contact a member of security. Sometimes they can be wonderful and they punish the perpetrator accordingly - however, sometimes they don't do a very good job. If you feel like you need to, leave the crowd, get away from the person harassing you. You may feel as though you'd regret missing out on the gig, but your safety should be the top priority.
-----
Vapour Trail writers
-----
Ruby (@musicandkievs)
After an hour of searching the entirety that is the Internet, we found that there was no go-to websites which allows you to report or talk about your personal violation (apart from @girlsagainst raising needed awareness and contacting venues to talk about experiences people have had) this clearly shows how much the issue isn't recognised as seriously as it should be; In worst cases, people see this activity taking place and turn a blind eye to it, almost normalising the issue. I am just glad that @girlsagaisnt are finally speaking out about these crimes and accumulating the right sort of support.
Why should girls feel scared or objectified in a place you'd think would be safe, surrounded by likeminded people and security? I for one think these recent accounts need to be recognised pivotally by security therefore making it their responsibility to try and keep us safe to the best of their ability.
In the mean time, we can do our bit to show support, awareness and unity by following the page on Twitter, purchasing a girls against badge (due to be released relatively soon) and keeping an eye out at future gigs, if you do see this going on, do your best to alert someone with authority.
-----
Caroline (@xylolime)
So what are the girls actually doing to stop groping? Well, @girlsagainst are looking to raise awareness for venues to have a say and get involved with the campaign and they're planning on contacting various artists and security companies as well as promoters in order to get a safety plan settled. On top of that they're spreading their message and trying to get as many influential people on board as possible.
The campaign has received a lot of support from multiple indie bands including Circa Waves, Peace and Swim Deep who have all spoken out on stage against groping at gigs. This has resulted in @girlsagainst reaching more than three thousand followers within two weeks of existing, which is an incredible start to eradicating a disgusting crime, as it shows people are taking it seriously, talking about it and raising awareness of the problem. The page gains hundreds of followers daily and continues to get bands and artists on board, and a lot of people are speaking out and sharing stories about their own experiences with groping and sexual harassment at gigs. The stories being shared are beyond disgusting and incredibly unsettling to read and it's so scary to think of this happening in an environment that's meant to be safe and fun. Something's got to change immediately.
So is this only happening at indie gigs? No, not at all. But the vast majority of the stories about sexual harassment at gigs emerging on the Internet these days have happened at indie gigs. This could be due to the fact that indie crowds have a tendency to be a bit more rowdy/aggressive/overly enthusiastic than the crowds at i.e. acoustic gigs. But by no means does this mean sexual harassment/groping doesn't happen anywhere else, it merely just means fewer to no people have spoken out, yet, about it happening elsewhere.
this article was put together by the amazing jess fleming - who you can find here
sexual harassment at gigs is such an issue, and if you experience it, @girlsagainst are a really wonderful group of individuals that are open to talk to anyone about their experiences, and help any individual victims of sexual harassment at gigs, which should a hundred percent be safe havens for everyone to have a good time