When asked to pinpoint 'my favourite time for music', I'm generally a bit 'naaaah', and I tell people that there was always lots of great music if you know where to look. But seeing as I get asked this quite a lot, my natural answer, when asked follow up questions, is the nineteen nineties and its underground scenes. I love the shoegazers of the early part, and the riot grrrl movement which ran parallel in the states, as well as the thriving underground culture in mid-90's America that was the perfect antidote to Britpop. Here, for your bemusement (and so you'll hopefully discover some new obsessions) is my favourite 20 indie & underground albums of the 1990s. The genre tag is pretty tenuous, but whatever; here you go...
20. Sonic Youth - Goo
Maybe it's best to start this list in an obvious place, but
Goo,
although (like about 4 others on this list) it came out on a major, this is a record by the band who are practically the monarchs of US indie and underground music. With such scratchy classics as
Dirty Boots, Mote
and
Titanium Exposé.,
Sonic Youth certainly didn't accordingly tone their sound down for the major label debut, although it is probably a bit more accessible than the previous album
Daydream Nation
. I think on this album, the songs with Kim's vocal are the strongest, like
Tunic
, the bone chilling ode to Karen Carpenter, and the raunchy 2 minute punk song
My Friend Goo
that sees the band cram their intense guitar frenzies into a short strictly structured punk song where before maybe it'd go on for ages. This is nowhere near my favourite Sonic Youth record, but maybe just about pips
Dirty
and
Washing Machine
to the honour of my favourite 90s SY album, and is certainly a classic, and not just because everyone has a t shirt with it on.
19. Fugazi - Repeater
'ONE TWO THREE REPEATER', barks the colossal force for good, and moral, spiritual and physical backbone of the 80's and 90's DC punk scene Ian McKaye on this record's scintillating title track. I only kinda recently got obsessed with Fugazi, and maybe never before have I fallen so quickly in love with a band... This record is the quintessential 90's punk release, mixing perfectly hardcore punk with varying degrees of anger and melody, as well as maybe obvious influence in reggae and heavier punk rock. Like the band's furious ethics (they never let promoters charge more than $5 for their shows, etc), this has a strong moral undercurrent with such lyrics as 'YOU ARE NOT WHAT YOU OWN', which is one of my favourite one-liners in rock music, ever. The album balances MacKaye and Piccioto's vocals brilliantly, and as you'd maybe imagine from a band that has so much legend surrounding them, is just a bloody perfect release right till the last guitar clang. It's also worth note, and just generally really cool, that through entirely independent distribution and very little promotion, it shifted over 2 million copies worldwide, which is pretty amazing for such a DIY band.
18. Sparklehorse - Vivadixiesubmarinetransmissionplot
Forget the undeniably pretentious title, the debut album by Mark Linkous aka Sparklehorse is one of my favourites of his and therefor one of my favourites of the whole sad self-indulgent US indie genre. On this album, Mark channels a sorta
Coney Island Baby
feel, with allusions to Lou Reed and the Velvet Undeground with the lyric 'sometimes I get so sad/sometimes you just make me sad' (from
Sad & Beautiful World
alluding to
Pale Blue Eyes
) and the general feel of his forlorn singer-songwriter style just channels Reed (similarly, the album
Good Morning Spider
directly quotes
Candy Says
). It's a really great singer-songwriter record that comes from a dark place and captures that mood perfectly...
17. Mercury Rev - Deserter Songs
The kingpins of a subgenre of indie I'd describe as self-indulgent white men being sad for no reason, Mercury Rev are a band who've got a really incredible sound. The whole album shimmers, and through it's whole forlorn feel, which is present nigh on throughout, and reaches moments where the whole feel and atmosphere of it is completely transcendent. Donohue's voice is almost unique, and kind of mesmeric. The most notable song on this is the absolutely breathtaking
Goddess on a hiway
, which is still used in TV and film scenes to create that sorta magic feel today. Whilst maybe it's not the album by them that best suits the whole 'indie and underground' label I've assigned this post, it's their best work and I were to recommend someone an album that was into the whole shoegaze thing that we get into a bit more detail on later, it'd totally be this masterpiece. (
although the new album by them fucking rules too
)
16. Bikini Kill - Pussy Whipped
Is something that just about reaches the 25 minute mark an album? Hmmm. Probably not, under normal circumstances. But let's be honest, whatever Kathleen Hanna says, goes, and maybe when you manage to cram 12 visceral, brilliant punk songs into that 25 minutes, maybe it is definitely an album. Yeah let's go with that,
Pussy Whipped
is an album, and a brilliant one at that. Opening with a rumbling bassline,
Blood One
kicks off a record that just doesn't let up with its incessant hammering until it's noisy conclusion. As far as the whole 'riot grrrl' scene goes, this band were the leaders of the pack with some of the greatest punk rock songs of all time in their arsenal. Although the band split up all too soon, cuts like
Alien She
and
Rebel Girl
are absolute classics that almost define a generation of feminist punk rock.
15. Built To Spill - Keep I
t Like A Secret
A few months ago, I got into this band in a really big way, and although it goes against what almost every music journalist's p.o.v that I read about in my quest to know more about BTS, my favourite album is 2006's
You In Reverse
. However, this, their second major label album is what is probably their critical zenith. It's notable for it's really gorgeous indie rock sound, that whilst touching influences with the likes of Ride, MBV and Mercury Rev, is completely their own due to really brilliantly worked instrumental sections and a real energy that is just omnipresent through all their amazing releases. Built To Spill are just, something else, and again, a band I couldn't recommend highly enough.
14. Elliot Smith - Either/Or
This album by Elliott Smith is one of my absolute favourite records ever, and I guess if I hadn't played it to within an inch of it's life, it'd be in the top 10. Smith was a very sad singer-songwriter in the 1990's and early 2000's who channeled his self-deprecating thoughts into such brilliant little songs. He's also really notable for his extra-expressive finger picking playing style and his voice that sounds like the epitome of sadness. This sees a lot of his best tracks in one place, with the likes of
Between The Bars, Angeles
and
Speed Trials
sung beautifully on this record. I think the highlight is probably the forlorn, yet ever so powerful
2.45AM
, but really, any one of these songs could be my favourite track.
13. Julian Cope - Peggy Suicide
Cope released this on Island Records to massive acclaim in 1991, with it's biting political commentary, it's honed songwriting, and the fact it respectfully covers almost every walk of music over its 2 hour duration. It opens with
Pristeen
, which metaphorically, profoundly, talks (like a few others on this record) about the way that humanity is destroying ol' Mother Earth. And as well as that, Cope furiously assassinates the character of Maggie Thatcher on
Leperskin
and
Promised Land
, whilst also delving into such problems as the HIV epidemic on
Safesurfer
and the whole dickish Jeremy Clarkson culture of driving fast cars and being really shitty to women on
Drive She Said
. Like what is probably 2015's album of the year,
To Pimp A Butterfly
, does with a variety of key issues concerning sub alternated black people in 21st century America, this record does with a range of issues that working class people (as well as the planet in general) faced as sub alternated citizens in Thatcher's Britain. It's a masterpiece that, if you replace the 'she' pronouns with 'he' pronouns, is still bitingly relevant to today's political landscape.
12. The Brian Jonestown Massacre - Take It From The Man!
Choosing just one album by the near-mythical cult band for this list was really a challenge, but I think on balance this is the album where they crank out the most really, really fantastic songs. It's got that trademark BJM sound you'd expect, where the classic Stones rock touches with the icey shoegaze sound of Ride's
Nowhere
. The opener
Vacuum Boots
is one of my absolute favourite songs that Anton Newcombe has put his name to over his amazing career, and nuggets like
My Man Syd
and
Mary, Please
show exactly why this band are now one of music's most respected outfits. Well, that, and the fact that since this very day, Newcombe, Gion and co. have managed to constantly churn out great records that seemingly get better with each release - roll on
Mini Album Thingy Wingy.
11. Slowdive - Souvlaki
Signed to Creation in the first half of the nineties, Slowdive saw the worst of the critical backlash against the whole shoegaze thing, but are now rightly revered as one of the most wonderful little bands of the era. This is their masterpiece, although maybe sometimes I prefer the minimalist avant-folk of
Pygmalion
, and it sonically summarises everything great about the dream-pop genre. It's opener,
Alison
, is an out and out perfect pop song with your typical lusty lyrics backed by some of the most gorgeous oozy guitars. On the likes of
Machine Gun
and
When The Sun Hits
, the band reach absolute euphoria, and on the likes of
Dagger
they reach the very depths of human sadness. It's a really gorgeous record, and as far as albums like this go, this is the pinnacle - shoegazey pop you can lose yourself to doesn't get any better than this.
10. Belle and Sebastian - Tigermilk
Belle and Sebastian are so ridiculously twee, but in a way that is just really endearing to me, especially here. It's their first record and was released on a tiny indie label, before being reissued. Although I really love a few albums by this band, i.e. everything I've heard prior to their latest album, this is my favourite release by them because it sees Murdoch's lyrics at their most unique and has a really nice sorta lo fi aesthetic all the way through. My favourite tracks here are the bizarre
I Could Be Dreaming
and
Expectations
, the latter of which features one of my favourite lyrics in '
Your obsession gets you known throughout the school for being strange/Making life size models of the Velvet Underground in clay
' alongside the whole all-too-relatable larger than life lyrics about being an outsider, etc. The rest of the album is a really great listen to, and although I think ...
Arab Strap
and
...Sinister
are more critically renowned, this is the Scots' best work to date. Also the liner notes go some way to explaining the band's sickeningly twee name, which is cool too.
9. Babes In Toyland - Fontanelle
The second album - and major label debut - by Minnesota punk band Babes In Toyland is the ever so graphic, ever so aggressive
Fontanelle
. Whilst not describing themselves as part of the riot grrrl movement, they had a lot in common with Bikini Kill because of their lyrics that challenged the sexist stereotypes of the music industry. Especially ferocious are Kat's vocals on the tracks
Handsome and Gretel, Magick Flute
and what is maybe their best known track
Bruise Violet
. It's not really an easy listen, but like a lot of the great records, it's something that it's worth taking the times to get into.
8. Slint - Spiderland
This is such a crucial record for the whole 'post-rock' thang, and I guess if you listen to it you'll see why it caused one time collaborator long time fan full time genius Steve Albini to review it with the rather concise 'ten fucking stars', which is a statement I can't really better in this paragraph. Over the course of 6 songs of about 6 minutes, largely spoken vocals contrast with just plain beautiful guitar clangs and crashes. From the very onset of
Breadcrumb Trail
, you're kinda led on a dark spindly journey where everything you previously knew is distorted through the dark sonic filter that Pajo, Brashear, MacMahan and Walford create with this record. The most evocative and attention capturing moment has to be the amazing
Washer
, which is just dark and hopeless, and features some of the best work where playing with dynamics for effect is concerned. The rest of the entire record is amazing though, and if you put on you'll almost 100 percent fall in love with it. Honest.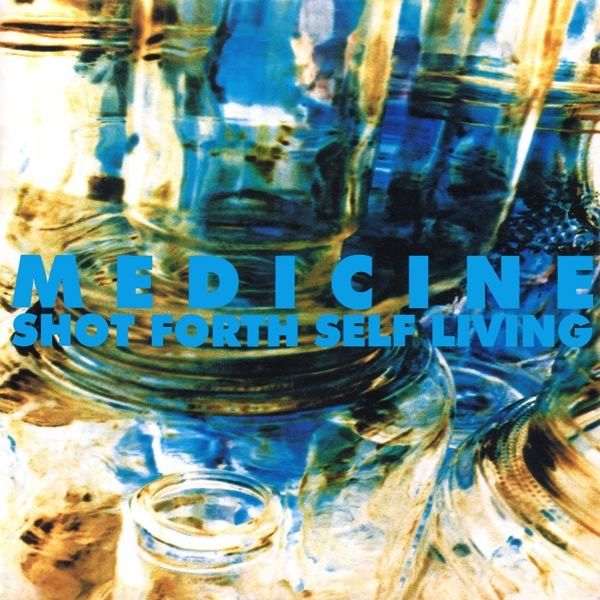 7. Medicine - Shot Forth Self Living
Maybe the most aggressive, abrasive record to carry the 'shoegaze' genre tag, Medicine's full length debut was a critically divisive underground curiosity that was long forgotten about until Captured Tracks, US record label, dream-pop connoisseurs and all round good boys, unearthed and reissued their discography and put out a brand new 2013 record by them. You just need to listen to the sprawling just-about-sub-10-minutes opener
One More
as to why this ambitious masterpiece is one of my favourites of the era; it begins with what is quite literally a 150 second drone of Mary Chain abrasion, and a call to arms for the rest of the band who start up as the record really kicks into the swing of things. The leader of the band, per se, is Brad Laner, and whilst he takes the lead vocal on bits and bobs, what makes this record a real lost gem is the gorgeous contrast between Brad Laner's screechy and transcendent guitars and Beth Thompson's wonderful voice on most the songs; it's not an obvious choice for a favourite 90s record, but you know, this is brilliant and you should all go listen to
One More
and
Christmas Song
now.
6. Mazzy Star - Among My Swan
This is maybe the Cali dream-pop outfit's most stripped down record, and for me it's probably the record where they've most honed their sound and style of songwriting. Hope Sandoval's voice just creates the most brilliant atmospheric feel, and gives this record what is really the dreamiest singer-songwriter sound I've really ever heard.
Cry Cry Cry
and
Flowers In December
are the album's high points, but the whole of the album has this immersive quality to it all the way through. It's a waypoint between country and dream-pop, but also a waypoint between dreamlike ethereality and out and out genius.
5. Guided By Voices
- Bee Thousand
GBV are complete heroes and retrospectively one of the most iconic bands of that era. With a fierce DIY ethic, their music literally sounds like it cost minus figures to record, especially on this record, but that's certainly not an issue that detracts from this release - in fact, the sound of it makes the album so much more endearing than a middlingly produced studio record would. Robert Pollard et al manage to cram 20 songs onto this 45 minute release, and the songwriting is just so spot on all the way through that it's completely compelling, and never feels like it drags. Highlights include such off-kilter bangers as
I Am A Scientist
and
Queen of Cans and Bees.
4. The Sundays - Reading, Writing, Arithmetic
The Sundays, with this record, made one of the best, most upbeat indie records of the 1990's, and even cracked the upper reaches of the UK charts. It's full of delicate Johnny Marr-like guitar melodies, and via the beautiful voice of Harriett Wheeler, some of the nicest vocals I've ever heard on an indie record. The jangly
I Kicked A Boy
is probably the moment where this all comes together in the best way, but
Here's Where The Story Ends
and Peel favourite
Can't Be Sure
are similarly brilliant pop songs that deserve so much more than to be brushed under the carpet of time. This is a really, really wonderful debut that shows off just why I love this band so, so much.
3. Ride - Nowhere
The top ranking British record on the list, Ride's debut is a rich sonic tapestry that still sounds ever so timeless today. Swishing opener
Seagull
is shoegazing at it's most brutal, with heady guitar swirls and a rumbling bassline that causes the album to really take flight early, whilst its followed by near-perfect Beatlesian pop track
Kaleidoscope.
The centrepiece duo of
Polar Bear
and
Dreams Burn Down
are prime examples of why Ride are so much more innovative than anyone will ever give them credit for; glacial crunches of the teenage angst filled heartstring-tugger
Dreams Burn Down
are in a league of their own, whilst
Polar Bear
's icey opening motif is something that still sounds like nothing else on this earth. The crowning glory though, is the closer
Vapour Trail
, which forlornly sees this beautiful record out in a way that just transcends words. Maybe it's worth noting that the bonus tracks that can come with this record are just as good too;
Taste, Nowhere, Unfamiliar, Sennen
and
Beneath
are all classics in their own right, and I can't wait to hear them at Brixton very soon...
2. Pavement - Crooked Rain, Crooked Rain
If there's one band who defined the 1990s, it's not Nirvana, it's Pavement, and this, at the moment, is the record of there's that I deem their best work. Over 12 songs, and almost 50 if you buy the deluxe reissue that you still floating about in record shops,
Crooked Rain
is maybe the greatest thing that Stephen Malkmus has ever put his name to, with some absolutely stunning lyrics, whilst the rest of the band back up the frontman with some of the greatest pop melodies of all time.
Cut Your Hair
was so so understandably a hit, and whilst it's just a really great pop track, it's a million miles away from being the best thing on this record. But what tops that heady high? The euphoria of
Elevate Me Later
gives the album an early feelgood factor, whilst
Range Life
backs it up in its role of indie rock's greatest diss track, and
Filmore Jive
knocks all away with it's frantic playing and ambitious, free flowing structure. This is such a perfect album that sees Pavement at their sharpest, and whilst they never really released a sub-9.0 outta 10, it's them at their very best.
1. Neutral Milk Hotel - In The Aeroplane Over The Sea
In a rigorous battle to avoid being completely clichéd, I just had to go with this as my number one, because it is, well, the perfect record. Concocted by the warped insular genius of Jeff Mangum, this did recieve positive press at the time, but it was only after its release, 15+ years on, that people have begun hailing it as one of the greatest albums of all time, which it certainly is. Eleven or so tracks, including the batshit segues, this record remains a completely mesmeric listen for every second of it's 40 minute duration. Through lyrics that don't actually make that much sense, but make so much sense, with rich nonsensical but ultimately metaphorical imagery, Mangum creates a sonic picture of the world through his eyes. The highlights, the very highest of the lights, come with sprawling heart breaker
Oh, Comely
, the fuzz-folk blast of
Holland 1945
and the closer
Two headed boy Pt 2,
on which Mangum unloads the last of his emotions on the listener. If you've never listened to this before, which I guess is unlikely, give this record a spin... it's one of those rare records that is every bit as life-changing as people proclaim it to be. A perfect album, by a perfect band, that hopefully will now go on to have the legacy it deserves.
thanks for reading & getting through the list! here's some special mentions that didn't make the list, but are must-hears for anyone that is interested in the above records.
Nirvana - In Utero -
the release of this ever so seminal band with the greatest legacy, their rawest and angriest studio work
Jeff Buckley - Grace
- a really beautiful album that I just couldn't decide whether it was indie or alternative enough to include. I reckon there's a good chance there'd be a riot if I put it in
Portishead - Dummy -
essentially trip-hop for really sad people, this is a harrowing but ultimately gorgeous listen from start to finish
Broadcast - Work And Non Work
- among my favourite noughties bands, this is a collection of Broadcast's 90's work and is wonderfully bleak, dystopic and experimental
Madder Rose - Bring it down -
another one of my absolute favourites, this sorta shoegazey lost classic would have made the list if I hadn't only just remembered about it now
Angelo Badalamenti - Twin Peaks Soundtrack -
I didn't know, again, whether this would be elligible or not. You should listen to it whether you've seen Twin Peaks or not because it's just the best thing, ever
Air - Moon Safari -
studio debut of the seminal downtempo-type duo, this is just a really powerful album that was unlike anything I'd ever listened to when I first heard it...
My Bloody Valentine - Loveless
- this is a really innovative album, but I feel like it lacks the genius songwriting and bold structures that are present in the similar releases on this chart. It sounds great, though, I just could happily never listen to it again
Shellac - 1000 Hurts -
them riffs, them riffs, them riffs
Primal Scream - Screamadelica
- ok this is a cross genre masterpiece that someone should punch me in the face for forgetting
(compiled frustratingly and written pretentiously by calum cashin)