TWENTY FIFTEEN! 2-0-1-5. 2015.
2015. Many things have happened this year. Corbyn voted in. Piggate. Water on Mars. New fucking Star Wars. Despite lots of bleak stuff happening, there has been lots of cool good things happening in 2015, with the meme of JC dressed as Obi-Wan captioned 'A New Hope' maybe being a concise summation.
For music as well, this has spawned more albums I've personally loved than any other year I've been actively obsessed with hearing new music. Maybe that's because I've been exposed to more than ever, but maybe that's because people like Kendrick and Sleaford Mods have delivered incredible social commentary, Beach House and Outfit have released some of the dreamiest albums you'll ever hear, and lots of other albums I genuinely love to pieces came into existence. Here's a list that we at Vapour Trail put together with a lot of love. Shoegaze, indie, singer-songwriter, alternative and hip-hop coming together, here's a list of 50+ great albums you'll need to hear.
50. Pure Phase Ensemble 4 - Live At SpaceFest
Fronted by Ride's Mark Gardener, this project performing a one off show at Polish music festival SpaceFest, the PPE play slow trickling psychedelia that slowly engulfs the room in the most hypnotic way imaginable. Pretty much sonic incense this, it's every bit as dreamy as a psych album by the man responsible for the classic shoegaze sound to be.
49. Menace Beach - Ratworld
Fuzzy Supergrassed out indie rock, Menace Beach's debut album is a youthful 35 minutes that feels effortlessly cool and beautifully nostalgic. Powered by two great vocalists and some guitars that lean towards the shoegazing persuasion, this is basically the soundtrack to a culty teen movie waiting to happen, and a really accomplished debut by one of Leeds' best newcomers.
48. Drenge - Undertow
When Drenge added a bassist, a lot of people thought they'd lose their signature gritty two-piece sound, but Undertow proved the nay-sayers wrong. The addition of a third member gives Eoin the chance to really flourish as a guitarist, most evident on lead single
We Can Do What We Want.
This album is angsty, energetic and the perfect progression of Drenge.
47. The Black Tambourines - Freedom
Turbo-charged surf rock by the most nationally recognised bands of Falmouth's infamous music scene, the
Freedom
album is the one which saw The Black Tambourines finally make a record as exhilarating as their live show. 21st century nuggets of thrashy garage, this is one of the most fun albums of the whole year.
46. Dolores Haze - The Haze is Forever
Swedish riot grrrl four piece Dolores Haze are vicious, venomous, and pummelingly energetic, and this debut album captures their live sound perfectly. Front woman Groovy Nicks' effortlessly cool stage presence comes right across on here, and the band just get one constant groove on.
45. Kagoule - Urth
The debut album of bass-driven Notts trio is as formidable as alt-rock records come. A bunch of brilliant alt-rock nuggets, this band pack a hell of a punch with tracks like
Gush
just being absolute fucking bangers.
44. Sleater Kinney - No Cities To Love
Their first album in 11 or so years, this record is one powerful 30 minute punch that shows the trio might as well never have been away. Very few albums have such a dynamic explosive quality, as this is literally a joy to listen to in every sense of the term. It's energetic, empowering, and just another reason the band should have an eternally burning mythology in US underground circles.
43. Brian Jonestown Massacre - Musique de film imaginé
Like the soundtrack to a bizarre French film, this mostly instrumental voyage via mellotron is among the most wonderfully dreamy records of the year. It's supposed to be an imaginary French film soundtrack, and lots of bits of it evoke emotion in the same way that all the best film scores do. If it were actually the score to a real film, it would be on a par with Air's
Virgin Suicides
.
42. Bjork - Vulnicura
Hailed a masterpiece by countless publications,
Vulnicura
is incandescently hypnotic and to put it simply, an artistic miracle. Björk's creative complexities reach a pinnacle in stand out track,
Black Lake
in which she takes the listener on a ten minute journey with more ups and downs than a roller-coaster. Björk's innovative nature never fails to stun me, and
Vulnicura
is no exception.
41. Shopping - Why Choose
Angular post-punk, this is a perfectly polished record that tackles the subject of the absolute meaninglessness of our lives and consumer culture. Gems like
Why Wait
and
Take It Outside
are so completely danceable and get such a groove on that it might as well be The Slits or Gang Of Four playing them. They're a solid prospect as a band, and this captures their live dynamism in a way that'll have you dancing around your room.
40. Mark Gardener and Robin Guthrie - Universal Road
Universal Road
is the second album featuring Ride's Mark Gardener on the countdown - what a busy year that chap's had. Teaming up with Robin Guthrie of The Cocteau Twins, the duo make up a shoegazing dream team, and this is exactly the kind of celestial album you'd expect. Gardener's vocals are lush and his songwriting is at a new peak, whilst Guthrie adds a ethereal cloak to the record's sound, making it just a total dream to listen to.
39. Viet Cong - Viet Cong
Post-punk as dark as you'll hear, this seven song album by the Canadian band basically soundtracked my Winter. Lots of clangy guitars, Peter Hook basslines, and songs that effortlessly change from mood to mood, this album is one of the best post-punk pastiches in the business, and at times it's every bit as emotionally affecting as any of the bands that influenced it.
38. Birdskulls - Trickle
Snotty skater punk, this Brighton trio's debut is your typical skate punk record done so well. It's full of lots of hands on punk punches and riffs to bite your face off, but is basically essential listening to anyone into Bloody Knees or Fidlar or pizza.
37. Mercury Rev - The Light In You
The Rev's first album in 8 years is such a glorious little number that just subsumes you in an autumnal fantasia. It's 11 songs long, and bar the punchy faux-Teardrop Explodes numbers
Sunflower
and
Rainy Day Record
, every song has that mystical wintery charm that they infamously capture on their 1998 magnum opus.
Central Park East
is enchanting and winding, and
Queen of Swans
is the perfect example of that forlorn sound the Rev have honed.
36. Courtney Barnett - Sometimes I Sit and Think, Sometimes I Just Sit
Witty stream of consciousness poetry, a lot has been said about this gal's lyrics, and the album is a perfect example of just why that is. On
Depreston
she tackles bleak first time buying, on
Elevator Operator
she ponders the meaning and the juxtapositions of life, and
Dead Fox
she gives climate change the finger. This is a really solid album, and has some of the best lyrics you'll hear all year. Think Pavement from down under.
35. The Cribs - For All My Sisters
It's literally impossible for this band to release a bad album; this has 12 nuggets of indie-pop perfection, as the band have truly honed their craft as brilliant songwriters. The highlight definitely comes from 8 minute closer
Pink Snow
, but in all honestly there isn't a bad song on here. It's the latest in a really solid back catalogue that's head and shoulders above the likes of the Arctic Monkeys and The Libertines.
34. LoneLady - Hinterland
Quirky dystopic pop, this is my favourite Warp records release of 2015, with it's brilliantly written pop songs marrying top songwriting with oddball sounds and unsettling atmospheres. I found out about this artist on BBC 6's Marc Riley programme and I've been obsessed since.
33. Gwenno - Y Dydd Olaf
All in Welsh this, it's one of the best, most dreamy albums of the past year; it's not really something you can play over and over, but when you put it on it's just one perfect celestial dream.
Patriarcheth
and
Stwff
are just the most perfect little examples of ethereal kraut-rock inspired psych-pop, with Gwenno Saunders' voice being every bit as heavenly as the record label that put this out.
32. Painted Caves - Painted Caves
Painted Caves from Milwaukee, Wisconsin create a distinctive, fresh sound on their self titled debut. Marrying traditional Middle-Eastern folk with psychedelic 60s surfer rock, this band are of their own genre - no one else is making sounds like this. The album is sublime, with gorgeous vocals from Ali Lubbad to match the dreamy lyrics that unfurl across tracks such as The Ocean and Half-Human. I can only describe Painted Caves as an album that floats on a sea of surrealism, it bobs up and down blissfully unaware of how lovely it is. Tracks seem to be endless, flutes and guitars streaming like sunlight through a blind, slowly growing until diving into an abyss of delicate songwriting. The whole album has been lovingly crafted, that much is clear, which is why it's one of my albums of the year.
31. Anna Von Hausswolff - The Miraculous
Von Hausswolf is a Swedish musician who, with her latest album, married some elements from pretty far across the board to create a post-modern masterpiece. She has a massive fuckoff church organ, a voice that can slash through throats, and the ability to create powerful 'doomscapes'. Weird, wonderful, apocalyptic, brilliant.
30. Public Enemy - Man Plans, God Laughs
P.E. get a serious funk on here, ey? In conjunction with them beginning to use a full band live, the legendary hip-hop outfit have a much more fluid sound than you're used to. On this, Chuck D and Flava dish out the soundbites, put out some seriously catchy tunes and show case just why they're one of the greats.
29. Pins - Wild Nights
Wild Nights
is the second album by the band PINS, a punk band that riff-heavily lay on the outskirts of the whole desert rock sound that bands like QOTSA have utilised to get to festival headlining levels of big. This record is catchy, punchy, and just the perfect thing to rock out to in leathers on yr motorcycle.
28. Fidlar - Too
When Fidlar's drug-fuelled riotous debut landed in 2013, teenagers all over the world went mad. So when the time came for the follow-up, expectations were high. (even if the band were not)
Too
is explosive, with all the passion that Fidlar showcased in their debut, but with one vital difference. This album has a message behind it that isn't "GET DRUNK GET HIGH GO SKATING."
Overdose
is haunting, telling the story of Zac Carper's experience with heroin, and
Stupid Decisions
is exactly what you'd expect. Nevertheless, the serious lyrics do not distract from the progression Fidlar have made musically. It's a solid follow-up, and a bloody fun one at that.
27. Sauna Youth - Distractions
This 30 minute record is one pummeling intense clout of visceral punk rock, searing apathy and woozy guitar tones - from the punch of first track
Transmitters
, through
Monotony
and
The Bridge
right to closer
Creeping
,
Distractions
is an album that ambitiously tries to pummel away at the listener without leaving any room for breath. The four members chant the lyrics, making this a kind of modern day anti consumer call to arms.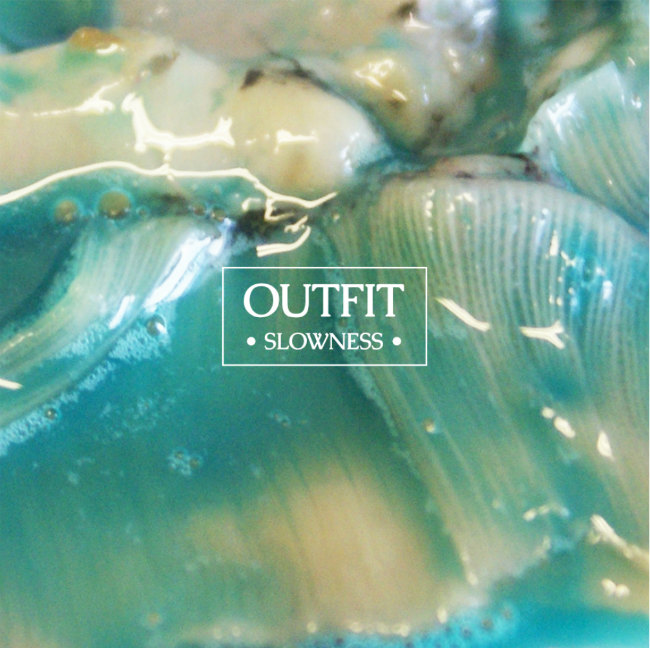 26. Outfit - Slowness
Slowness
is the second band by Liverpool band Outfit - beautifully put together, flowing, oozing and emotionally compelling, this is a forlorn record that really makes you feel things. The title track is so immersive,
Genderless
is impeccably atmospheric and
New Air
is a sadcore contender for song of the year.
25. Bully - Feels Like
The furious debut of American alt-rock band Bully,
Feels Like
is a frank, straight up, furious exploration of early adulthold. Frontwoman Alicia Bognanno has a razor sharp voice, alternating between the plain vicious and the bouncy and melodic, whilst her sophisticated production pushed the record from strong songwriting to the rock release of the year.
24. Sleaford Mods - Key Markets
More of the same, that's what we want. Sleaford Mods most recent release is more visceral ranting atop beats laid by that guy with the tinnie, and that's just the way we like it. Williamson's vocal performance is impeccable all the way through, with
No One's Bothered
being the highlight.
23. Follakzoid - III
Follakzoid are the ultimates in locking into a groove. On this, four 10 minute compositions see the Chileans bounding through the psychedelic never realms in a way that is both hypnotic in a way you can lose and immerse yourself in lose an afternoon, and almost danceable in that it could probably creep onto the soundsystem at an off kilter Shoreditch club night. Shiny gold cover, solid gold record.
22. Baby Jesus - self-titled
Psychedelic garage pastiche, this raging Swedish album authentically sounds like it was ripped right outta 1960's Texas - 28 minutes of turbo charge thrashy squalor, this is an essential nugget for fans of all things weird. The band literally get a speedy groove on from the get go, and don't really let go it - the highlight is
Cry Cry Cry -
THAT ORGAN SOUND, MAN! Seriously, this is a really solid record, and maybe my psych album of the year.
21. BJM - Mini Album Thingy Wingy
The BJM are just the most consistent band in the world, ever, and this is basically more of the good stuff, with shamanic leader Anton Newcombe seemingly going through a late career purple patch that you can't help but admire. This record is notable for it's cover of the garage psych classic
Dust
(by the 13th Floor Elevators) and swarming opener
Pish
.
20. Father John Misty - I Love You, Honeybear
Basically the hipster Leonard Cohen, Father John Misty's second album
I Love You Honeybear
is a cynical, caustic look into love and human relationships, with song titles that look like they're ripped right out of Leonard's back pockets - there's a song on here called
Chateau Lobby #4 (in C for two virgins)
or something, and it's basically every bit as darkly sarcastic and autumnal as you'd expect. But in all seriousness, this is a really moving album, and its just begging to be listened to on a cold winter's evening.
19. Marching Church - This World Is Not Enough
A solo effort of Elias Bender Ronnenfelt, this is a really eclectic album that really showcases a brighter side to the man that last year depressed us all with heartbreaker
Against the moon
on Iceage's last album. The highlight comes from the poppy
King of Song
, but the rest of the record is brilliant in the same way that Julian Casablancas + the Voidz's
Tyranny
is - Elias obviously felt pressure to write very Iceage music for Iceage, and here he breaks free of the shackles to deliver a really oddball record.
18. Stealing Sheep - Not Real
Jumped up nu-folk, for their second album the arty Liverpool trio really stuck to the formula that served them so well on their 2012 debut. But the results are so good, with the offbeat awkwardness of
Evolve
and
Greed
, and the pure pop efforts of the title track and
Sequence
are beyond delightful. A real cultural force, this is just a really accomplished album by a wonderful band.
17. Speedy Ortiz - Foil Deer
Angsty and aggressive, Speedy Ortiz's second album Foil Deer packs an almighty punch. With enticing melodies and crafty lyrics it is not to be taken lightly, Sadie Dupuis' voice taunts and snarls at those who have wronged her and creates an edgy atmosphere. As the album progresses there are some softer, calmer moments, and throughout all of the album the intellect and energy within all components of the songs is never compromised.
16. Ezra Furman - Perpetual Motion People
Perpetual Motion People
is a boundary pushing, binary twisting, lipstick covered masterpiece. The third album of Ezra Furman and (his band) The Boyfriends comes in the form of a 45 minute journey of Ezra's personal discovery. It's witty, clever and most of all, it has an incredibly important message behind it. Highlights include 'Wobbly' and 'Body Was Made' both of which tackle serious issues regarding gender, but when intertwined with catchy riffs and a phenomenal brass section, you don't find yourself overpowered. Not only is Perpetual Motion People musically phenomenal, but it's one of the most important records released this year in regards to equality for all.
15. Alex G - Beach Music
Lo-fi prince, Alex G is a lo-fi musician who made his big label debut (well, it was on Domino) earlier this year having already put out 5 or 6 self-produced albums really lowkey on the internet.
Beach Music
is a record that treads the fine line between rough Guided by Voices lo-fi and the dreamier sort practiced by Galaxie 500, all whilst Alex maintains the vocal delivery of Steven Malkmus. This record is low in filler, and has about 10 absolutely gorgeous DIY nuggets for you to soak your teeth into.
14. Hatcham Social - The Birthday of the World
At times psychopathic, at others sympathetic,
The Birthday of the World
by Hatcham Social is a bird's-eye view of human civilisation heading towards its speculative end, before relocating to a romantic sci-fi future on Mars. From the sharply frantic
Find a Way to Let in Your Sins (Hit a Red Cut a Right)
to the reflectively amorous
Daring
, the album is a telescope, microscope and kaleidoscope all at once.
13. Deafheaven - New Bermuda
On 2013's
Sunbather
, this metal band released seminal blackgaze album
Sunbather,
which over 10 tracks, seamlessly blended black metal anguish with dissonant shoegazey guitars (in a move that literally enraged metalheads). Here, on their follow up, they make the fusion much more obviuous; the guitars are heavier, with dreamworlds occasionally bashed in to give the album textural depth. This is the kind of album that doesn't have the re-play-ability that
Sunbather
does, but on first listen it'll abso-fucking-lutely knock you for six.
12. Beach House - Thank Your Lucky Stars
Beach House's second album of this year's Autumn, this is a much more melodically simple number than
Depression Cherry
, but is every bit as emotionally engaging and dreamy as its September-released counterpart. Made up of tricklingly euphoric dream-pop tracks like
Elegy
and
Majorette
, whilst bringing in high doses of forlorn numbers too in the form of
All Your Yeahs
and
She's So Lovely
, this album is just a really, really nice album to kick back and laze to.
11. Grimes - Art Angels
Claire Boucher's fourth album arrived last month, and she's officially out of fucks to give. Despite maybe an onslaught of hipster apathy (I was cynical at first mind), Grimes went well and truly down the pop route on
Art Angels
, and it's so fucking fun, but also a wonderful, brilliant piece of art. Nothing can stop you enjoying the immediate turbo-charged glimmer-pop of
Flesh Without Blood
or
California
, but similarly the subtle whirrs and whizzes of these and every other song on the record is just superb. On this, Grimes has broadened her palate and has come off all the better for it. (Ok, maybe it's not as good as
Visions
, but maybe it is - either way it's bloody good)
10. Girl Band - Holding Hands With Jamie
Irish noiseniks Girl Band blasted their way to critical acclaim with the album Holding Hands With Jamie, their Rough Trade debut, earlier this year. Opening with what can only be described as the most invasive guitar screeches on first track Um Bongo, it's an album that (bar serene In Plastic) doesn't let up right to it's pummeling end. One of the strongest vocal performances on a record by indie dreamboat Dara Kiely, it's one of the most exciting sounding guitar records of the year and worth every bit of the hype we've been piling onto this band for yonks.

9. Wolf Alice - My Love is Cool
In 2015, no one bloody shut up about Wolf Alice for a second, but the thing about that is that it was all for good reason. Unlike much of their peers, Wolf Alice didn't rush into releasing a debut, and the result of that is
My Love Is Cool -
an album that is both mature and bristling with primal young energy. Highlights are too numerous to note down, but
You're A Germ
features one of the best choruses of the year,
Swallowtail
is a note perfect love song that captures a beautiful naturalistic quality, and
Giant Peach
's motorik krautpop strut gives home to one of the coolest sounding guitar tracks of the year. 2015 is this band's year, and they totally deserve all the plaudits they get.
"So we'll burn, burn, burn, burn masculinity" the lead singer Nye of Scottish band Spook School sings on the opener to this delightful sugar sweet indie pop record. Tackling issues of trans identity, the band have released one of the most accomplished indie records of the year with
Try To Be Hopeful.
It's both confrontational and melodic, and bits of it condure up that beautiful youthful feeling that all the best Fortuna POP! type records capture perfectly.

7. Beach House - Depression Cherry
The fifth album by Beach House is almost comically dreamy, by a band so aware of their sound and their style and their image. It comes cased in a velvet red sleeve, and is full of woozy syrupy songs with titles like
Days of Candy, Bluebird
and
Beyond Love
. Highlights come in the form of blissful euphoric pop tunes like
Space Song
and
Levitation,
alongside
Days of Candy
, the closer which is just one hypnotic sigh. This is one of the band's best works, and I urge you to burn lots of incense, kick back, and let it engulf you.

6. Kendrick Lamar - To Pimp A Butterfly
Hip-hop's most important figure at the moment, Kendrick Lamar, especially here on his magnum opus
TPAB
, is the perfect figure to kick back against racist America with his art. This album melds strong social commentary, poetic spoken word, and a range of styles outside the comfort zone of most modern hip-hop artists like jazz, electronica and allusions to more old school hip-hop. There's a reason that this album has been picked up as the most universally acclaimed, because like Gil Scott Heron and Public Enemy, Kendrick knows what's going on and he's documented it in the most artistically rich and accomplished albums of the past few years.
5. Girlpool - Before the world was big
Teenage girl two piece Girlpool are your friendship goals; Harmony and Cleo's debut album is the ultimate angsty teenage singer songwriter full of lush twin vocal harmonies, metronomic minimalistic instrumentation, and lyrics that apprehensively document what it's like to grow up.
Cherry Picking
and
Ideal World
are probably the beautiful little highlights from this, as the band so forlornly project just what it's like to be a teenager realising everything's shit for the first time. A simple, short, yet truly beautiful record.
4. RA! - Oh Unhappy Bella
RA! are a Southampton based band, and this is the only album they put out before their low-key breakup earlier this year.
Oh Unhappy Bella
is a dark album that melds genres together really effortlessly; in the most part it's a kind of beatsy lo-fi indie sound, but elements of warped dream-pop, hauntology and - at the end - there's even a bit where thrash metal makes sweet, angry love to some frenzied euro-house breakbeats. Lyrically bleak, it's an escapist story-type concept album that doesn't really have a happy ending, but it's a completely essential release for you to check out just once.
3. Chastity Belt - Time To Go Home
Seattle 4-piece Chastity Belt are basically the coolest thing to emerge ever. Gritty
C86 indie-pop, their second album is a work those that had heard their debut would have never thought possible - incredibly tight, it's a sonic reflection of youth and early womanhood exerted by Julia Shapiro's deadpan humour. The highlight of
Time To Go Home
is the title track, a messy drunken number that tells drunken tales of parties that I'm not cool enough to dream about attending.
Drone
and
Joke
are seamless catchy pop numbers, and with the lo-fi
Cool Sluts
they casually put forward an angsty feminist agenda - they're a cool bunch, and this is an album it's seriously easy to get obsessed with.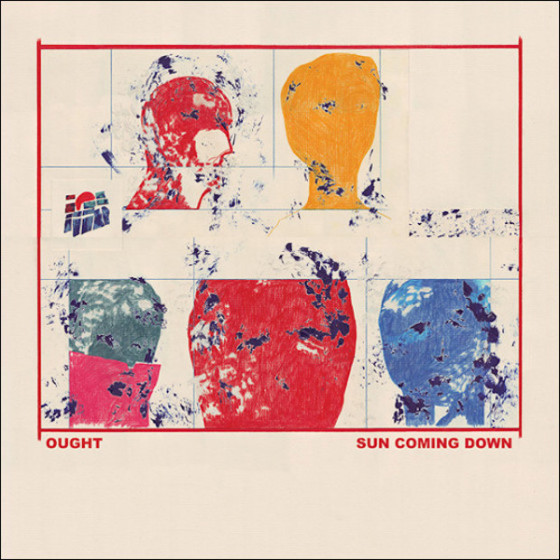 2. Ought - Sun Coming Down
Sun Coming Down
is the second record by Montreal art-punks Ought - and it's an absolute delight. It's 8 raw thrashy nuggets that see the most distinctive voice in underground music absolutely hone his talents; this is the record that sees Tim Darcy give one of the best vocal and songwriting performances of the year. Each and every song from this album has something ridiculously distinctive about it. During
On The Line
, you catch Darcy crying out 'that's a very astute observation, if I do say so myself', on winding Strokesian number
Men For Miles
he asks 'excuse me - d'you think there's a chance we can bring this whole fucker down?' and on
Never Better
cries of 'this is a high water mark for civilisation' ensue. It's a brilliant lyrical advance on their incredible debut
Today More Than Any Other Day
, and throughout it remains a witty, quirky, allegorical deconstruction of our futile existence on planet earth.
1. Sufjan Stevens - Carrie & Lowell
There are few albums quite as honest, raw and rich in emotion as
Carrie & Lowell
, and this is among the most beautiful record I've ever heard. Seemingly until now, Sufjan got more and more ambitious with every single album he released, but here he takes it right back down - for the most part, it's just him and his guitar. Just you and Sufjan. Intimate as fuck. It's intensely personal;
Eugene
sees him talk about the man that couldn't quite say his first name, and on
No Shade In The Shadow Of The Cross
he let's it out with a 'fuck me, I'm falling apart'. The whole record is full of anecdotes and it's basically just the coping mechanism for him in the wake of his mother's death - but this being Sufjan Stevens, every single sigh, cry and heartfelt moment is pure poetry. The 11 songs on here are all beyond perfect in their own right, from the very first fingerpicks at the start of
Death With Dignity
to the overcoming ethereal ending to
Blue Bucket of Gold
. I bought this album a few months back on vinyl, and it's something I sometimes have to listen to over and over again, because nothing can quite follow it. The most beautiful album of the year. The most beautiful album I've heard in my lifetime actively seeking out new music. The most beautiful album.
HERE'S SOME HONOURABLE MENTIONS
We've literally loved way way more than 50 albums this year, so it's only natural that we'd give a heads up to the other artists that lit up our 2015 with pretty solid albums
Youth Lagoon - Algiers - The Godspot - Spector - Max Gowan - The Tailbreakers - Florence & the Machine - Tame Impala - Pond - King Gizzard & the Lizard Wizard - Kid Wave - Arid Wave - jennylee - Jenny Hval - Against Me - Kurt Vile - Best Coast - Spector - Lana Del Rey - The Garden - Benjamin Clementine - Girls Names - The Maccabees - Gengahr - The Holydrug Couple - Tacocat - Strange Wilds - The Helio Sequence - Jamie XX - Nicole Dollanganger - thx to anyone that sent us any music over the whole of 2015!
-written 90% by
calum cashin
-#16, 42, 48 by
poppy marriott
-#14 by
jonah hartley
-#17 by
isobel mcleod