Most Dutch music honestly isn't very good. You shouldn't really be sad that some of our most popular acts like Kensington (toothless arena rock with a knack for huge choruses but little else) or Dotan (a one-man Imagine Dragons, but only slightly less insufferable than that sounds) haven't made it over to the shores of the UK yet. Yet, there are some excellent, but more obscure, bands out there. Here is a rather long and rambling list of those, including some from our neighbours Belgium, who have always been a bit ahead of us in terms of music.
Balthazar
A Belgian five-piece whose music is honestly hard to describe. Imagine if post-punk and indie rock had a baby and that baby sounded absurdly chill. Also, with some more violins. Lots of hauntingly gorgeous violins. Some of their songs may sound a tad dull on first listens, but they almost always contain a beautiful hook that assures they won't ever leave your head after a few plays. They are also absolutely brilliant
Choice cut: Any Suggestions
https://www.youtube.com/watch?v=oj4hXSLUNiI
dEUS
The oldest band on this list and probably the most well-known. This band from Antwerp made a splash with the song
Suds & Soda
in 1994 and have built up a steady fanbase in some parts of Europe since. All of their seven studio albums are well worth checking out, but in my opinion they hit their pinnacle with 1999's
The Ideal Crash
, which marked a turning point from the frantic chaos found on their first albums to the more melancholic vibes on their later records.
Choice cut: Instant Street
https://www.youtube.com/watch?v=wBRLSHI6Gpc
John Coffey
You might have seen this viral video of a singer from a hardcore band catching and drinking a beer while crowdsurfing. That band is John Coffey. I was there when that moment happened and that whole gig was one of the greatest I have ever been to. John Coffey are indeed a post-hardcore band, but most of their songs are very melodic and catchy. They have only released two albums in their current formation, but are quickly becoming one of the most popular loud bands in the Netherlands.
Choice cut: Broke Neck
https://www.youtube.com/watch?v=9HGFaLjYslQ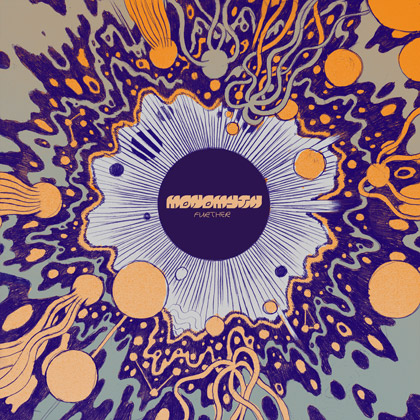 Monomyth
For fans of bands like Mogwai. Very long spacey rock tracks, loaded with killer riffs and epic climaxes. They have released two albums so far which both contain no more than five tracks, but still manage to clock in at around an hour. Their entire discography can be found on the band's official YouTube channel, so there's really not an excuse to not check them out.
Choice cut: Ark-M
https://www.youtube.com/watch?v=I1ecVd6lzOM
Raketkanon
Raketkanon are a band from Ghent, Belgium who make punk songs that are all sung in a made-up phonetic language. All their songs titles are people's names and their two albums so far are titled
RKTKN #1
and
RKTKN #2
. Weird stuff, but pretty great. Their live shows are reportedly amazing (I haven't had the chance to see them myself yet) and I think they occasionally stop by the UK, so check them out if you can!
Choice cut: Florent
https://www.youtube.com/watch?v=m8LU5ACDwJk
De Staat
My favorite band from this list. This five-piece from the modestly huge Dutch city of Nijmegen, De Staat make joyously catchy alternative rock, sounding somewhat like a dancier Queens of the Stone Age. Frontman Torre Florim's unique drawl might take some getting used to, but it's a huge part of their unique sound. Their next album
O
drops in January and I couldn't be more excited. Lead single
Peptalk
sounds like a culmination of everything that came before it and that makes it the perfect start for any newcomer.
Choice cut: Peptalk
https://www.youtube.com/watch?v=XNCV9RsRd_k
Triggerfinger
'The loudest band from Antwerp'; Triggerfinger are a sleazy, loud three-piece. Their cover of
I Follow Rivers
by Lykke Li gave them mainstream exposure in their home country and the Netherlands, but it's not really representative for the rest of their oeuvre due to being very soft and in my opinion, not very good. The rest of their output, however, is very good. Their last record, By Absence of the Sun, is in my opinion their best so far, containing a brilliant combination of riffs and hooks.
Choice cut: Black Panic
https://www.youtube.com/watch?v=wN2a6hvWnR8
Bonus: De Jeugd van Tegenwoordig
This will probably not make a lick of sense to non-native speakers, but De Jeugd are such a fascinating and unique part of the Dutch music scene that I had to include them. This hip-hop group is often hailed as a prime innovator of the Dutch language, seeing as their lyrics have introduced entire new words and concepts to it. The often hilarious lyrics combined with the sometimes LCD Soundsystem-y beats have made them a live staple at almost every huge Dutch festival. Below is the track De Formule, which has a hook that should be able to transcend the language barrier, followed by a brilliant explosion of noise after four minutes.
Choice cut: De Formule
https://www.youtube.com/watch?v=LgDplQ-nQ_Y
c
(written by Reinier van der Zouw)