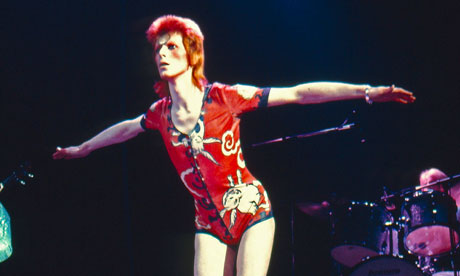 David Bowie has had an enormous impact on the lives of so, so many people. David Bowie changed your life? Of course he did. Our Brixton Boy's rise to stardom, and how he changed and contorted his image when he got there, and almost every single part of his incredible output is so inspiring. The man is a genius, a pioneer, a superstar and a legend, so I, a few of the blog's writers and a few of our passionate friends wrote a bit on our favourite Bowie songs for you all to enjoy.
Calum (@pearlmystic) on
Sweet Thing (1974)
David Bowie has been a huge part of my life for as long as I can remember, and certainly for as long as I've been a raging music obsessive. Picking a favourite song of his for me is like a parent choosing a favourite child, although most parents only have a few children (certainly only a few they actually love), and David Bowie has about 80 songs that I really, really love. However, for the format of this post I've gone for one -
Sweet Thing
(or on some releases
Sweet Thing, Candidate, Sweet Thing,
but it's just one sprawling 9 minute suite) - which appears on his 1974 album
Diamond Dogs
. It's a really long winding song, that starts with a low croon of "
it's safe in the city/to love in a doorway/wrangle some screams from the dawn
", which is actually the lowest pitched line in his back catalogue, and then progresses on a twisted trip through the dystopic microcosm that Bowie as Halloween Jack (his most overlooked 70's character, everyone just assumed he was Ziggy Stardust but also a pirate) walks you through. On it, Bowie's voice sounds its absolute most incredible, he rattles off some of the most perfect, pictorial lines ("
my set is amazing, it even smells like a real street/there's a bar on the end where I can meet you and a friend
", "
But there's a shop on the corner that's selling papier mache/Making bullet-proof faces; Charlie Manson, Cassius Clay
"), and as well as this the instrumentation is a dark precursor to the dark, atmospheric futuristic alt-jazz that would make
Outside
and more recently
Blackstar
creepy, menacing and disturbing. This track is a real oddity, it's incredbly ambitious, but I love every single second of it's swooping duration.
Poppy (@poppymarriott_) on "
Heroes" (1977)
Picking a favourite Bowie song is almost impossible for me. I've grown up listening to him and fallen in love with nearly every album so my favourite song tends to fluctuate massively depending on what mood I'm in. But right now, at possibly the most crucial time, my favourite Bowie song has to be "Heroes." It's encompassing of everything I feel about him; happiness, hope and nostalgia. Every time I listen to it the lyrics mean something different to me, I hear a new aspect of the song I fall in love with. It's use in popular culture and cinema (
perks of being a wallflower/life on mars/horns)
only reiterates how much this song means to such a huge range of people. Despite it not being so popular when it was initially released, this song has gone on to be one of Bowie's most loved songs, being the most streamed song on Spotify shortly after his death. "Heroes" keeps me going through the hardest times, and as you can imagine the play count has rocketed this week. "We can be heroes, forever and ever…"
Rachel (@weirdfishes__) on Memory Of A Free Festival (1969)
This song is wonderful, Bowie has this knack of transporting you to his world, the world he so expertly crafted during his time here. The song is a trip, a whirling melodic trip with bizarrely beautiful imagery and his haunting vocals. This is about being free, about being you, something that Bowie did unapologetically and gracefully. This man, this genius took all the outsiders by the hand and assured them it was ok to not be like the rest of them. Bowie defines the idea that being yourself, being weird is the only thing you can be, and that is achingly important. This song is an anthem in the greatest sense of the world. '
The sun machine is coming and we're gonna have a party
' emphasises the attitude we should have upon his death (worth noting that lots of people chanted it at the Brixton party), he needs to be celebrated and honoured. We love you Bowie, you're immortal to us.
Izzi (@_yourloveswhore) on
Starman (1972)
An extraterrestrial kinda being, greater than all the rest of the earth-dwellers and giving messages of hope with Ziggy Stardust as his messenger, a
Starman
. The idea of someone "waiting in the sky" is undoubtedly comforting and the persona surrounding this contributes to why this song means so much (to me anyway). On a personal level Starman has been there throughout my life, and is one of the first songs I can remember listening to and loving every second of. Through his many concepts, characters and creations Bowie has reached out and influenced generations of people all over the world for many many years, so because of this he can never completely die as he, on top of his music and image, will live on forever.
Ruby (@musicandkievs) on "
Heroes" (1977)
I've had few memories of Bowie in my life, but one I can distinctly remember was my late grandfather telling me all about his notorious 'to dos' as he described them; he would go on about how Bowie revolutionised a new music style, one that broke all of the boundaries. A more recent memory, was the numerous house parties i had attended where
Lets Dance
or
Heroes
would come on and the whole party would raise their drinks and chant every single word. I knew this man was something special. My favourite of his (like I can choose just one) is
Heroes
, I feel it's so cliche, however very necessary. It's my mothers favourite also, so I pretty much grew up with this song blaring out of our car whilst driving around. This song screams flamboyant confidence in the most obvious ways, complimented by perfect whirring musical arrangements. When I listen to the song it instantly gives me a boost of confidence, which I'm positive he intended whilst creating.
Oscar (@weightsandfries) on
Life on Mars (1971)
But my favourite thing about this track is how it has been used in countless TV and film titles- notably the BBC series named after the track. There are running Bowie references in 'Life on Mars', but the most powerful use of this tune is during the credits of the finale. Without spoilers, because you really should watch the programme if you haven't already, it really emphasises the ending, epitomising the main characters fate and how the story ends. This is a great example of how David Bowie's music can be used, and the palette of emotions he was able to create using his incredible talent as an artist. RIP David Bowie. Legend.
Laura (@senoralauraa) on
Quicksand (1971)
Obviously, choosing just one of Bowie's songs as an eternal favorite is an impossibly difficult thing to do. When I heard the news on Monday though, my first inclination was to go straight to
Quicksand
off
Hunky Dory
. Maybe it's the melancholy sentiment this song's always conveyed, but I think I really just needed to soundtrack my own crying about the loss of someone who was not only one of my biggest inspirations but also my best friend who I never met. Anyways,
Quicksand
was what I listened to on repeat as I processed what had happened, and although I'd already loved the song before, its meaning to me has grown massively since then. The lyrics have such an uplifting message regarding life and death and existence in general – God, Bowie was so fucking brilliantly profound – expressing a desire to be more than human, but being "tethered to the logic of homo sapien." And, of course: "knowledge comes with death's release" is comforting to hear because it's so true, and now our Starman is out there in the universe somewhere, finally getting that knowledge, finally not tethered to the logic of the Earth anymore – no longer affected by anything that limits humans, and free to be literally everything he's ever desired.
Quicksand
is the bittersweet send-off that Bowie deserved, and I'm sure he would want us to know that he's not gone – in fact, he's become everything.
Meg (@meggreenwo0d) on
You Will Set The World On Fire (2013)
David Bowie posses a timeless ability to empower, and I continue to use present tense because a man of such talent, such individuality will never cease to empower those lucky enough to listen to his music. Track after track Bowie's desire for success implants itself within your deepest meaning. For me, as obvious as it may be
(You Will) Set The World on Fire
is (to me) Bowie's greatest empowering track. Bowie not only made it okay to be a freak, he made it f*cking cool! he made the outsiders sympathise with the "in" kids for not being weird, for not being outsiders, for not being freaks. Empowering and strengthening the little kids, holding up depressives when they fell down, giving that 17 year old an extra push so he'd finish his education; just a handful of cases where this track became much more than just a track on an album. You get a sense of meaning listening this track, a quality very few artists posses but Bowie, Bowie is timeless and that, we can all agree on.
Maddy (@maddymokeefe) on Lady Grinning Soul (1973)
David Bowie is a person(/god) I grew up with and has been in my life for as long as I can remember. I was so shocked that someone so immortal and permanent COULD die, and completely devastated that something as human as cancer was what killed him. His image and music are the most visceral, evocative things: he epitomises glamour and intensity. It was definitely Bowie (at least in part) that spawned my interest in fashion, dressing up, costume and drama. His face is utterly iconic with its jagged teeth, high cheekbones and mismatched eyes and I have always been completely in love with every part of it - he made it cool for a man to wear makeup and look like an alien. I can't remember when I first heard Lady Grinning Soul but it is one of the most sexy, utterly beautiful songs I've ever heard and probably my favourite Bowie song (very hard to choose though). I have put this song at the end of most parties I've ever been to, cried to it, danced to it alone, put it on most playlists I've ever made and it holds so many fond memories. The pauses, fluttering piano and Bowie's beautiful, weird voice are so sensual, completely transporting and atmospheric. I could listen to it forever.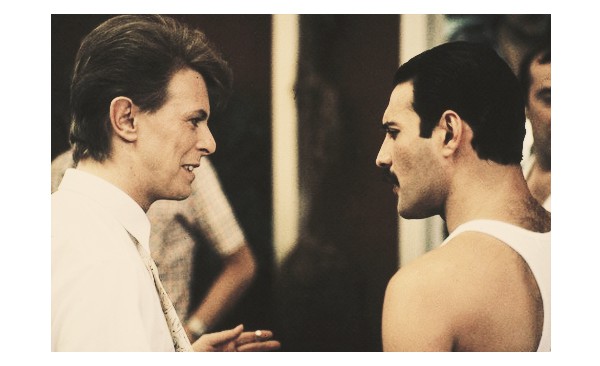 Henry (@harryhenrysmall) on
Under Pressure (1981)
Arguably one of the best duets by two of the best male vocal talents England has ever produced (if you've never listened to the isolated vocal track of this then you really must, hearing them push each other is incredible). I remember listening to this on a Queen compilation and being blown away by both Freddie and Bowie in my pre-teens. I'm pretty sure It's the song that got me into Bowie from just wanting to hear more of those vocals. For me U
nder Pressure,
although cowritten, had some of Bowie's most emotional lyrics and painted a vision of what both Freddie and Bowie wanted; Bowie's lines focus on the idea of love being old fashioned as well as being defaced ('slashed and torn'), the need to challenge the ways in which we care about each other in our current world that we know is full of terror, while we ourselves are under the same pressure of trying to avoid insanity. It's an incredible powerful song, and a fitting reminder of someone who wanted to, and did in many ways, change the way the world thinks.
here's a picture of jack on a phonebox at the brixton street party
Jack (@macdebarto) on Golden Years (1976)
My favourite David Bowie track is the first of his I ever knowingly heard, Golden Years. 14
years ago whilst watching A Knight's Tale I was given a brief but brilliant introduction to Bowie's music. In the scene Heath Ledger leads an impromptu dance to the track in a royal hall.
It wasn't until years later I'd be reunited with the song as I began to break into Bowie's vast catalogue of music. Wedged somewhere in between funk and soul it's a perfect example how easily he could switch up his sound and master it just like that. Lyrically, its punchy and witty and the vocal delivery is wonderful with Bowie switching from crooning to near-falsetto notes with ease.
Golden Years
perfectly sums up Bowie for me and now I can fully appreciate what will forever be my favorite Bowie track, it's bold and self-assured and unbelievably cool. / You can read Jack's blog Setlisted
here
Anna (@annalaurasmith7) on Young Americans (1975)
Young Americans, the eponymous track off the Thin White Duke's ninth studio album sees him throw to one side all the influences he'd drawn from in the past and immerse himself in his self confessed obsession with soul music. From the opening piano glissando you can feel the influence of "local dance halls" and "swanky R&B rhythms of Philadelphia Soul", assisting the British musician in addressing certain touchy American issues. It took a mere two days to record, and over the course of these two days fans would gather outside the studio in Philadelphia, where they were recording in between Diamond Dogs tour dates, and Bowie built up a rapport with these fans, whom he came to refer to as the "Sigma Kids". Young Americans isn't necessarily my all time favourite Bowie, but I do see it as a perfect representation of the diversity of the enigmatic Starman's talent. / You can read Anna's blog
here
Honor (@kittynoise) on Sound and Vision (1976)
I think the fact that I always wish it was longer is a testament to how perfect this song is. It builds in such a cheesy feel good way, all 'aah's and 'doo de doo's before Bowie's vocal cuts in, asking if you ever wonder about sound and vision. It paints an eloquent picture of a very specific location in space and time, describes what happens there and then leaves, which I think is masterful. The song almost feels automatic, as if it happened spontaneously with no intervention from any human. Ethereal synth sounds cut into the mix, a kind of audible sparkling, like musical glitter. This track is definitely the highlight of one of my favourite Bowie albums (Low) which makes it like.. the cherry on the cake. If you like cherries and cake. / Honor also had a hand in organising the Brixton street party last Monday, this feels worthy of noting
Georgia (@georgiamaesixx) on
Station to Station (1976)
Only Bowie could make listening to two and a half minutes of mesmerising ticking and train noises an experience to remember. I've had this song stuck in my head ever since I heard the news on Monday, and it seems strangely poignant now. I love his vocals in this song, his drawn out lyrics at the start, all the way through to the eerie but awaited return of the thin white duke. "It's not the side effects of the cocaine, I'm thinking that it must be love" has always stuck out as one of my favourite lyrics of all time. You can't help but want to dance to this option of the song, and it's one of the most memorable opening album tracks. To me, the Station to Station album is one of my top five as it is just so perfect in such a short length. I'll sorely miss this man, a man who got me through some of the worst times I've had over the last two years, but this song especially has its own special way of lifting my mood. It must be love.
Charl (@primarycoIours) on Lady Grinning Soul (1973)
The first time I ever listened to
Lady Grinning Soul
I was completely and utterly captivated. I didn't know what it was about the song (or the lyrics, for that matter) that had me in such a state of wonderment, but what I did know is that I could listen to it on repeat forever. I'd listened to Bowie before, growing up I was used to my parents taking me on long car journeys and singing along to his albums, but it wasn't until that moment that I realised how beautiful his music was. I spent the rest of that day, as a thirteen year old girl who didn't know what she wanted from life, listening to the majority of Bowie's discography. I completely adored it. From that moment on all I wanted to be was David Bowie. He has inspired me continuously, and I will always be thankful of the music he has given us.
rest in peace david; thank you for the music.
"one of my most important inspirations, so fearless, so creative, he gave us magic for a lifetime." - kanye west