Some sources recognise them as the first proper shoegaze group, so in amongst all the shoegaze hype around us at the moment, maybe it's not such a surprise that AR Kane are choosing to wire those reverb pedals back up. Formed in 1986, with the core duo of Rudy Tambala and Alex Ayuli, the London band's sound is based heavily around crashing drums battling with tumultuous amounts of noise, with some deep set vocals cloaked in effects providing the harmonic distraction.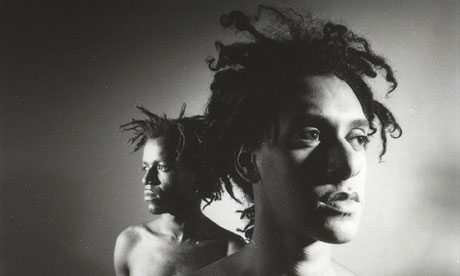 The East London band's sound is really, really innovative; in 1986 they put
this
out - streets ahead of what My Bloody Valentine or any of the others were doing at the time (Ride and Slowdive were still in school) -
When You're Sad
, their noise-pop debut single with invasive noisy scratches so penetrating that it'd make Jim Reid run for ear protection. Then, in 1987 came the
Lolita
EP, more richly melodic, and without a doubt something you wouldn't even question describing as shoegaze thanks to Robin Guthrie production.
Over their eight year life, AR Kane released three studio records, the incredible 69 and i coming within a year of each, and had a massive worldwide hit under the name of M|A|R|R|S - a collaboration with the group called Pump Up The Volume (number one in five countries, I'll have y'all know, it actually knocked Never Gonna Give You Up by Rick Astley off UK number one). In 1994, they split up, never to be heard again except posthumously in the noisy output of the likes of MBV, APTBS and Slowdive. Well, in 2015, Tambala played some shows under the moniker #A.R.Kane with a new lineup, but recently the band announced they were going to make their reunion more formidable; they'll do more music, play shows all over (including On Blackheath, Primavera) and everything in between.
Maybe if you're only acquainted with the bigger shoegazers, maybe you won't get so jumped up but this is some seriously exciting news as AR Kane are one of the most innovative and accomplished of the genre. Below I've put a few songs in so ya can see what the fuss is all about, and maybe I'll see you at one of AR Kane's future shows...
(written by calum cashin)