Very few people have done more for the music of the counterculture than Iggy Pop. Right from the off, in 1969 he practically invented the angsty teenage rock on the snarling snotty debut Stooges record, set the blue prints for punk in 1973 with Raw Power and from 1977 he released some of the most memorable rock records spawned post-Morrison - oh - and he wrote the centrepiece to the soundtrack of Trainspotting, one of the greatest subcultural films of them all.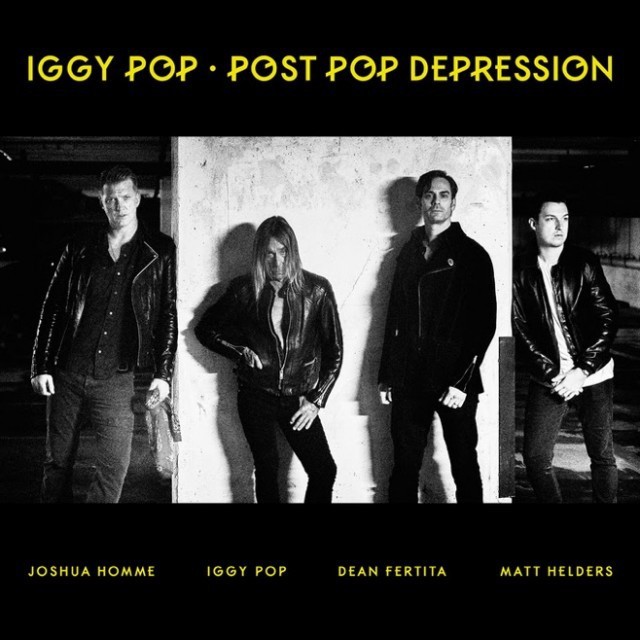 So, for me to say that he's royalty among underground fans would be an understatement - if he was ours to claim he'd be a national treasure. Without Iggy Pop, culture as we know it would be different, and certainly not for the better. So the fact he has a new album out is obviously pretty cool news, but I've never really been one to dish out praise to the rock 'n' roll lizardry because of famous names, y'know? So with Iggy Pop's latest record Post Pop Depression is something I listened to with a cynical ear - it being his last album (allegedly and all), it could really go either way, like a forgettable final fart (like whatever the Rolling Stones released last, I forget what it's called and it's not even worth googling) or a triumphant sonic swansong, like maybe Blackstar, with less prophecy of death involved.
But y'know, I'm delighted to say it, but this isn't your average studio-polished safe goodbye. This is an Iggy Pop record of the highest order - with the recruitment of Josh Homme for some dirty squalid riffing - that shines in a really powerful discography. The songs here range from safe-ish bass driven danceable rock songs, smoky jazzy numbers, and Stoogian gravel-voiced belters where Iggy Pop brings the absolute best dinner going. It's not a solid record all the way through, but I assure you that this late career offering is more than worth 41 minutes of your time - it's classic Iggy Pop, and also quite possibly a classic by Iggy Pop.
Opening with one of his strongest songs in years,

Break Into Your Heart

has a vaudevillian feel to it, as organs and sleazy guitars make for a really interesting feeling track. Iggy's vocals are strained and sound primal and carnal. It's a great opening, and makes this record - from the off - uneasily ease into your conscious; after this opener you just can't help but be compelled to listen to this album. From the first reptilian growl of "I'm going to break into your heart, I'm going to get under your skin", Ig's already there. Juxtaposed by track 2,

Gardenia

, the most pop song on the album, the first 8 minutes of this record gives you a good idea of the range of the liminal sphere Iggy's honed so well on this record, as

Gardenia

is every bit as good as Break Into Your Heart in its own ordered way.
Iggy - for the most part of this album - basically captures the same sound and atmosphere as he did we back when on Fun House. Urban frustration through a slightly eerie filter, beaten up a bit by raucous, dirty riffing, it's actually surprisingly reminiscent of his past work most the way through. On

Paraguay

, the album's polarised closer that starts in the realms of melody before the Ig gets the angriest he's been since

1969

over some pretty raucous guitar parts. It builds and builds, ending on a tyrannical rant that just captures so much fury and passion;
"There's nothing awesome here
Just a bunch of people scared
Everybody's fucking scared
Fear eats all the souls at once
And I dream about getting away
Where there's not so much fucking knowledge
I don't want any of this information
The Paraguay rant is about as concise and powerful a piece of art you can imagine; Iggy's still so totally the mouthpiece of the disenfranchised he was when he first raucously growled "No fun". It's clever, it's punchy, it's got a strutting menace to it, it's Iggy at his best.
The rest of the album packs a pretty reputable punch too; semi-orchestral

Sunday

touches cloth with pure bliss on it's outro, gritty

Vulture

sounds like the soundtrack to a cosmic western and

German Days

has a kinda elegant jazzy swoon to it. Not all the tracks here are essential, but really there isn't a bad moment on the album and there are lots of moments where you can see clearings of genius through the trees.
You kinda knew that Iggy Pop was gonna pull something out worth listening to. Due to his incredible radio show, and instances like his 6music lecture where he talked eloquently about music in the digital age, you know he's still the best boy there is. But overall, although there are some unremarkable moments on this album, it's an accomplished record that holds its own in a back catalogue with so many seminal pieces in countercultural history.