Record Store Day releases have a general feel that just oozes with a lack of essential-ness. Instead, most the things you see on the big long list of releases are only essential to beardy collectors that seemingly look down on all young people buying vinyl, you know? But fear not droogs, I've trawled through list to find 3 records you really should think about getting your grubby mitts on tomorrow at RSD.
VARIOUS - HALLUCINATIONS: PSYCHEDELIC POP NUGGETS
We all know lots about the Nuggets compilations, right? A series of comps full of early psychedelic gems. If you've never heard of the Nuggets comps stop right there and check out Nuggets: Original Artyfacts of the First Psychedelic Era, the first one, which came out in 1972 and is full of absolutely perfect gems from the sixties. This release coming to you for record store day is a reissue of a 2004 compilation that features lots of really incredible pop songs drenched in LSD madness. The title track is a strobing gem of early synth work, the West Coast Experimental Art Pop Band song is a gem and the Electric Prunes further prove that they're one of the sixties' defining underground artists. It also comes in a gorgeous sleeve so you can't look further than this for your April fill on mind expanding psychedelia.
XIU XIU - PLAYS THE MUSIC OF TWIN PEAKS
Xiu Xiu are a hauntingly gorgeous American noise band and Twin Peaks is the greatest TV programme in history with the most beautiful soundtrack ever so this is a match made in heaven. I've only heard their slow, woozy 7 minute reinterpretation of the theme song and it's so heartbreakingly beautiful that I just wanna drown in it. The album has lots of other really memorable tracks that I'm so sure Xiu Xiu will do so much justice to... I'm going to buy this one and no one can stop me.
FLAMING LIPS - LIGHTNING STRIKES THE POSTMAN
This is an alternative mix of their fucking classic record Clouds Taste Metallic, a defining arty-fact in the macrocosm of psychedelic pop music. The fact I'm fairly sure it's unheard is exciting, but get this - get this - get this - IT COMES WITH A COMIC. Imagine a FLips comic, it'll be psychotropic and shamanically challenging. This seems essential and I'm not sure if it's a classic false need or just something I need to keep me alive but if you buy me it I'll write nice things about your musical projects forever.
THE SONICS - LIVE AT EASY STREET RECORDS
In the 60s The Sonics were just a fucking angry angsty mythical magical project - they were punk 5 years before the Stooges and the MC5 and their sound captures teenage angst in a way that is so perfect and seminal that you need to check 'em out now. In 2015 they put out their first record in 50 years, and to celebrate they smashed through an instore set at Easy Street Records in Washington, still as deadly as they were half a century ago. This live album celebrates a garage rock band wrongly written out the history of punk rock when they really should be celebrating as much as Richard Hell or The Damned.
LUSH - ORIGAMI
OK I tried to avoid doing this, but I've closed with one of those really, really, really expensive boxsets because I literally couldn't resist. HERE, you can get ALL of Lush's albums in one gorgeously designed boxset that includes five different coloured bits of vinyl. It's nothing you haven't heard before because these are shoegaze classics, but y'know, if you've got a big budget then this is the most pleasing looking thing you can buy tomorrow...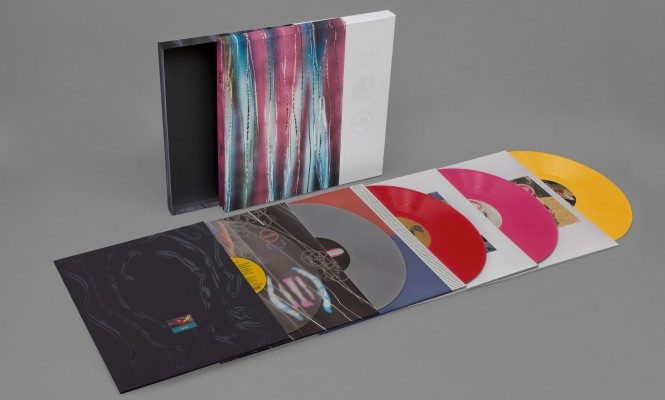 Record Store Day is tomorrow - find yr local store on the website - mine's Banquet Records, so I'll see ya there.
Words: Calum Cashin