After half a decade of near silence, Radiohead became completely silent, deleting their entire internet presence, sending the music world into a frenzy, trying to work out what the hell they were up to. After the unannounced release of two singles, Burn The Witch and Daydreaming, Radiohead announced they'd be releasing an album on Sunday the 8th of May. On that day they gifted us A Moon Shaped Pool, their most intoxicating and vulnerable album to date.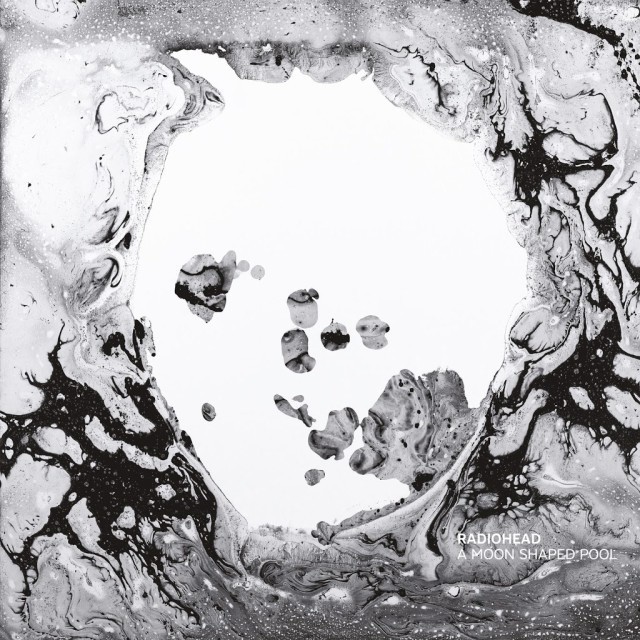 Burn The Witch opens the album with jagged rhythms and political undercurrents, it's starkly different to the majority of the album, it feels like a single that was cleverly arranged to throw people off what to expect from A Moon Shaped Pool. Where the opening track is very rhythm focused, much of the album is centred around delicate melodies. Next is the descent into the beautiful Daydreaming, the kind of song that would suit listening to as you lie in a meadow, grass between your fingers, looking up into the sky, space and beyond as the music rushes over you. The sonic layers throughout the record are phenomenal, each time you listen, something new can be heard. It's overwhelming in its complexity, each band member's influence can be pinpointed. Some tracks echo of Jonny Greenwood's time in India, some are reminiscent of Atoms for Peace, other points could be straight from a film soundtrack. There is a large amount of strings and orchestration, as opposed to crunching guitars and heavy percussion, yet there are still electronic elements that are typical of the band. They're going back to progress, they are still making music that is recognisable as Radiohead, while simultaneously doing things they've never done before; moulding and shaping an ever changing mass with each album. There are even nods to folk music, like in the stunning Desert Island Disk, which creates an incredible atmosphere of being lost at sea, you can hear the ocean consuming you. The album sometimes seems acoustic. The gorgeous, startlingly quiet moments of melancholy piano with Yorke's. These fluctuating genres help to smudge the difference between reality and dreaming. It's night-time, lullaby noise, completely exposed and exquisite. Intimate whilst still being unreachable, and almost incomprehensible. Radiohead once again succeed in transcending reality with A Moon Shaped Pool, because listening to it is almost out of body.
There are many themes pulsating through the album, but love seems to be one of the most prominent, with tracks such as Present Tense, Glass Eyes and fan-favourite True Love Waits. These are the songs in which Thom Yorke's vocals reach heart-breaking melancholy, he cuts you open and watches your guts spill out. It's intense, grabbing you by the arm, demanding you sit down and just listen. Listen to everything being said in these songs, not just lyrically, but musically. This is Radiohead raw and emotional, inviting you into their world for a while.
This intensity is maintained through the entirety of A Moon Shaped Pool, it's fairly arresting. LP9 is one of sorrow, there is a dark cloud of sombre reflectiveness floating above it the whole time, at points it bursts and broken hearts rain. The mood is one of loss, yet sprinklings of hope emerge, lyrics such as 'the future is inside us'. 'The Numbers', for me is a song full of social commentary and fits the mood of a lot of people on our planet at the minute. In a time where we are losing our icons, watching the world melt, seeing the gap between the rich and poor widen and witnessing terror and hatred on a daily basis, we need hope. We need music like this, we need bands like Radiohead to remind us of the intricacy and beauty in life, before it's too late and we destroy it with our selfishness. This song, and 'Identikit' and Ful Stop are going to be phenomenal live, in fact, the whole album would be breath-taking to hear live.
True Love Waits is possibly the most perfect closer imaginable to A Moon Shaped Pool. It's utterly stunning, one of those 'drop everything you're doing and let the music take you', songs. The underlying message of this album, is for me one of endings, one of goodbyes. This song certainly feels like a reluctant farewell, it's final lyrics being, 'please don't leave.' For me, A Moon Shaped Pool is almost Blackstar-like in its finality, this very much feels like an album Radiohead have been itching to release. A showcase of elegance, this could be their best yet, musically and artistically speaking.
The videos released so far have been some of the best from the band, in particular the Paul Thomas Anderson directed Daydreaming, which is a joy to watch. Radiohead are in their element, and maybe it's the end? With the release of old recording tapes with the special boxset edition of the LP, and studio versions of songs fans have been waiting a decade for, what could they do next? This album is brooding, and inexplicably hard to put into words. It's full of raw, unashamed emotion, like nothing Radiohead have released before. A Moon Shaped Pool is indelible, it's important and I am very, very glad that it exists.
Words: Rachel Tindall