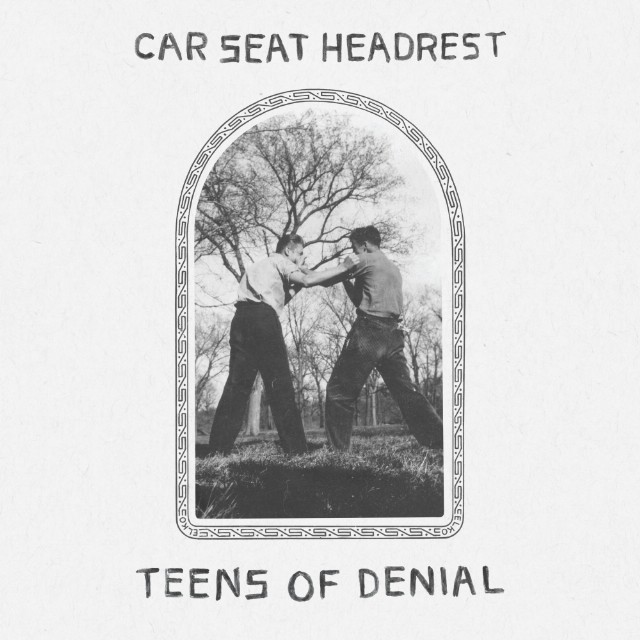 Car seat headrest are a success of the digital music ecosystem, cultivated in the D.I.Y habitat bandcamp, who seem to have found their niche in their latest album
Teens Of Denial
. It is their second album on Matador records and their best work to date. Will Toldeo has already released a hefty eleven albums available for free on bandcamp, but he described
Teens
as a "swinging debut" and it certainty lives up to that description. It is the first album recorded with a real band, which he reportedly found on Craigslist. But the line up does not thrown together, the album is instrumentally wonderful. Lyrically, it is everything. It encompasses trainers, beer, police and existential despair.
Fill in the blank
is an earworm, and Toldeo's voice is showcased as opposed to blanketed, as in earlier music, which was recorded in the back seat of Toldeo's car for privacy. This continues throughout
Teens
which makes the album more accessible.
Vincent is full of movement. The introduction is like a wasp zipping past, wonderful through headphones. The song moves into more of a spoken word style after a prolonged built up which is refreshing and vaguely reminiscent of that funny 80s band my parents like. (Is anyone else getting Squeeze vibes on this track?)
The trumpets, also used wonderfully in
Cosmic Hero'
s introduction, add dimension beyond lo-fi's typical keyboard-crafted sounds. The song is groovy (although the iteration of
Pure Sadism
and lyrics such as "in the back of a medicine cabinet/you can find your life story" make the song a bit darker) It is over 7 minutes long but never gets boring due to the sheer variety, it is a show all rolled into 1 song.
Although they have created more accessible music, they do not lose their roots, as seen in
Destroyed by hippie powers,
which is wonderfully whiplash and quintessentially Car Seat.
(Joe got kicked out of school for using) Drugs with Friends [but says this isn't a problem]
is an arm waving anecdote of adolescence ("No we are just we are just we are just teens of style/No we are just we are just we are just victims of the contemporary style").
Joe reappears in the final track, which concludes the album in an acoustic song, which is more softer and more surreal, both instrumentally and lyrically; ("You know their skulls are so crazy but they still can see/ It had big brown eyes, shining and sad")
Just What I Needed/Not Just What I Needed
(which has early Front Bottom-esque vocals; raw, low quality but enjoyable) and
Drunk Drivers/Killer Whales
(apparently partly inspired by Blackfish) continues the anecdotal feeling which
Teens
is brewing with. This continues in the catchy
Unforgiving Girl (She's Not An),
whilst
1937
also seems to tell a story, but a sadder one. The track sounds oddly joyous accompanying the lyrics "I didn't want you to hear/That shake in my voice/My pain is my own".
The longest track is the 11 minute 32 second
Ballad of the Costa Concordia
. The track is like an ECG scan, with peaks of punk frenzy and flatlines of slow instumentals. It really does contain enough ideas for a whole album.
Teens
overspills with songs full of feeling, "I cried walking home/I cried walking home." and even if our experiences do not overlap with theirs, we feel a temporary kind of nostalgia. Catchy choruses that seem made to sing in a crowd, lyrics that feel warm and genuine make
Teens of Denial
authentic, a bildungsroman in an album and an out and out masterpiece.
8.8/10
Words: Lily Benn